Talking To Ben Whishaw & Emily Mortimer The Grown Up Michael & Jane Banks In Mary Poppins Returns
Talking To Ben Whishaw & Emily Mortimer The Grown Up Michael & Jane Banks In Mary Poppins Returns.  Do you remember Michael and Jane Banks from Mary Poppins?  They were adorable.  Well, let me tell you, they are just as adorable, all grown up, in Mary Poppins Returns!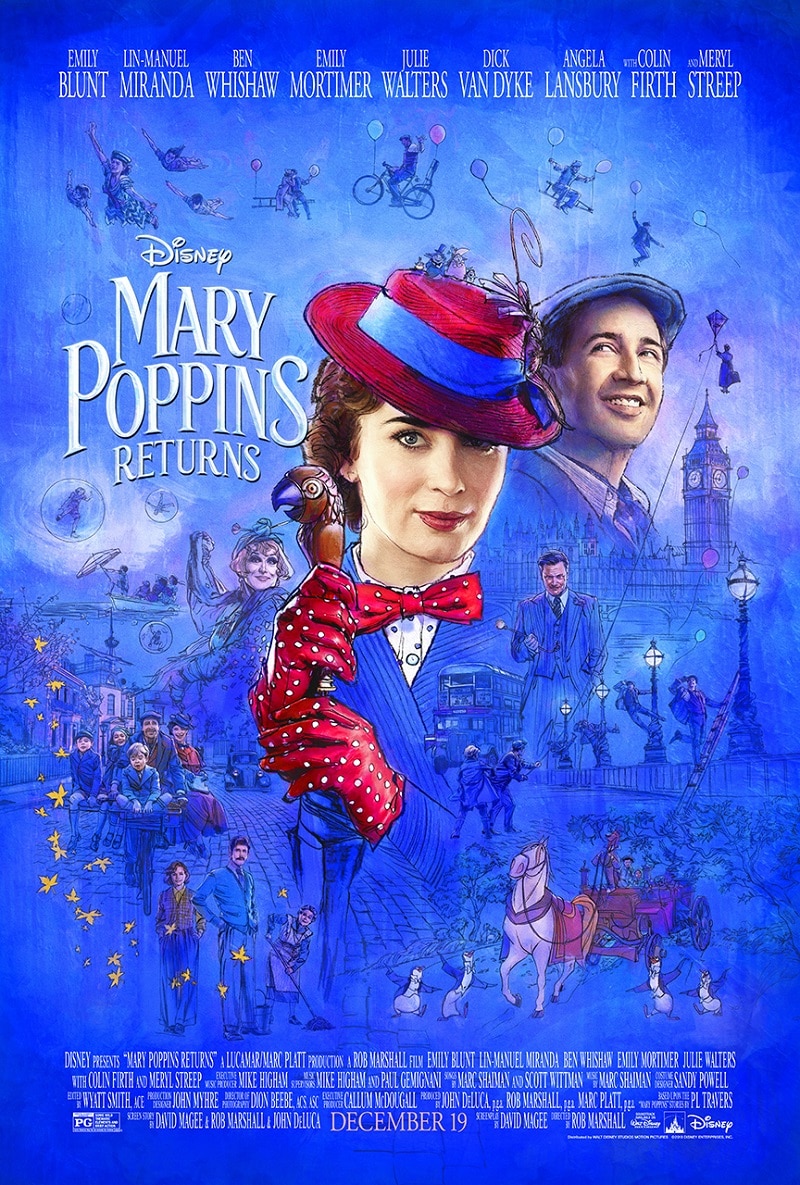 When Ben and Emily walked into the room everyone applauded.  It was obvious everyone was in awe of their performance as the grown up Michael and Jane Banks in Mary Poppins Returns.  We had all seen the film the night before.  I have never seen a better sibling chemistry outside of my own children.  I had to question, myself, if they were really siblings or not.  The way the look at each other and play off of each other is the sweetest feeling.  It was easy to tell that they really knew each other well and had spent a lot of time together in the making of Mary Poppins Returns.  Both Ben and Emily are very soft-spoken, genuinely humble people.  I could not imagine a more perfect duo to play Michael and Jane Banks.  I kept seeing my own children in the two of them.  This truly is the sweetest sibling relationship I've seen played out on the big screen!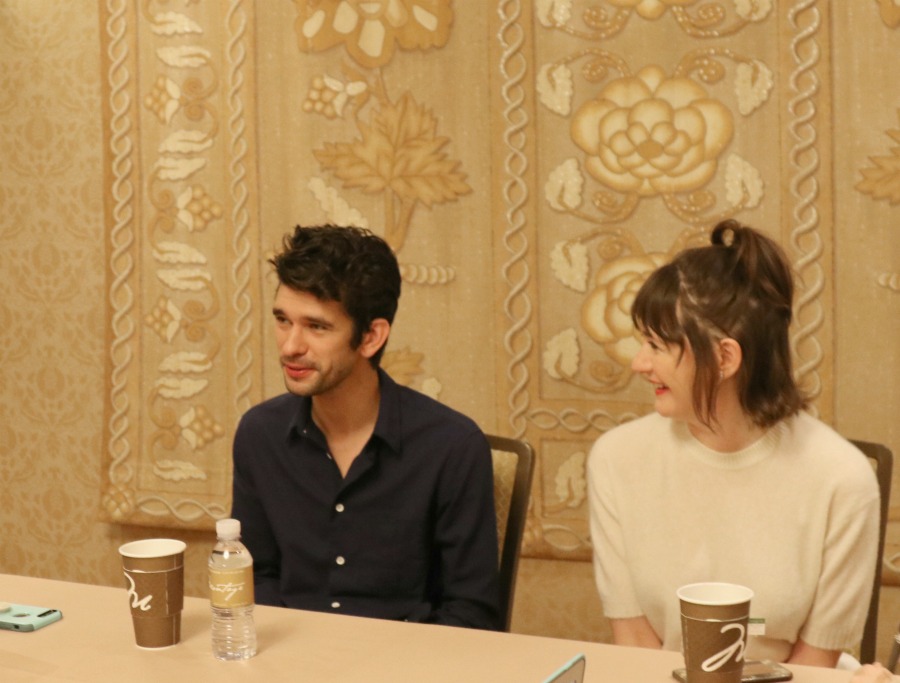 How do you work joy and wonder into your life?
Emily Mortimer:  I've got two kids, and I know it's…Cliches are true! I mean, that, that's why they're cliches.
We've had such a sweet time together this these last few days. I just kind of looking looking over at him, and seeing his little face. Is… just, I don't know. It just makes it all seem okay. You know.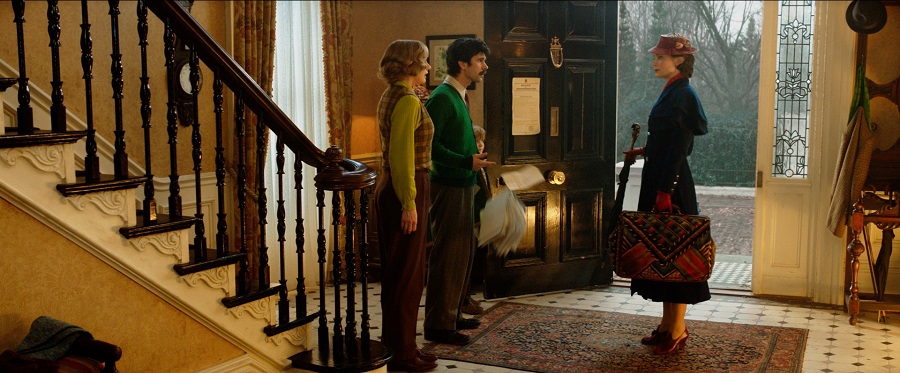 Did your children see the old one and now have seen the new one?
Emily Mortimer:  Neither of them have seen the new one yet.  They love the old one.  They're psyched! They're totally pumped about the whole thing.  We were in Barnes & Noble the other day and she found the book of Mary Poppins Returns, which I didn't realize they'd even done the book of Mary Poppins.  Emily Blunt was on the front and then she found a photo of me.   She's never been more impressed by me ever.  It was so funny. She kept telling everyone we met "Mom's in a book!"
Rob Marshall said last night he got his first choice of all the actors.
How does it feel for him saying that, and to be in such an iconic remake of a movie?
Ben Whishaw: When Rob likes you, he really, really, really, really likes you.  He doesn't hold back. You feel his love. You feel his excitement about what you might bring to the table.
Emily Mortimer:  My dad always said that if you tell people they're beautiful or wonderful and clever and talented and special and amazing, they are and that's what we feel.  But yeah, he's so encouraging and makes you feel special.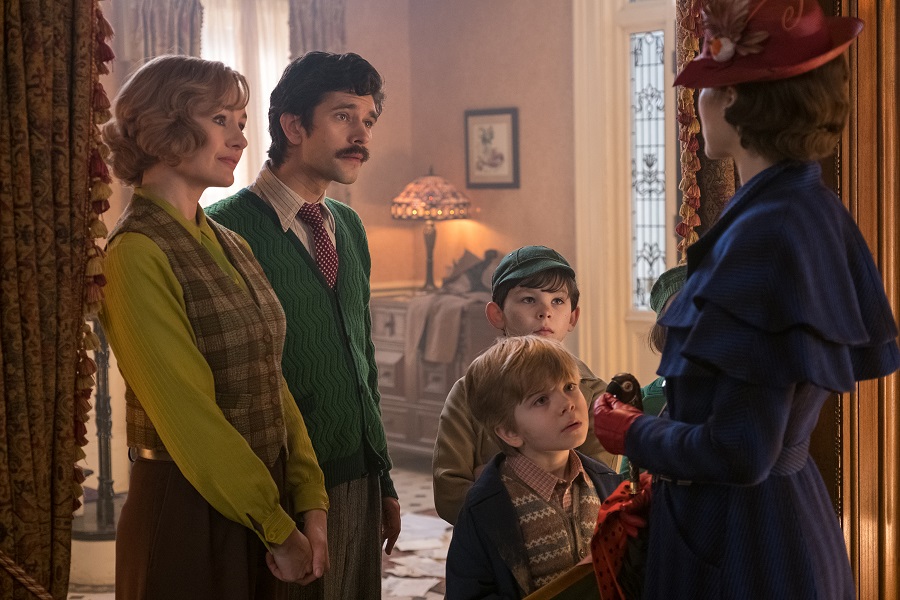 Wasn't Karen the original Jane that had a cameo in the movie.
Did you get a chance to talk to her about taking on such an iconic role?
Emily Mortimer:  Well, we did. We had like, half a day with her, didn't we?  She just hung out with us and did the little scene. We walked with her onto the set. For the first time, she saw Cherry Tree Lane since she was a little girl.  She was really moved, and sort of blown away by the whole thing. We talked about how making the movie and how she was a little English school girl and had been transported to LA because they shot the original movie in Los Angeles, unlike our movie. And so, how kind of bizarre that was.  It was just an extraordinary thing to have these connections to the original movie.  It felt so validating that the were excited about it, and into it.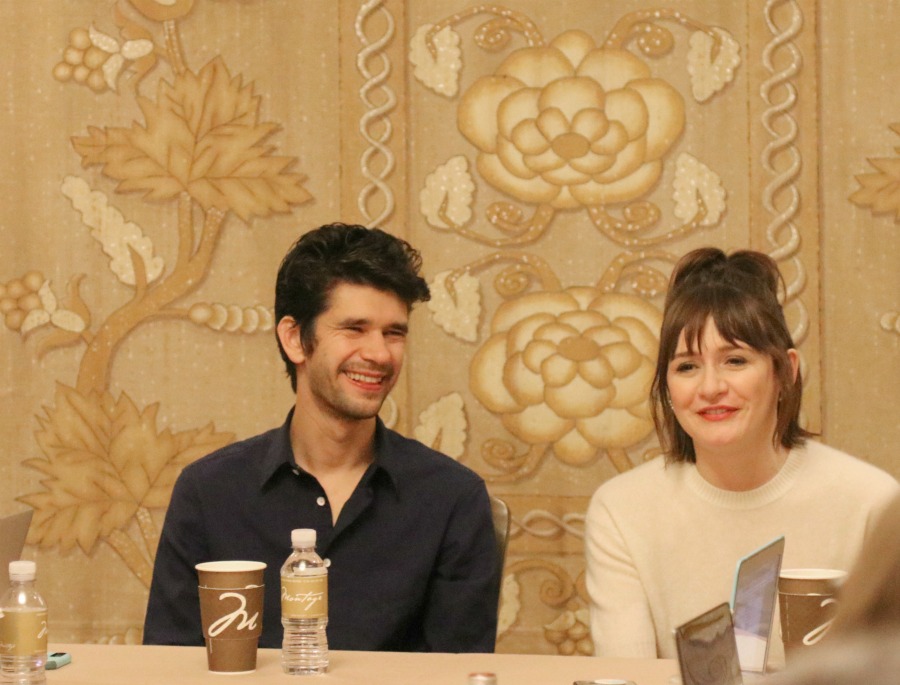 What was the most challenging scene for you both to create?
Ben Whishaw:  I think that the final scene when we're on the balloons was quite challenging.  Because that had to be the climactic moment.  It's weirdly much easier sometimes to play misery and grief or whatever. But, being open-hearted and happy can be quite hard.
Emily Mortimer:  Especially when you've been miserable the whole movie.
The sibling chemistry that you guys play on camera is phenomenal.
Is there anything that you did special to be able to do that?
Ben Whishaw: We didn't.  We were really lucky. We just immediately got on, and enjoyed each other's company, and giggled about things, and gossiped. and…
Emily Mortimer:  We had an awful lot of time to get there.  Waiting to go on for rehearsals, and there were weeks and weeks of rehearsals.  Then sitting around on the set for months, months, months together.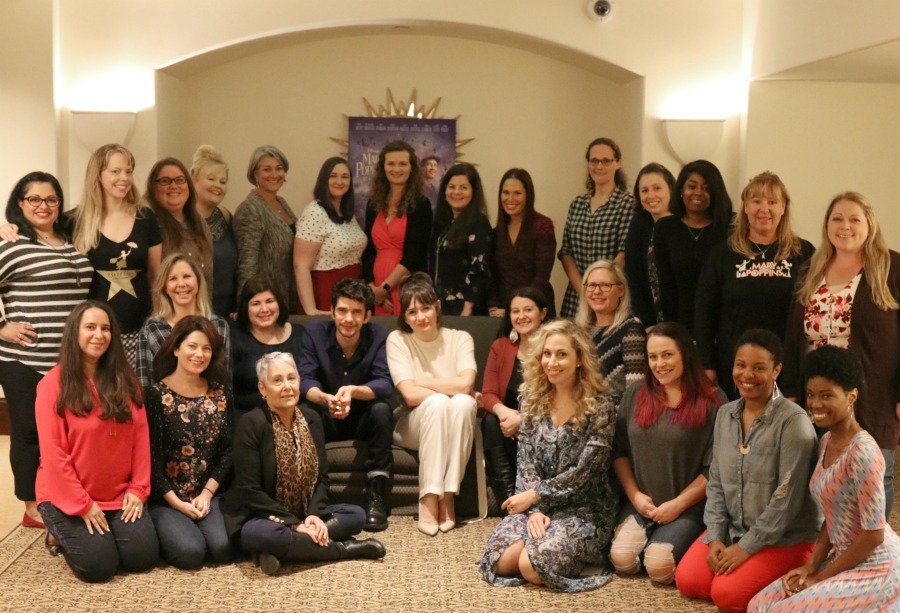 Do you have favorite scene from the movie?
Ben Whishaw: I really love the big dance number "Trip a little light fantastic."  I'm just knocked out by it.
Emily Mortimer: I'm the same. I think it's amazing.  You just kind of can't catch your breath almost. Like I keep saying, it's like intravenous entertainment the film.  Just when you think you've had enough, it's like, you've just gorged yourself.  Then along comes Dick Van Dyke, and… then there's that dance.   And just, like, more, more, more, more. It's amazing. It's so very cool.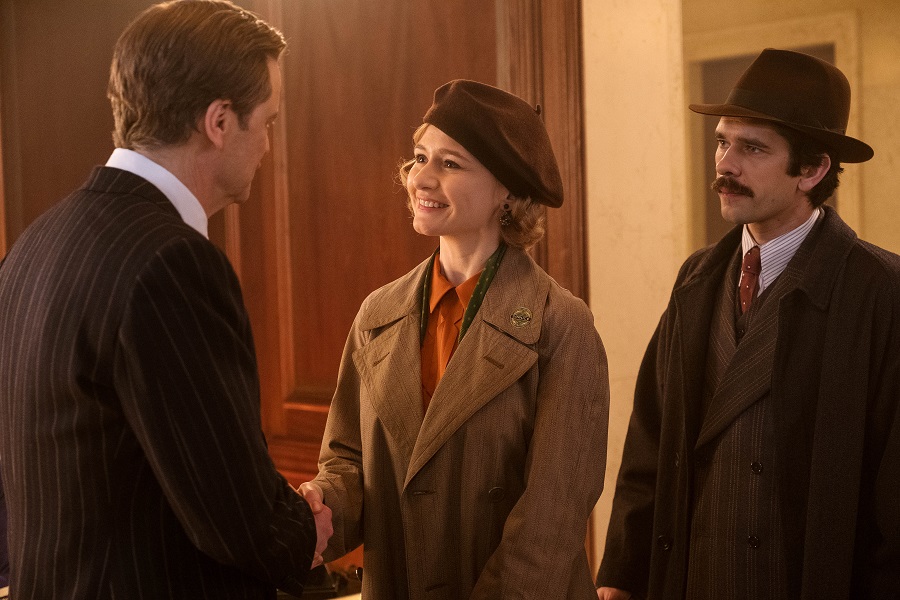 About Mary Poppins Returns:
In Disney's Mary Poppins Returns, an all-new original musical and sequel, Mary Poppins is back to help the next generation of the Banks family find the joy and wonder missing in their lives following a personal loss. Emily Blunt stars as the practically-perfect nanny with unique magical skills who can turn any ordinary task into an unforgettable, fantastic adventure and Lin-Manuel Miranda plays her friend Jack, an optimistic street lamplighter who helps bring light—and life—to the streets of London.
Like Mary Poppins Returns on Facebook
Follow Walt Disney Studios on Twitter
Follow Mary Poppins Returns on Instagram
MARY POPPINS RETURNS arrives in theatres everywhere on December 19th!
The New Trailer And Poster For Mary Poppins Returns Are Practically Perfect In Every Way
Supercalifragilisticexpialidocious! I'm Headed To Los Angeles For The Mary Poppins Returns Red Carpet
The Mary Poppins Returns Red Carpet Was Practically Perfect In Every Way