Most Complete List Of Summer Camps In Lafayette And Acadiana 2019
Most Complete List Of Summer Camps In Lafayette And Acadiana 2019! If you live in Acadiana or the Lafayette, Louisiana, area and are you looking for something fun to keep the kids busy and happy this summer, you have come to the right spot! Sign up to receive my newsletter in your inbox every week!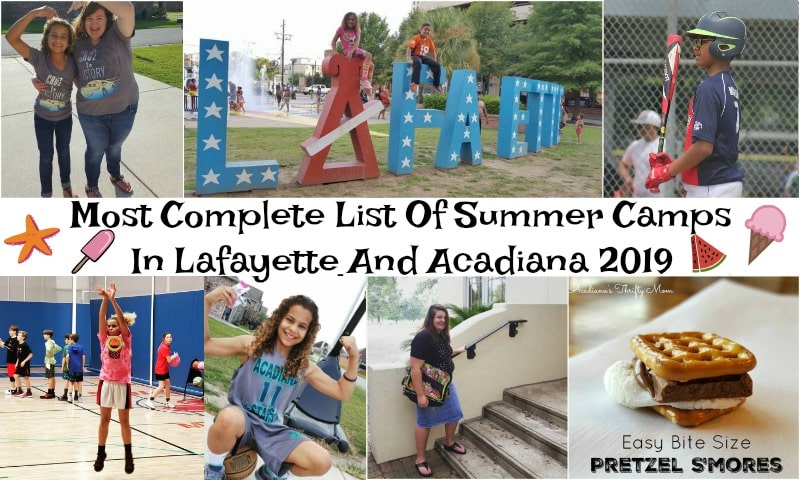 Acadiana's Thrifty Mom has rounded up the biggest list of camps in Acadiana around! Be sure to check back often; I will be adding more as I find them ???? My kiddos love going to camp every summer. We have done art camps, music camps, sports camps, culinary camps, you name it. Acadiana has some of the best camps around, if you ask me! Do you have a summer camp in Acadiana that you would like added to our list? Email me at [email protected] and I'll be happy to add it! Sign up to receive my newsletter and in your inbox every week!
Acadian Center Camps Offer Adventure in Culture, Nature, and History ~ Jean Lafitte National Historical Park and Preserve will offer day camps at many of its sites in summer 2018. Through games, crafts, mini-workshops with local artisans, hikes, and hands-on activities, campers will explore the cultural diversity that influences life in south Louisiana as well as local land and ecology.
Acadiana Gymnastics Summer Camps ~ Learn more starting April 1.
Acadiana Karate – Summer vacation is a time when parents need to find activities for their kids. This year, why not try our SUPER NINJA WARRIOR summer camp? Your kids will learn from expert instructors while having fun and making new friends. In other words, it's the ideal summer experience!.
Acadiana School of the Arts Rock camp! ~ ASA's Rock Camp is the biggest rock camp in the South, but not just because of the sheer numbers of kids who attend. Rather, it's our one-of-a-kind, industry recognized format that makes our camp truly 'big'. See, we don't just put instructors with small groups and teach them simple song arrangements. At ASA Music Rock Camp, we shoot to thrill.
Acadiana Symphony Orchestra ~ ASO&C and LSM are teaming up once again to offer you Summer Camps that are out of this world! Four weeklong camps offer fun and educational experiences for children ages 7 to 14.
Alison Wonderland Musical Theatre Summer Camp ~ Wonderland is offering several fun & exciting summer camps this year! Be sure to check out all of your options and sign up for more than one. No two camps are alike!
Blue Ribbon Camp ~ Summer camps have become an American way of life for thousands of children each summer. The Blue Ribbon Camp is dedicated to the growth and development of children.
Camp Adventures Summer Camp ~ Summer is our favorite time of year at Camp Adventures; hours are from 6:30-5:30 daily. Our summer is action packed, full of field trips like weekly swimming, magic shows, museums (educational), historical places, and just plain fun places like splash pads and Kart Ranch!
Camp Bon Coeur ~ Our week-long summer camp is for kids between the ages of 7-16 with heart defects. The only camp of its kind in Louisiana, we offer a safe and fun environment for "cardiac campers" to participate in a range of activities under the supervision of our nurses.
Camp Chorale ~ DATES: June 10-14 and June 24-28 HOURS: 9 AM-3 PM…..early drop-off and late pick up offered! AGES: 5 years old through 12 years old ~ Age appropriate groups & activities ~ Field trips to sing for the community ~ Led by certified music educators, your child will have the best week ever!
Camp In The City ~ We're loading up an incredible, jam-packed week of camp and bringing it to Trinity Bible Church! We'll be dancing, cheering, and jumping each and every day, Monday through Friday, in the most incredible week of your child's summer. From amazing counselors and hilarious skits to thrilling activities and awesome Bible studies, upcoming 1st-6th grade Trinity Bible Church campers are sure to have a blast!
Camp Oakbourne ~ Camp Oakbourne offers the unique balance of a traditional day camp experience in the convenient and familiar setting of the country club. With a combination of outstanding amenities, exciting programming, and an experienced and energetic staff team, this structured and fun day camp will be the perfect place for your child.
Camp of Acadiana ~ Our goal is to provide an amazing summer camp experience​ for kids of all backgrounds. We will provide a safe environment where kids can spend their summer with positive role models, while developing their social skills as they make new friends. Our summer camp will allow kids the chance to create fun memories and have an incredible summer camp experience.
Christian Youth Theater Camp ~ Week-long musical theater days camps are offered during the summer months for students ages 4-18. Camps are designed to create a hands-on theater experience, and are focused on building performance skills, self-confidence, and teamwork. Typical camps include team competitions, rotations through drama, dance, music, and craft workshops, a daily theme-related devotional, and an impressive concluding showcase for family and friends.
Discovery College at SLCC ~ Discovery College at SLCC offers a unique summer camp experience with sessions in CSI investigating, video game making, robotics, STEM, drawing and painting, and ACT prep. The fun begins Monday, June 3.
Dreams Foundation Camp ~ Every summer, we host the greatest camp of all, Camp Unique! Camp is always the last week of July and is held at The Bayou Church on Kaliste Saloom! Individuals of all ages have a blast participating at a camp that is specifically tailored to them. They get the opportunity to take part in activities such as art, fitness, music & dance and they also get a Camp Unique t-shirt and a snack everyday! This camp is for individuals with special needs.
Faith Camp ~ Faith Camp is AWESOME: a life-changing, fun-filled, action-packed time of making friends and growing in your faith. For the last twenty years, Faith Camp has been run by young people for young people. We want to share with you our excitement about Jesus and the difference He has made in us. Come have the best week of your life!
Fontenot Football Academy ~ Fontenot Football Academy uses Coach's Play F.A.S.T (Faith, Attitude, Strength, Together) approach to teaching fundamentals and developing skills in young football players. Players will learn both the mental and physical aspects of becoming a better football player through spiritual strength, physical conditioning, a positive attitude, and the "team 1st" approach.
Fun Nation Summer Camp ~ FUN NATION Camp Kids Activities – Roller skating and lessons for beginners, age appropriate movies/cartoons, craft stations, awesome games, huge indoor playground…and more! All Campers must be enrolled in the upcoming school year (5 years and up). We will provide a morning snack, lunch and an afternoon snack. Campers can bring extra dollars for food and video games.
Girl Scouts Camp Like A Girl ~ Our focus at GSLPG summer camps is to allow girls to have quality outdoor experiences. We want your daughter to unplug this summer and explore the world around her.
Hangtime Summer Camps ~ Your little ones will experience first-hand what a recreational trampoline and tumbling class involves. They'll also get to freely explore our exciting equipment, such as our trampolines and our 50-foot tumbling track. When our full-day campers are done with their morning gymnastics and other exercises, they'll make fun crafts, play games and watch movies.
Hello Dancer Summer Camps ~ Hello Dancers offers Holiday and Summer Camps for boys and girls ages 3-12. Each camp is themed and filled with tons of dancing, crafts, games, friendship, and fun!
Honey Do Farms Horse Camp ~ Dates are official! Now accepting registration for summer horse camp! Call (337)668-4777 for more information or send me a message….HAPPY TRAILS!
Just 4 Kicks Soccer Camp ~ The summer is quickly approaching and it is now time to begin planning your child's summer activities. As we have done the past 28 years, my coaches and I would like to invite your child to participate in the Just 4 Kicks Soccer Camp. Our camp is designed to teach each camper who attends the fundamentals of soccer, while having fun at the same time. Each camper is taught the proper way to pass, trap, dribble and shoot, as well as crossing, defending, heading and so much more! By allowing your children to attend our camp, you will be giving him or her the opportunity to improve as a player.
KidCam Camp Lafayette & Youngsville ~ Summer Camp 2019 @ First United Downtown Lafayette and Elevation Station Broussard are now open for Registration. Spaces Remaining for Holiday School Breaks at First United Downtown (Mardi Gras and Easter/Spring Break Camps available)
Kids Bowl Free (Acadiana Lanes) ~ All participants must wear bowling shoes – rental shoes available. Not good for use with daycare outings, camps, business or club outings, or birthday party celebrations.
Kids In College Summer Camps (SLCC) ~ Discovery College at SLCC offers a unique summer camp experience with sessions in CSI investigating, video game making, robotics, STEM, drawing and painting, and ACT prep. The fun begins Monday, June 3.
Kids Skate Free (Fun Nation) ~ Passes valid for children 12 years old and younger. Skate rental is $3.00 Can not be combined with any other offer. Can not be used towards group rates or birthday parties. only one coupon per child per week. Valid weekdays only during school holiday breaks and summer.
Lafayette Parks and Recreation ~ Summer Enrichment Program. The Summer Enrichment Program offers, for a minimal fee, day time supervised play and activities for youths during a designated summer period.
Lafayette Youth Soccer Association ~ The Lafayette Youth Soccer Association is the longest serving youth soccer organization in Acadiana. We offer a variety of camps throughout the year ranging in both age & various ability levels. Recreational & competitive players alike will benefit from our professional coaching staff during our Day Camps, Full-Day Camps, & Position Specific Camps. We aim to develop skills & knowledge in order to foster a life-long love of the game in our Acadiana youth.
Louisiana Lions Camp ~ The Louisiana Lions Camp is a state project of the Lions Clubs of MD-8 Louisiana and is provided free for boys and girls with Special Needs, Diabetes, Respiratory Disorders, and Childhood Cancer.
LSU continuing education ~ For an enjoyable activity with lifelong benefits, we recommend one of our eight different reading skills programs designed and taught by instructors from the Institute of Reading Development. Programs have been offered as a community service by LSU Continuing Education, a non-profit organization, since 2003.
Mix It Up Summer Cooking Camp ~ COOKING CAMPS and WORKSHOPS are available when school is out for holidays and breaks, and also during the summer. Campers will prepare a light breakfast, lunch, and a snack each day. We have many activities during the day to keep the kids active and learning.
Music Academy of Acadiana ~ Theatre prompts children to act, sing and dance simultaneously. No experience? No problem. Acting class starts with a fun group warm up geared to prepare the mind and body for the day. Theatre and Acting allows children to experience the joys of a team sport while expanding them cognitively.
Music Garden Summer Camps ~ Music games and songs, movement, exploring different instruments like the ukulele, violin, drumset, keyboard, and more!
Nutty Scientists of Acadiana Summer Camp ~ Nutty Scientists® of Acadiana Camps are an innovative form of "edutainment" (education + entertainment). Combining fun with learning, each camp contains an educational theme that keeps children engaged from day to day.
On Voyage Dand Le Temps À Vermillionville: It takes a village ~ Vermilionville will be hosting our fourth annual summer camp series on four separate weeks during the summer months. Each week is tailored to a specific age group in order to provide age appropriate and skill level demonstrations and hands-on craft opportunities.
Painting With A Twist ~ Our Kids Camps offer painting fun for all ages. Campers, guided by our professional artists, will create a finished work of art every day of camp. We provide all the painting supplies and even clean up the mess after!
Ragin Cajuns Athletic Camps ~ If applicable, discounts are applied at the end of the registration process. Please call 337-482-6380 if you have any camp registration questions.
SkyCamp at Sky Zone ~ Have an epic time at SkyCamp! Kids can have fun while staying active, with instructor-led activities like age-appropriate exercise and Ultimate Dodgeball. It's easy and hassle-free for parents: Drop 'em off and we'll make sure they have the best experience ever.
South Louisiana Gymnastics Camp ~ SoLa Gymnastics is offering four full weeks of Summer Camp! There will also be two special camps that will be the first day of Summer (May 24, 2019)and the last three days before school starts up again(August 12, 13, and 14, 2019). These days will be perfect for those parents who need childcare when most camps and daycares take a break. The full week camps will be perfect for kids who want to have fun at a gymnastics camp learning gymnastics skills and enjoying fun Summer activities. Ages 5-12
St. Thomas More Summer Camps ~ St. Thomas More summer camp schedule is designed to meet the summer needs of most families with sessions beginning May 30 and running through August 1. No camps are offered the first week of July. Several camps have multiple sessions, with a few offering half day or full day options.
Sugar N Spice Vacation Station ~ The children attend exciting Field Trips Daily with swimming at least once per week, participate in a Talent Show and Competition.
Summer At Ascension 2019 ~ We are gearing up for a fun summer of playing and learning!
Summer At The Bayou ~ Summer is a refreshing time of year. It's the perfect opportunity for families to forget about the routines of the school year and enjoy time being together. It's also a time for kids to be … well, kids! And what better way for them to celebrate all that summer has to offer than creating moments to remember at summer camp?!
Super Kids' Quest @ The Little Gym ~ Combining physical activity, gymnastics, games, and arts & crafts, we'll help your child beat the heat of summer by staying cool at The Little Gym. Our fantastic camps are also available during some other school breaks!
Thea's Dance Academy Summer Camps ~ We strive to offer a variety of open classes to children and adults, taught by the finest instructors from around the world.
Top Stitch Sewing School ~ Have you heard of our summer camps? If sew, comment below: what was your experience like? June is just around the corner. This summer, join us again or perhaps share your #TopStitch experience as a gift. Ready to learn for the first time? We have adult camp, too!
UL Lafayette Continuing Education ~ From art & culture, to professional development & technical training – we have over 200 courses to choose from.
Unique Steps Cheer & Dance Summer Camp ~ We are hosting our annual Summer Camp the week of June 10-14. Camp will be at 9:00-4:00 each day. Lunch and snacks are included. $25 deposit due when signing up and $100 balance will be due by June 3rd. Spots are limited. Our location address is 697 Hwy 182 Arnaudville (only 2 miles from I-49 at Exit #7).
WeHaKee Camp For Girls ~ WeHaKee Camp for girls offers a wide range of creative activities to choose from including musicals, cooking, painting, knitting, music, and photography just to name a few.
Wonderland Performing Arts Summer Camps ~ Wonderland is offering several fun and exciting summer camps this year! Be sure to check out all of your options and sign up for more than one. No two camps are alike!
YMCA of Acadiana; Fun in the sun at the YMCA! ~ Summer Camp at the YMCA of Acadiana begin at 7:00 am and last until 6:00 pm Monday through Friday. We engage our campers through outside and inside play that is active in both mind and body.
Do you have a summer camp in Acadiana that you would like added to our list? Email me at [email protected] and I'll be happy to add it! Sign up to receive my newsletter in your inbox every week!