Most Complete List Of Summer Camps In Acadiana 2018
Most Complete List Of Summer Camps In Acadiana 2018!  If you live in Acadiana or the Lafayette, Louisiana, area and are you looking for something fun to keep the kids busy and happy this summer, you have come to the right spot! Sign up to receive my newsletter in your inbox every week!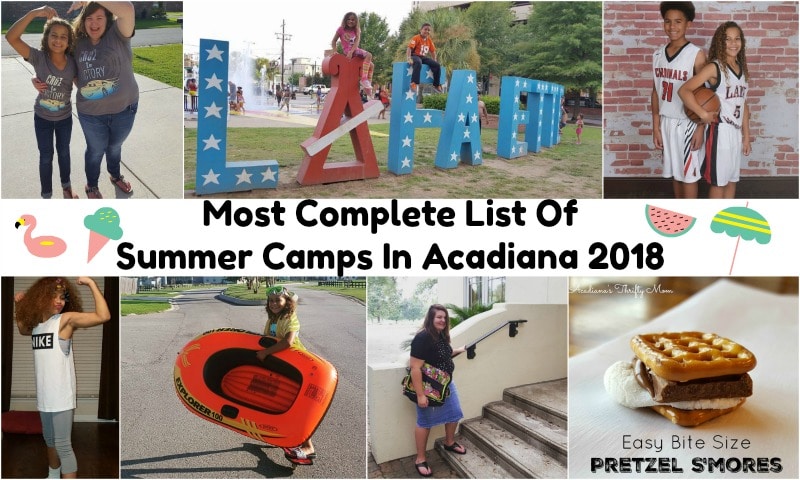 Acadiana's Thrifty Mom has rounded up the biggest list of camps in Acadiana around! Be sure to check back often; I will be adding more as I find them ???? My kiddos love going to camp every summer.   We have done art camps, music camps, sports camps, culinary camps, you name it.  Acadiana has some of the best camps around, if you ask me!  Do you have a summer camp in Acadiana that you would like added to our list?  Email me at [email protected] and I'll be happy to add it! Sign up to receive my newsletter and in your inbox every week!
Acadian Center Camps Offer Adventure in Culture, Nature, and History ~ Jean Lafitte National Historical Park and Preserve will offer day camps at many of its sites in summer 2018. Through games, crafts, mini-workshops with local artisans, hikes, and hands-on activities, campers will explore the cultural diversity that influences life in south Louisiana as well as local land and ecology.
Acadiana Gymnastics Summer Camps ~ Registration for new families begins Friday, May 11.
Acadiana Karate – Super Ninja Warrior Camps  include an all day action packed martial arts camp including field trips, drills, games, weapons and fun filled activities.
Acadiana School of the Arts camp! ~ Information will be added soon!
Acadiana Symphony Orchestra ~ ASO&C and LSM are teaming up once again to offer you Summer Camps that are out of this world! Four weeklong camps offer fun and educational experiences for children ages 7 to 14.
Alison Wonderland Musical Theatre Summer Camp ~ Classes with allisonwonderland theatre co. include exercises that build self-confidence, stage presence, theatre knowledge, vocal agility, self control, self awareness, team work, improvisational skills, and so much more! Children receive encouragement to perform to their best ability. They are taught creativity, responsibility, time management, and discipline through positive reinforcement & example.
Ascension Episcopal School – Summer At Ascension is offering several camps throughout the summer for students of various ages & interests!
Blue Ribbon Camp ~ Summer camps have become an American way of life for thousands of children each summer. The Blue Ribbon Camp is dedicated to the growth and development of children.
Camp In The City ~ Camp is Coming! Register today for Pinecove Camp in the City here at TBC. Camp will be the week of May 28 – June 1 for kids completing Kindergarten through 5th grade.
Camp Invention ~ We inspire girls and boys to think BIG and imagine how they can change the world for the better one day! This one-of-a-kind weeklong experience connects science, technology, engineering and math through fun hands-on activities. The program allows students to learn about creative problem solving (and so much more!) in teams grouped by age.
Camp Oakbourne ~ Each day at camp will be full of structured and fun activities for your child. We love variety and therefore, the camper who attends for just one week will have just as fabulous a time as the camper who comes to camp all summer!
Camp of Acadiana ~ Camp of Acadiana is excited to provide your child with a great 2018 Summer Camp experience.
Cheerz Summer Camp ~ Camp is for ages 5 & up. All abilities welcome.  Our professional staff is a combination of college cheerleaders and experienced camp instructors.
Children's Museum of Acadiana Summer Camps ~ June 4-8, 2018 (full day) "Earthly Treasures" Gardening Camp.  & June 18-22, 2018 (full-day) "Can You Dig It?" Dinosaur Adventure Camp.
Christian Youth Theater Camp ~ Join CYT summer camp and fill your day with theater workshops using a Broadway-style theme. Workshops include musical theater, voice, dance and drama. Other activities include high energy games and rehearsals for the Friday Showcase for family and friends.
Discovery College at SLCC ~ Discovery College at SLCC offers a unique summer camp experience with sessions in CSI investigating, acting, engineering, drawing, ACT prep, oil and gas, robotics and video-game making. The fun begins Monday, June 4.
Diver's Destination ~ Diver's Destination is offering several great summer camps along with swimming classes for adult and children. Their summer camps include Snorkel camp and Scuba camp. the phone number is 337-981-DIVE(3483).
Dreams Foundation Camp ~ This camp is for individuals with special needs.
Girl Scouts Camp Like A Girl ~ We are thrilled to offer 8 super fun, super unique camps this summer! Whether it's your first time or your 10th time, we know you'll have a great time in the outdoors, camping #LikeaGirlScout.
Faith Camp ~ Faith Camp is AWESOME: a life-changing, fun-filled, action-packed time of making friends and growing in your faith.
Hangtime Summer Camps ~ Your little ones will experience first-hand what a recreational trampoline and tumbling class involves. They'll also get to freely explore our exciting equipment, such as our trampolines and our 50-foot tumbling track.
Hello Dancer Summer Camps ~ Hello Dancers offers Holiday and Summer Camps for boys and girls ages 3-12.  Each camp is themed and filled with tons of dancing, crafts, games, friendship, and fun!
Honey Do Farms Horse Camp ~ Located in betweeen Cankton and Church Point. 25 minutes from most surronding cities.  Mon-Fri 8-5 5 weeks to choose from. Limit to 8 per week so hurry to get in on the fun.  ~ 8-12 Horseriding ~ 12-1 Lunch ~ 1-230 Arts and Crafts ~ 230-430 Swimming ~ 430-5 Feeding and caring for animals to nighty night.
Just 4 Kicks Soccer Camp ~ Each day will be divided into three or four sessions, depending on the heat. The first two or three sessions are for instructional purposes. It is at this time that we will demonstrate and teach the correct way to pass, trap, dribble and shoot. The last session of each day is for scrimmaging, which will provide your child with the opportunity to use what he or she learned in actual game situations.
KidCam Camp Lafayette & Youngsville ~ For 40 years, KIDCAM has been delivering all of this and more for thousands of happy campers. We've taken the very best time of year for kids, and made it even better. With hand-selected camp locations throughout Louisiana, Texas and Illinois, you're sure to find a KIDCAM summer camp that works for you.
Kids Bowl Free (Acadiana Lanes) ~ All participants must wear bowling shoes – rental shoes available. Not good for use with daycare outings, camps, business or club outings, or birthday party celebrations.
Kids In College Summer Camps (SLCC) ~ South Louisiana Community College's annual Kids in College Summer Camps will offer middle school and high school students a chance to be detectives, life-savers, chefs, video-game makers, rollercoaster designers, and much more.
Kids Skate Free (Skate Zone) ~ Passes valid for children 12 years old and younger. Skate rental is $3.00 Can not be combined with any other offer. Can not be used towards group rates or birthday parties. only one coupon per child per week. Valid weekdays only during school holiday breaks and summer.
Lafayette Martial Arts ~  If your kid's just looking for a fun time – we won't disappoint. Our camp is loaded with games, activities and exercises that'll have your kid laughing, smiling and having the time of their life.
Lafayette Parks and Recreation ~ Summer Enrichment Program.  The Summer Enrichment Program offers, for a minimal fee, day time supervised play and activities for youths during a designated summer period.
Lafayette Youth Soccer Association ~ The Lafayette Youth Soccer Association is the longest serving youth soccer organization in Acadiana. We offer a variety of camps throughout the year ranging in both age & various ability levels. Recreational & competitive players alike will benefit from our professional coaching staff during our Day Camps, Full-Day Camps, & Position Specific Camps. We aim to develop skills & knowledge in order to foster a life-long love of the game in our Acadiana youth.
LSU continuing education ~ For an enjoyable activity with lifelong benefits, we recommend one of our eight different reading skills programs designed and taught by instructors from the Institute of Reading Development. Programs have been offered as a community service by LSU Continuing Education, a non-profit organization, since 2003.
Mix It Up Summer Cooking Camp ~ COOKING CAMPS and WORKSHOPS are available when school is out for holidays and breaks, and also during the summer. Campers will prepare a light breakfast, lunch, and a snack each day. We have many activities during the day to keep the kids active and learning.
Music Garden Summer Camps ~ Music games and songs, movement, exploring different instruments like the ukulele, violin, drumset, keyboard, and more!
Nutty Scientists of Acadiana Summer Camp ~ Nutty Scientists® of Acadiana Camps are an innovative form of "edutainment" (education + entertainment). Combining fun with learning, each camp contains an educational theme that keeps children engaged from day to day.
On Voyage Dand Le Temps À Vermillionville:  It takes a village ~ Vermilionville will be hosting our fourth annual summer camp series on four separate weeks during the summer months. Each week is tailored to a specific age group in order to provide age appropriate and skill level demonstrations and hands-on craft opportunities.
Pucci Percussion Hand Drumming Summer Camp ~ Get your child involved in a cultural experience that will have a lasting impact on their lives.  Students learn authentic African and Latin instruments teaching various styles of hand Drumming and Percussion playing.  All classes are taught by instructor Mr. Herbert Pucci Green who is a native of Lafayette and has several years of hand drumming experience.   Any questions or to register please contact Herbert Green @ 337-443-3432  June 4 thru 8, 8:30am to 12:00pm.   Ages: 4 -18
Ragin Cajuns Athletic Camps ~  If applicable, discounts are applied at the end of the registration process. Please call 337-482-6380 if you have any camp registration questions.
SkyCamp at Sky Zone ~ Have an epic time at SkyCamp! Kids can have fun while staying active, with instructor-led activities like age-appropriate exercise and Ultimate Dodgeball. It's easy and hassle-free for parents: Drop 'em off and we'll make sure they have the best experience ever.
South Louisiana Gymnastics Camp ~ SoLa Gymnastics is offering four full weeks of Summer Camp! There will also be two special camps that will be the first three days of Summer (May 23-25, 2018)and the last two days before school starts up again(August 6th and 7th, 2018). These days will be perfect for those parents who need childcare when most camps and daycares take a break.
Sugar 'n Spice Vacation Station ~ 4 convenient locations in Broussard, Carencro, Lafayette, and Youngsville. Kids go on 3-4 field trips per week plus activities at the center. We provide breakfast, lunch, and snack. Great environment for kids to kick back and enjoy their summer break while making memories!
Summer At The Bayou ~ Summer is a refreshing time of year. It's the perfect opportunity for families to forget about the routines of the school year and enjoy time being together. It's also a time for kids to be … well, kids! And what better way for them to celebrate all that summer has to offer than creating moments to remember at summer camp?!
Super Kids' Quest @ The Little Gym ~ Combining physical activity, gymnastics, games, and arts & crafts, we'll help your child beat the heat of summer by staying cool at The Little Gym. Our fantastic camps are also available during some other school breaks!
Thea's Dance Academy Summer Camps ~ American Doll Dance Camp ~ Tuesday, June 12th- Wednesday, June 13th, 9-10:30 AM,  Acro & Technique Intensive ~ Tuesday, June 19th- Thursday, June 21st, Lux Experience: Get the Convention experience without having to travel ~ Saturday, July 13th 10am-3pm/Sunday, July 14th 10am-2pm.
Tiny Chef Camp ~ If your child loves to help out in the kitchen then they will love Tiny Chef Camp! Your Tiny Chef will be engaged in learning essential kitchen skills while mastering their own cooking technique!
UL Lafayette Continuing Education ~ From art & culture, to professional development & technical training – we have over 200 courses to choose from.
Unique Steps Cheer & Dance Summer Camp ~ Ages 5 & up.  Activities:  Cheer, tumbling, jazz, and hip-hop.  June 18-22.  Lunch and snacks included.
Westminster Academy Summer Camps ~ We welcome all of our returning and new campers to our 2017 Summer Camp Programs. We are excited to embark on another summer of fun and learning. From sports to arts and academic fun, camps held at Westminster Christian Academy span a broad range of interests.
Wonderland Performing Arts Summer Camps ~ Wonderland is offering several fun and exciting summer camps this year!  Be sure to check out all of your options and sign up for more than one.  No two camps are alike!
YMCA of Acadiana; Fun in the sun at the YMCA!  ~ Summer Camp at the YMCA of Acadiana begins at 7:00 am and lasts until 6:00 pm Monday through Friday. We engage our campers through outside and inside play that is active in both mind and body.  We service ages 5-12 years old, and divide our campers according to age and gender. Our Camp Counselors are made up of college students and Lafayette Parish teachers, and are trained to be role-models to all those who attend camp.
Zoo of Acadiana Jungle Camp ~ A week in Jungle Camp exposes the campers to all of the wonderful things Zoosiana has to offer, including: daily zoo tours, arts, crafts, and activities; Playground time, behind the scenes tour, Special "Friday only" activities, educational animal programs (to include up-close enjoyment!), and more!
Do you have a summer camp in Acadiana that you would like added to our list?  Email me at [email protected] and I'll be happy to add it!  Sign up to receive my newsletter in your inbox every week!
Check out these other great posts from Acadiana's Thrifty Mom: