Fun And Easy Edible Cookie Dough
Fun And Easy Edible Cookie Dough. Do your kids beg for the cookie dough before you even get a chance to bake cookies? Mine do all the time! No matter how many times I tell them it has raw eggs in it; they still beg.
My son begs for this edible cookie dough, but to be honest, he cannot eat all of it. I highly recommend that you half the recipe unless you are making this for a party or gathering. This edible cookie dough is delicious, but after a scoop or two, the kiddos lose interest. It will keep in the refrigerator for about a week. You can even freeze it for up to 2 months if you like. I make a full recipe and freeze half of it the day I make it. This way I don't need to make more the next time the kiddos get a craving.
When their friends stop by, I fix them some of this edible cookie dough with a scoop of ice cream. You can also make little edible cookie dough balls and add it to your favorite homemade ice cream recipe for a delicious cookie dough ice cream. I use this super easy no-churn 2 ingredient ice cream recipe and add this edible cookie dough with it! This Great Tasting Vanilla Extract In Your Instant Pot is also great for this recipe. Give it a try and let me know what you think.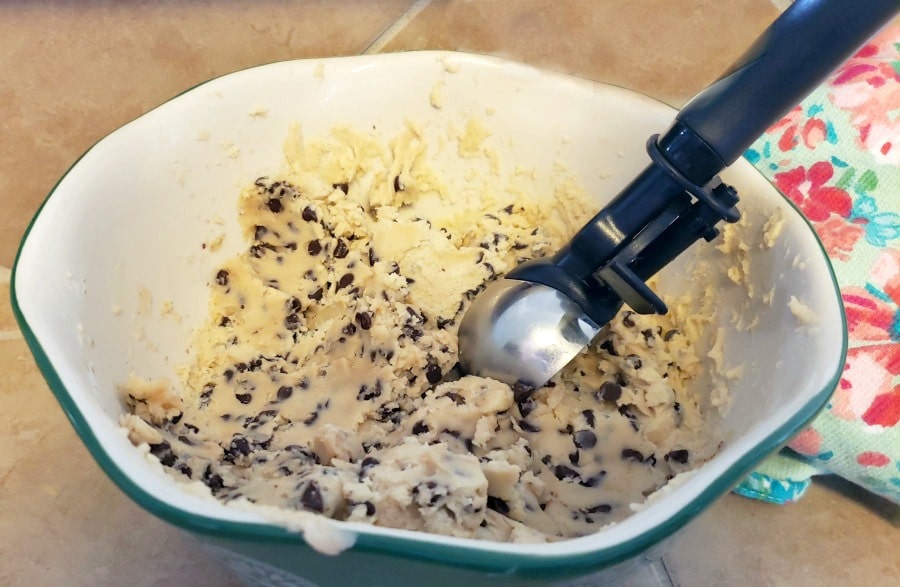 You can add a block of room temperature cream cheese before you add the chocolate chips and have a great dip! Add some graham crackers and everyone will love it! I have even added pecans to this as a dip and made a "cookie dough ball" for my daughter's birthday party. It was a huge hit! Just get creative and have fun with it. You're kiddos will love you for it.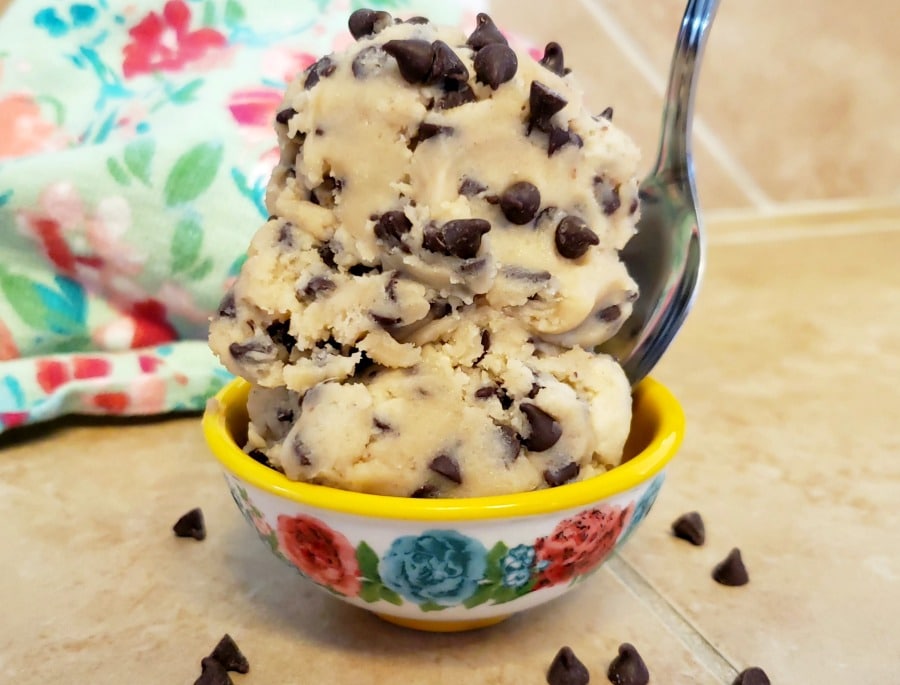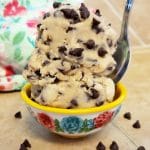 Fun And Easy Edible Cookie Dough
Ingredients
1/2

Cup

Brown Sugar

packed

4

Tbsp

Salted Butter

softened

2

tsp

Vanilla extract

3

Tbsp

Milk

1

Cup

All purpose flour

Baked at 350 degrees for 5 minutes

1/2

Cup

Mini Chocolate Chips
Instructions
Mix brown sugar, butter and vanilla extract in a large bow with an electric mixer until creamy.

Add flour; mix until a crumbly dough forms.

(For dip: mix in 8 oz of room temperature cream cheese here.)

Mix in milk and chocolate chips with a rubber spatula or spoon.