Cream of Anything Soup Mix
Cream of Anything Soup Mix.  Many of you know that I love making my own mixes AND I love finding great uses for powdered milk!  Not only is powdered milk good for you, but it lasts a really long time on the shelf.  This mix is one I use often around my house.  I love using this mix in my chicken & dressing, but there are endless possibilities for a mix like this.  Of course, like all of my other dry mix recipes; you can tailor it to fit your taste.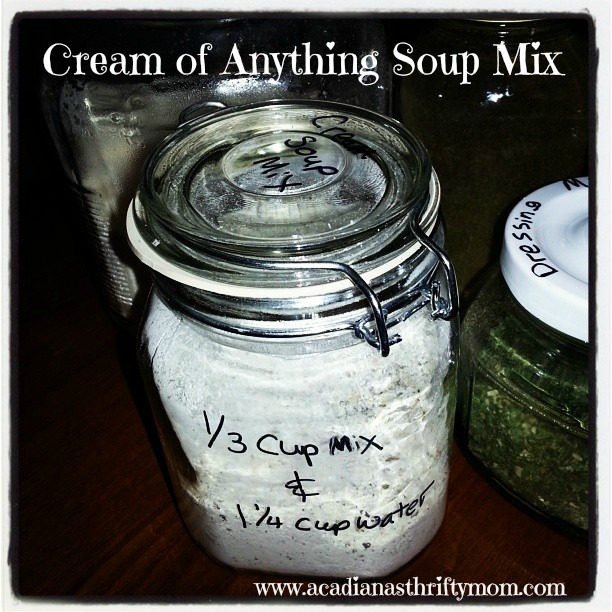 This is a great recipe to have on hand for all of your favorite holiday recipes and cooking.  Don't forget, these also make great teacher gifts and they won't break the bank!
Gather your ingredients:
2 C powdered milk
1 C corn starch
1/4 C chicken bouillon granules
1/4 C dried onion flakes
1 T Basil
1 T white pepper
2 T celery seed
Combine all of the ingredients in an air tight container. Use 1/3 cup dry mix with 1 1/4 cup warm water to equal 1-10 oz can of cream soup. ENJOY!
https://acadianasthriftymom.com/2015/06/18/super-easy-stromboli/
https://acadianasthriftymom.com/2018/06/18/easy-20-minute-beef-and-broccoli-in-your-instant-pot/
https://acadianasthriftymom.com/2018/08/03/5-reasons-you-are-going-to-be-happy-you-took-your-family-to-see-christopher-robin/