Easy Peasy Cherry 7UP Cupcakes #7Waysto7UP
This is a sponsored conversation written by me on behalf of 7UP®. The opinions and text are all mine.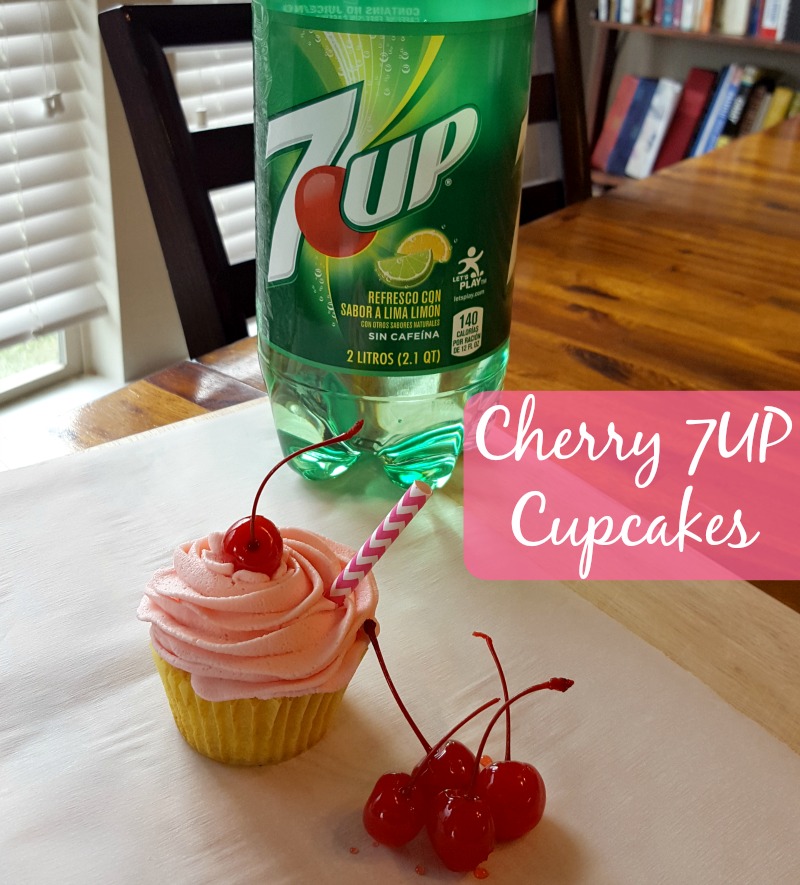 I have the most amazing cupcake recipe to share with y'all today!  When I was asked to create a recipe using 7UP, I knew exactly what I wanted to make.  I have been making this amazing 7UP cake for YEARS and have been wanting to make it into cupcakes for a while now, but never quite had the motivation to do it.  Soooooo, here it is!  These are the lightest, fluffiest, and most delicious cupcakes you will ever make.  You'll never go back to making cupcakes the "old way".  I tweaked my cake recipe a bit because cupcakes need to be a little lighter and not quite as dense as the 7UP pound cake I usually make.  Just you wait, you're going to love them <3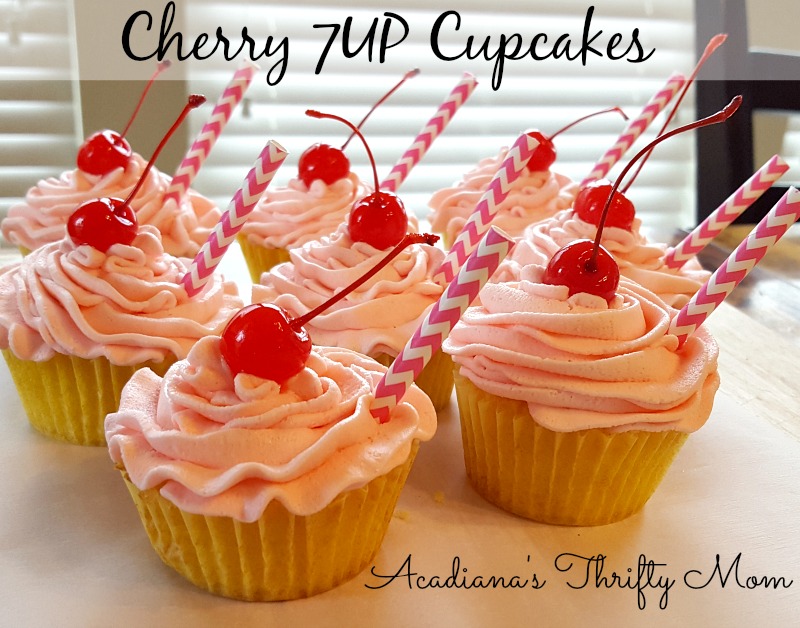 I made a cherry buttercream frosting to go with the 7UP cupcakes as a tribute to the super delicious Cherry 7Up that is now on the shelves of  Stop & Shop stores everywhere!  7UP is also available at Giant Landover and Giant Carlisle.  There are so many different ways we use 7UP in our weekly meal planning and you can too.  Just last weekend, my husband cooked out on the grill and we marinated pork steaks in 7UP, garlic, red pepper flakes, garlic, and soy sauce.  They were delicious!  The carbonation combined with the sugar and soy sauce makes the pork so tender that it just falls off the bone when my husband takes them off the grill.  As I mentioned before, I have a favorite 7UP pound cake that is made very similarly to these cupcakes.  The only thing I change up is that I don't add milk, and instead of 3 eggs, I use 4.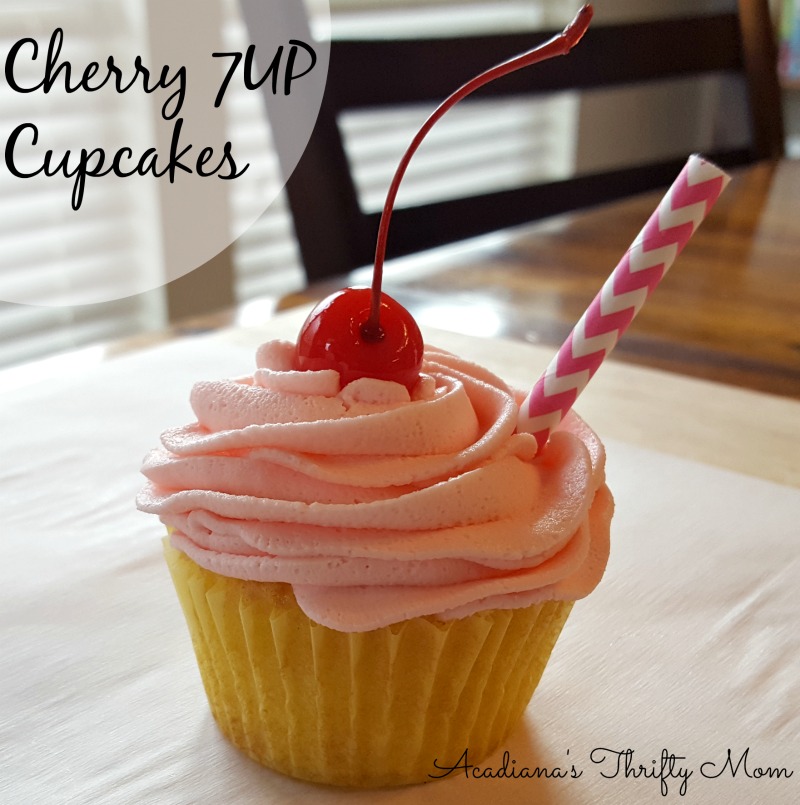 My kids have a very favorite 7UP punch that I, traditionally, make for their birthdays.  All you do is pour a 2 liter of 7UP in a punch bowl and add a 1/2 gallon of rainbow sherbet! Voila!  You will have a crowd of very happy kids.  I also like to scoop the sherbet into the bowl to make sure everyone gets a little bit in their cup.  We have made 7UP popsicles as well.  The uses for 7UP are endless!  Make sure to check out Savory Magazine in the "New Flavors" edition until 3/30 to save $1.00 when you buy two 7UP 2-Liter bottles.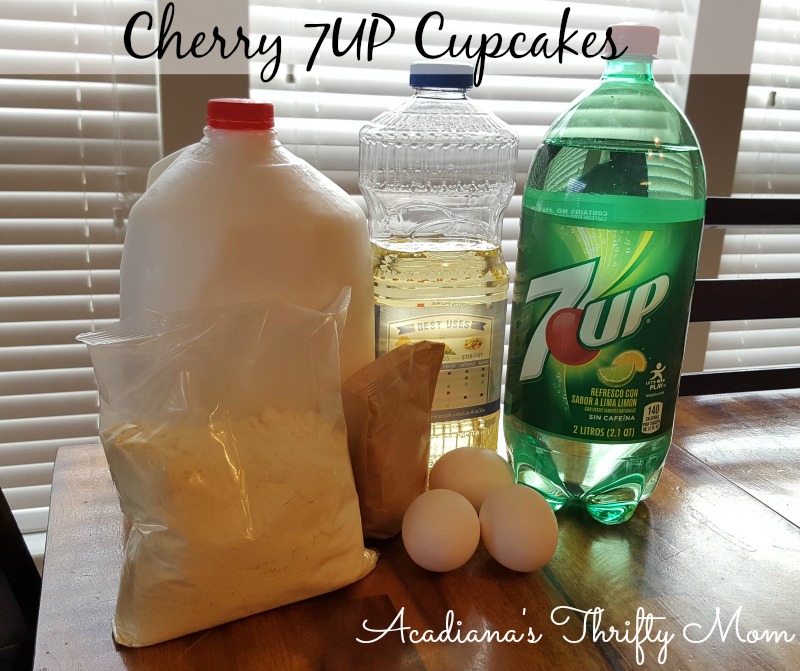 For the Cupcakes:
Gather your ingredients:

1 pkg yellow cake mix (about 18 oz)
1 pkg instant lemon pudding mix (about 3.4 oz)
3 large eggs
1 3/4 cup 7UP
1/4 cup whole milk
1/3 cup vegetable oil

Get to cooking:

Preheat oven to 350 degrees.
Place 24 cupcake liners in cupcake pan and spray liners with non-stick spray.
Place all of the ingredients into a large mixing bowl and mix, on medium speed, for 3 minutes.
Scoop batter into 24 prepared cupcake liners.  Fill each liner about halfway with batter.
Place cupcakes into preheated oven and bake for 18-22 minutes or until a toothpick inserted into the middle comes out clean.
Carefully remove the cupcakes from the oven and allow to cool on a heat resistant surface.
For the frosting:
Gather your ingredients:

2 sticks of salted butter (not margarine) at room temperature.
4 cups of confectioners' sugar (always use fresh sugar)
2 tsp cherry extract
1 tsp almond extract
A few drops of red gel food coloring
3 tsp whole milk

Get to mixing:

Mix butter on high for 2 minutes, until fluffy.
Mix in confectioners' sugar 1 cup at a time until well blended.  Mix on high for an additional 2 minutes.
Add extract and mix well.
Add red food coloring until desired color and mix well to maintain consistent color and fluff of frosting.
Pipe or spread frosting onto cooled cupcakes.
Add maraschino cherries for garnish if desired.
Serve and enjoy!