Easy Overnight Breakfast Enchilada Bake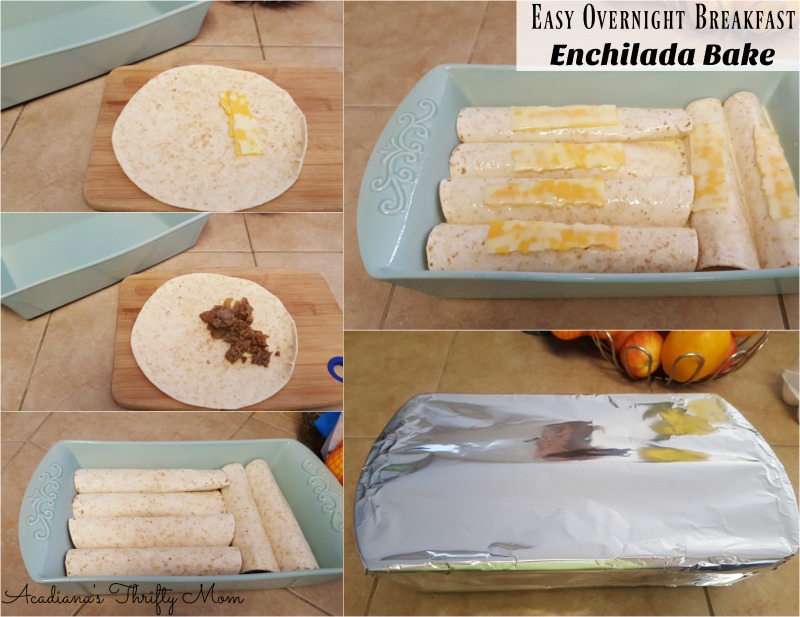 I'm rolling out more amazingly easy and delicious overnight breakfast ideas this week.  In honor of the holidays and saving mom's sanity, I have this super easy and yummy breakfast enchilada bake to share with you.  The great thing about these recipes is that they are all very versatile.  You can use any breakfast meat that you like or even leave the meat out all together.  You can substitute potatoes or any other tasty veggie.  This is so much fun for me because my kids get a great tasting breakfast that will keep them full for hours and I get to relax a little longer with my coffee.  It's a win-win for everyone 😀  The breakfast enchilada bake can be put in the refrigerator overnight or even frozen for use in the next week or two.  Eggs freeze great when they are already scrambled (mixed up).  They don't have to be cooked to be frozen, as long as you mix them well to get the yolk broken up good.  You can add salsa, sour cream, jalapenos, whatever your family loves and this will taste amazing.  You can even use corn tortillas in place of the flour tortillas that I use.  Have fun and get creative!  Make it your own 🙂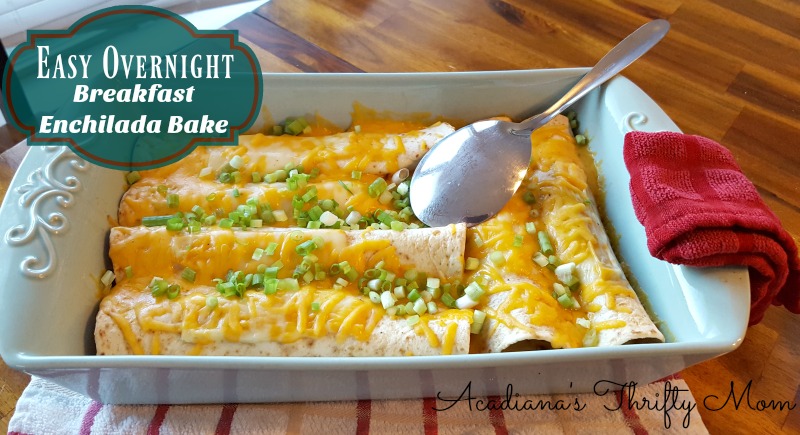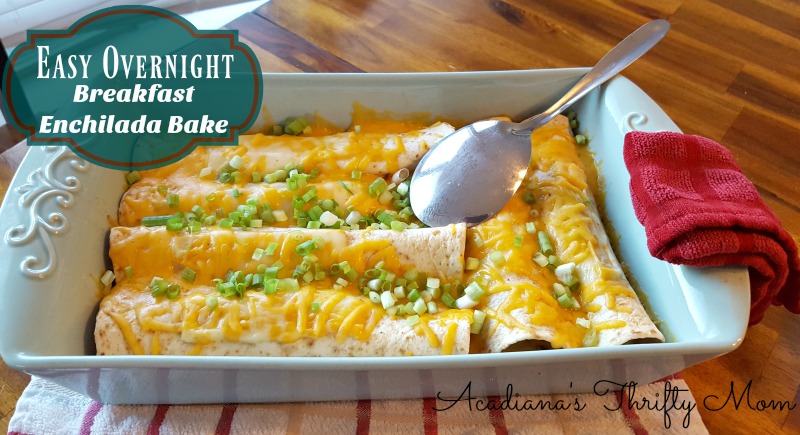 Gather your ingredients:
6 burrito size flour tortillas
1 lb breakfast sausage (you can substitute ham)
6 large eggs
1/4 cup heavy cream
1 small can green chiles
4 green onions (chopped)
3 slices of cheddar jack cheese
1/2 cup shredded cheddar cheese
Salt & pepper to taste
Get to baking!
Spray a 9 x 11 (ish) baking pan with non-stick cooking spray
Brown your breakfast sausage in a skillet and mix in green chiles.
Place 1/2 slice of cheese on a flour tortilla and top with the breakfast sausage mixture and roll and place seam-side down in baking dish.
Continue this until each tortilla is rolled and placed in the dish.
Wisk the eggs and cream together and add a pinch of salt and pepper.
Pour the egg mixture over rolled tortillas, cover with foil and place in refrigerator overnight.
When you're ready to bake the enchiladas, remove them from the refrigerator and place on the counter while you preheat your oven to 350 degrees Fahrenheit.
Once the oven is preheated, carefully place enchiladas in the oven and bake (still covered) for 45 minutes.
Carefully remove the enchiladas from the oven and check that the eggs are "set".   Eggs need to be cooked to about 150 degrees Fahrenheit.
Sprinkle with shredded cheese and chopped green onions and serve.
Enjoy!