Roast Turkey Dinner Cake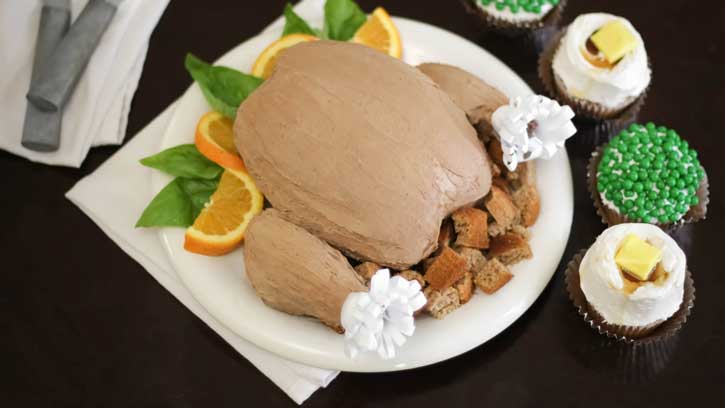 This would be so stinkin' cute for Thanksgiving!  My kids LOVE when I get creative with their meals and this would be a huge hit at any Thanksgiving party or gathering.
Turkey and dressing, mashed potatoes with gravy and peas… doesn't sound much like dessert, does it? But it is! This adorable cake looks just like a roast turkey, and it comes complete with cupcake side dishes. It's just the thing to lighten the mood around the holiday table, and it would make the funniest birthday cake for those celebrating in November. Here's how to make it!
Ingredients
2 boxes Betty Crocker™ SuperMoist™ white cake mix
Water, oil and eggs called for on cake mix box
4 tablespoons ground cinnamon
2 1/2 containers (12 oz each) Betty Crocker™ Whipped whipped cream frosting
4 to 6 teaspoons unsweetened baking cocoa
Orange slices and lettuce or basil leaves, if desired
Paper turkey frills
16 oz green candy-coated fruit-flavored chewy candies
2/3 cup real maple or maple-flavored syrup
10 yellow square chewy fruit-flavored candies
You can find the full recipe and directions over at Betty Crocker!