My Interview With The Charming Wes Bentley From Disney's Pete's Dragon #PetesDragonEvent
*I received an all expenses paid trip to Los Angeles for the coverage of several press events for Disney.   All opinions are 100% my own and I only recommend events and shows that are a great fit for my readers.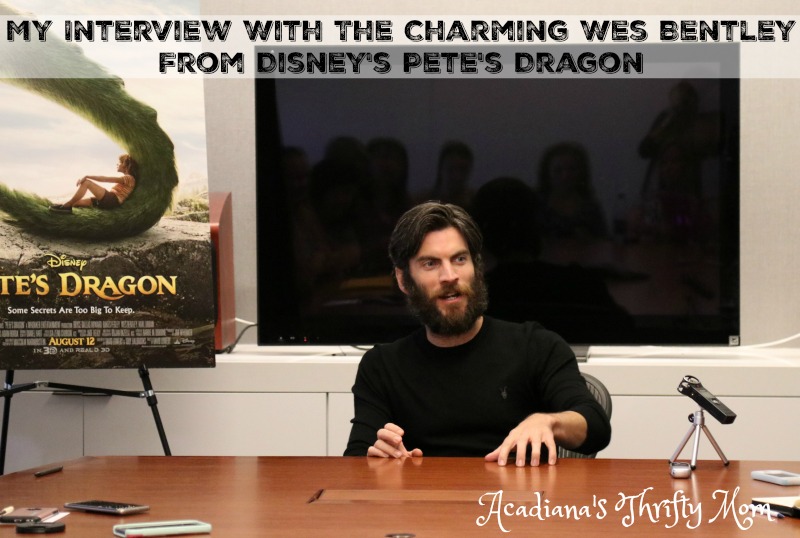 I am so excited to finally share my interview with the charming Wes Bentley from Disney's Pete's Dragon!  You might be saying to yourself "Hey, this guy looks so familiar".  That's because he is….familiar!  You might recognize him from his role as  Ricky Fitts in American Beauty, Seneca Crane in The Hunger Games,  Detective John Lowe on American Horror Story: Hotel, or  Blackheart in Ghost Rider!  Wes Bentley has played many other roles as well.  I remembered him fro American Beauty.  No matter what role you recognize him from; none of them will prepare you to see him in his role as Jack in Disney's Pete's Dragon.  He does an amazing job of balancing his job as a logger and father in his newest adventure in Pete's Dragon.
We had the chance to sit face-to-face with him and find out just how it was on the "set" of Disney's Pete's Dragon.  Well, the set was actually the forest in New Zealand.  There were a lot of questions swirling around New Zealand and working with a dragon. I mean, really, how many actors get the chance to work with a huge, fire-breathing dragon in their careers?
The first question was asked:  How was New Zealand and how long were you there for?
Wes Bentley: I was there I think it was three months, total.  Oh, it was beautiful. My family came out for the last two months so I had my kids and my my wife out there.  It was beautiful.  I had a lot of time between shooting so I got to do a lot of the touring around and we got to go do a bunch of very exciting things. Everywhere you turn in New Zealand there's something exciting to do and you don't have to sign a bunch of waivers and all of that. It was a blast. It was good.  Beautiful place.  I think it's the gem of the world. It's so far away from the madness and so you get that element and it was just stunning.
The next question:  What's it like being in your first Disney film?
Wes Bentley: Oh, it was great.  I've been a Disney fan when I was a kid and I was excited to be a part of a movie with them. Especially because I have young kids, I wanted to do something that my kids could see while they're young. My son is going to be six in November, he's coming with me tonight to the premiere. So yeah, it's going to be exciting. He's excited about that. I don't know how he's going to react seeing me, because he's seen images of me in a film but of course he's never seen anything beyond a few words.
Question: Have you shown Charles (his son) the first film at all?
Wes Bentley:  No, I haven't.  I was going to, I know, I know.  I kind of wanted him to see this one first and then watch that one later. Kids they're very  aware of animation styles, my kids are at least and his friends.  It's hard to convince them even to watch Alice In Wonderland, which is still amazing animation. But because of the difference in the look, it's hard to get them to lock in on it. So I wanted him to see this Pete.  And he also sort of worked on it. Obviously, not really, but he would come to set with me and the the assistant directors would get him to go get actors out of their trailers and get them to makeup and they'd give him a New Zealand dollar for the day. So, it was an experience he had. So I was going to save the other film…
Of course the question was asked:  Do you have a favorite moment or memory while filming?
Wes Bentley:  Now I've thought of a couple.  Being up on the fake dragon with Bryce and the wind blowing and we're supposed to, aren't really sitting on a dragon for the whole day. It's early on in the film making and we're making jokes with each other trying to make each other laugh and how big we could smile when we're up on the back of the dragon. That was a fun day.  And another one would be in the car, taking off with the dragon break, when they break through the barn and everyone's chasing them and we've got all of those actors there. It felt a bit like it's a Mad, Mad, Mad, Mad World where everyone's looking for the money. I don't know if that '60s film or something like that. And that great cast, we just had everyone together and we're all standing together and we had to all run to our cars as fast as we could and take off after this truck.
It was just kind of crazy and wild and funny and everyone was giddy from all the action and making jokes and laughing. We had a good group of extras from that little town called Tapanui and they were just so psyched. Such a sweet group, opened their arms to us and they were the extras; they had the best time shooting all day in some kind of tough conditions.  It was a muddy set. It was raining a lot and it was cold, but they were just so warm.  That was a fun scene to do because everyone was just having a great time.
About Disney's Pete's Dragon:
For years, old wood carver Mr. Meacham (Robert Redford) has delighted local children with his tales of the fierce dragon that resides deep in the woods of the Pacific Northwest. To his daughter, Grace (Bryce Dallas Howard), who works as a forest ranger, these stories are little more than tall tales…until she meets Pete (Oakes Fegley). Pete is a mysterious 10-year-old with no family and no home who claims to live in the woods with a giant, green dragon named Elliott. And from Pete's descriptions, Elliott seems remarkably similar to the dragon from Mr. Meacham's stories. With the help of Natalie (Oona Laurence), an 11-year-old girl whose father Jack (Wes Bentley) owns the local lumber mill, Grace sets out to determine where Pete came from, where he belongs, and the truth about this dragon. Disney's "Pete's Dragon" opens in U.S. theaters on August 12, 2016.
Visit the official Pete's Dragon website
Like Pete's Dragon on Facebook
Follow Pete's Dragon on Twitter 
Follow Pete's Dragon on Instagram