Help Your Students Feel Like Superheroes For Less At Walmart #TeacherRewardsKit
This is a sponsored post on behalf of Teacher Rewards Kit for Acorn Influence.  All opinions are 100% my own.

Whether you home school or send your children to a traditional school you can help your students feel like superheroes for less at Walmart with these super fun teacher rewards kits in the back to school section at Walmart!   Coming in right at $10, you'll have everything you need to reward and recognize students for their hard work and successes.  We home school our three children and, as you can see, it is not always easy to keep them motivated!  I also substitute with our local school system and know that the teachers will love having an affordable way to reward their students for a job well done.
As so many people know; teachers often use their own money, from their own pocket, to purchase supplies for their classroom.  Having a kit that has everything in one place that can be used for rewarding their students at such an affordable price is going to be so helpful to so many teachers.  Not only is this perfect for teachers to purchase for their classrooms, but they would make amazing teacher gifts.  When you're racking your brain trying to think of the perfect, affordable gift to purchase for your child's teacher, these Teacher Rewards Kits should be at the top of your list.  They are packed full of goodies for rewarding reading progress, good behavior, and any other accomplishment their students may achieve this school year.  The note cards are perfect for handing out to students to create word lists or write letters.  Being a substitute teacher, I can see that this kit would be perfect to take into any classroom and used for rewarding good behavior and following directions while their regular teacher is away.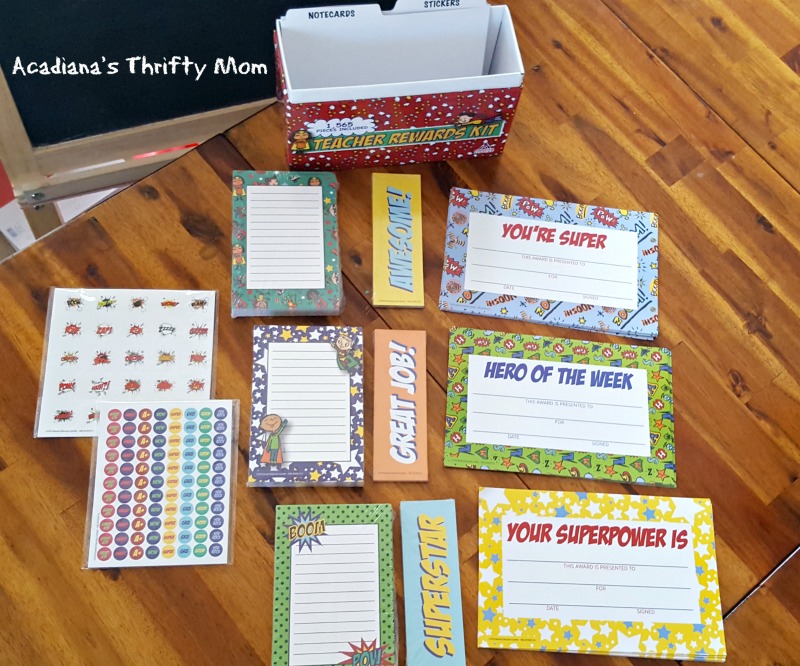 There are an incredible 1,565 pieces included in this Teacher Rewards Kit! This kit contains 60 award certificates in 3 different designs,  1,130 stickers, 75 bookmarks in 3 different designs, and 300 note cards in 3 different designs.  The entire kit comes neatly packaged in a sturdy box which is great for home or in the class!  I was planning on keeping my Teacher Rewards Kit to use with my kids this home school year, but have decided to give my box to one of my favorite teacher friends at the elementary school in our community.  You see, a huge flood hit south Louisiana last week and it has been a rough start to the school year.  I plan to give her this box along with a few other goodies, just to help her make it through their first week back after the flood.  I know she will have many creative ways to use this kit.