My Interview With Baymax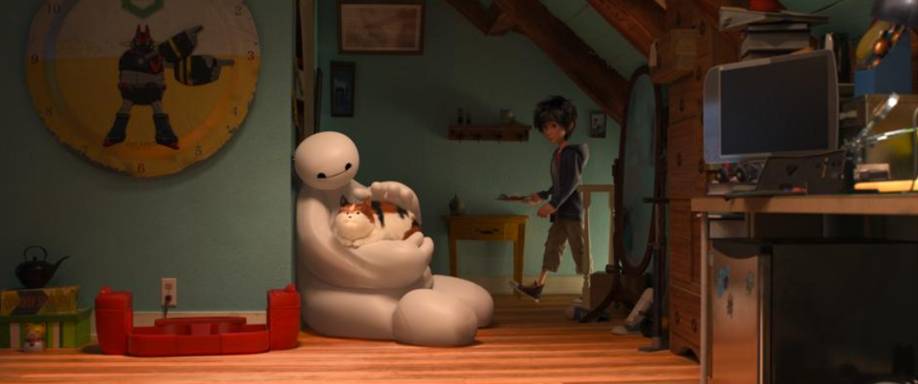 Now, it's time for the most fun interview I have ever had!  I was able to interview Baymax from Big Hero 6!  Be jealous, be very jealous *hehe*  I was able to ask him 3 questions and decided to defer to my children for these 3 questions since they are such HUGE fans!  Baymax was, afterall, voted the most huggable character this year.  He is such a loveable character.  I had an amazing time while I was in Los Angeles getting to know the creators and voices behind Big Hero 6 and Baymax.  It was truly a magical experience.  Getting to interview Baymax was just the icing on the cake for me!  Check out all 3 videos below to see what questions we asked Baymax and what his answers were!  You might even find out if there will be a Mrs. Baymax coming along soon.
From Disney: 
Baymax cares. That's what he was designed to do. The plus-sized inflatable robot's job title is technically Healthcare Companion: With a simple scan, Baymax can detect vital stats, and, given a patient's level of pain, can treat nearly any ailment. Conceived and built by Tadashi Hamada, Baymax just might revolutionize the healthcare industry. But to the inventor's kid brother Hiro, the nurturing, guileless bot turns out to be more than what he was built for—he's a hero, and quite possibly Hiro's closest friend. And after some deft reprogramming that includes a rocket fist, super strength and rocket thrusters that allow him to fly, Baymax becomes one of the Big Hero 6.
From Walt Disney Animation Studios:
The team behind "Frozen" and "Wreck-It Ralph," comes "Big Hero 6," an action-packed comedy-adventure about the special bond that develops between Baymax (voice of Scott Adsit), a plus-sized inflatable robot, and prodigy Hiro Hamada (voice of Ryan Potter). When a devastating event befalls the city of San Fransokyo and catapults Hiro into the midst of danger, he turns to Baymax and his close friends adrenaline junkie Go Go Tomago (voice of Jamie Chung), neatnik Wasabi (voice of Damon Wayans Jr.), chemistry whiz Honey Lemon (voice of Genesis Rodriguez) and fanboy Fred (voice of T.J. Miller). Determined to uncover the mystery, Hiro transforms his friends into a band of high-tech heroes called "Big Hero 6."
Like BIG HERO 6 on Facebook
Follow Walt Disney Animation Studios on Twitter  
Follow Walt Disney Animation Studios on Tumblr
Visit the Website
BIG HERO 6 is available on Blu-ray, Digital HD and Disney Movies Anywhere TODAY!