My Interview With The Adorable Bryce Dallas Howard #PetesDragonEvent
My Interview With The Adorable Bryce Dallas Howard #PetesDragonEvent
*I received an all expenses paid trip to Los Angeles for the coverage of several press events for Disney. All opinions are 100% my own and I only recommend events and shows that are a great fit for my readers.
As y'all know, I was in Los Angeles earlier this week for the Disney's Pete's Dragon Red Carpet World Premier.  While I was there, I was given the opportunity to interview some of the actors from the film.  My interview with the adorable Bryce Dallas Howard was so much stinkin' fun!  While we were sitting in the meeting room waiting for Bryce to come in the room, we were all sitting around talking about how cute she is and what we thought she would be like in REAL life.  We all agreed that she has got to be cute because all of the interviews we had seen with her were so much fun!  Then, we got the signal that she was about to come into the room.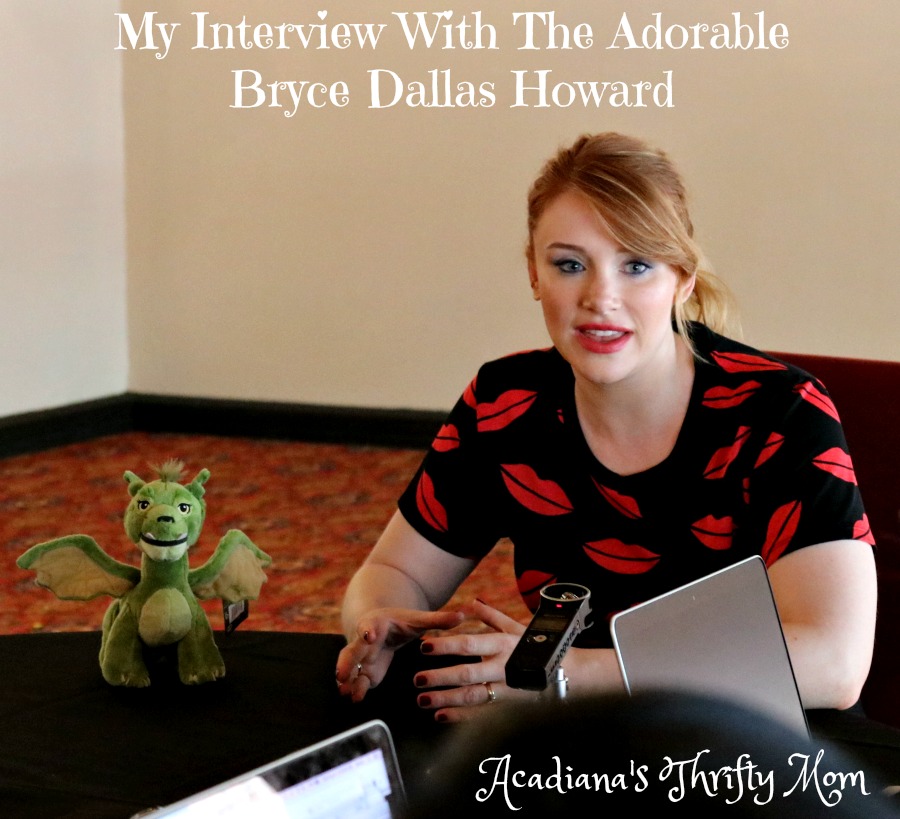 Bryce Dallas Howard walked into the room and everyone applauded.  Although we had not seen Pete's Dragon yet, we all knew her from other films.  Plus, she's Ron Howard's daughter and who doesn't know Ron Howard, right?  She was wearing a black tshirt with red lips on it and she looked stunning in it!  She is gorgeous, poised, and as kind as you could imagine!
Now, we got on to the interview.  Bryce Dallas Howard could not have been more warm and inviting to the whole group of us than she was.  She immediately sat down and started talking about us being "Mommy bloggers" and how she could not have made it through motherhood without all of the great advice and support she received from all of the Mommy blogs she read.  It was heart-warming.
The question was asked:  Can you tell us about how you took on this role and why you wanted to do this role?
Bryce Dallas Howard answered:  Well, the 1977 version of Pete's Dragon was just one of those,you know how there's a collection of movies that there's a sweet spot; an age where you just watch those movies again and again and again?  Pete's Dragon was one of just a few movies that was that for myself and my siblings and my sisters in particular because my brother's six years younger than me.
So,  when I heard about this script; that they were going to be doing this film, I sought it out just out of curiosity not because I knew that there was a role or anything like that.  Then I read it and I was so, very different than the 1977 version but I think it's so beautiful and it really reminded me of the Disney films that I watched as a child that were quite defining for me and emotional and really sort of cemented this.  I don't know, this idea of American values or something.  It just reminded me of that.  So yeah, and of course I brought it up to my kids and they were like dinosaurs and now dragons? So that was really, that was definitely a motivating factor for sure.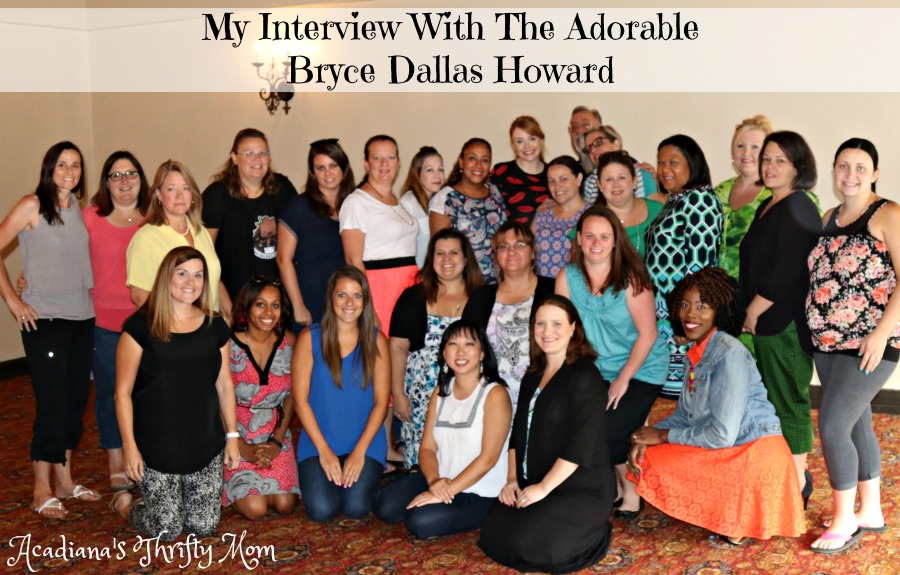 Someone asked her if her children have seen the original, 1977 version of Pete's Dragon and that was very interesting to me.  My children have not seen it and I didn't really want them to see it just before seeing this film.  I was curious what her answer would be!
Bryce Dallas Howard answered:  No, they haven't seen the first version. They haven't seen this version yet. They're going to, but I have a little board book that's based on the film.  I read that to them a lot and that's already getting them hooked on the story. The agenda was okay,  I don't want to turn my children into purist that I have to then just be like well, this is why this decision was made and this is why that decision was made.
I didn't want to show them that film and then have them say to me, you know, well why weren't you singing or something like that. I'm like that's the last thing I need, yeah. So they will, of course, they'll see both movies for sure.
You really need to watch these video clips of Bryce Dallas Howard!  They will give you a perfect glimpse into just how adorable she is!  She is so funny and warm.  You just get the feeling that you're sitting in a room chatting with your, much more poised, best friend 🙂

Toward the end of the interview someone asked Bryce Dallas Howard if she had a favorite moment or scene while she was filming.
Bryce Dallas Howard answered:  It was definitely getting to ride on the back of Elliott. I was just in hysterics that whole day. And I was sitting behind Wes last night at the premiere and I just like grabbed his shoulders when we were watching it.
It was so cute because, she didn't know it, but that was what Wes Bentley told us was his favorite scene too!
I am totally going to make this dragon costume for our cat!  LOL

About Disney's Pete's Dragon:
For years, old wood carver Mr. Meacham (Robert Redford) has delighted local children with his tales of the fierce dragon that resides deep in the woods of the Pacific Northwest. To his daughter, Grace (Bryce Dallas Howard), who works as a forest ranger, these stories are little more than tall tales…until she meets Pete (Oakes Fegley). Pete is a mysterious 10-year-old with no family and no home who claims to live in the woods with a giant, green dragon named Elliott. And from Pete's descriptions, Elliott seems remarkably similar to the dragon from Mr. Meacham's stories. With the help of Natalie (Oona Laurence), an 11-year-old girl whose father Jack (Wes Bentley) owns the local lumber mill, Grace sets out to determine where Pete came from, where he belongs, and the truth about this dragon. Disney's "Pete's Dragon" opens in U.S. theaters TODAY.
Visit the official Pete's Dragon website
Like Pete's Dragon on Facebook
Follow Pete's Dragon on Twitter 
Follow Pete's Dragon on Instagram
Pete's Dragon is Rated PG for action, peril and brief language.
PETE'S DRAGON OPENS IN THEATERS EVERYWHERE TODAY!