5 Reasons You Will Love Disney's Pete's Dragon #PetesDragonEvent
*I received an all expenses paid trip to Los Angeles for the coverage of several press events for Disney.   All opinions are 100% my own and I only recommend events and shows that are a great fit for my readers.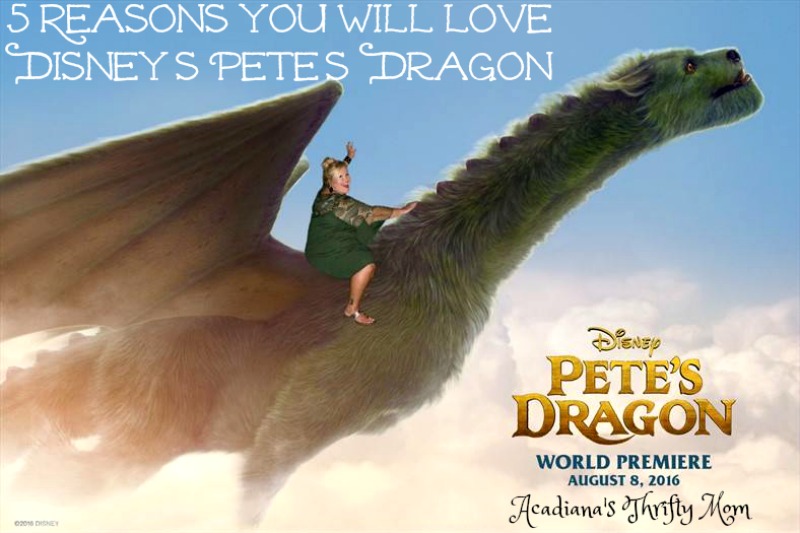 Oh my goodness y'all!  Disney's Pete's Dragon opens across the country tomorrow and I have 5 Reasons You Will Love Disney's Pete's Dragon!  I am always at a loss of how to convey to my readers that they really need to see a movie and they need to take their families to see it.  Most of the time I make lists, just because it helps organize my thoughts and it gives you the highlights of the movie.  This time, though, it was tough for me to keep my list to just 5 things.  Disney's Pete's Dragon truly is an amazing movie with an important message that needs to be shared.
My 10 year old daughter, Hannah, is obsessed with this film.  Part of her obsession is that I went to Los Angeles to cover it, but she is also an animal lover and pet enthusiast!  She has two dogs and a cat who are her closest friends.  There are two things Hannah is asking, repeatedly, about this movie.  She needs to know if Elliot dies and if Elliot is real or just an imaginary friend of Pete.  Well, I won't tell her either of those things and I'm not going to tell you either 😀  She Google's these questions daily, hoping to find a reliable answer she can trust LOL
I will tell you this:  Disney's Pete's Dragon is worth seeing at the theater and you'll, likely, want to see it again and again.  I mean, Bryce Dallas Howard is adorable and Oakes Fegley does an amazing job!  With that, here are my top 5 reasons you need to see Disney's Pete's Dragon this weekend:
 Family – This movie focuses on family.  Everyone has a family, even if it's not the family you were born to; you have a family and there is nothing in this world like the love of your family.
Loyalty – Along with family comes loyalty.  Elliot and Pete are family and they remain loyal to each other.  Whether the other people around them understand their relationship and love for each other doesn't seem to matter to them.  What matters most is that they have each other and they protect each other.
You will get in touch with your emotional side –  I cried during this movie….a LOT!  I cried happy tears, then I cried sad tears, then I cried tears of laughter, then happy tears again, then came the sad tears again, then, well, you get the picture 😀  They did an amazing job of really drawing people into the film and making you feel like you are right there!
There is no questionable content –  There are no scenes that I would cringe at my children watching.  Every scene of this movie is perfect for any child 5 years old and up.  The only reason I say 5 and up is because I couldn't get my kiddos to sit still for any movie before they were 5 years old.  If you have children under 5 who love movies, though, by all means; take them to see Disney's Pete's Dragon 😀
The scenery is breathtaking – Disney's Pete's Dragon was filmed in New Zealand, which makes for stunning, natural scenery.  Much of the movie takes place in the forest, which adds to the whimsy of this Disney film.
About Disney's Pete's Dragon:
For years, old wood carver Mr. Meacham (Robert Redford) has delighted local children with his tales of the fierce dragon that resides deep in the woods of the Pacific Northwest. To his daughter, Grace (Bryce Dallas Howard), who works as a forest ranger, these stories are little more than tall tales…until she meets Pete (Oakes Fegley). Pete is a mysterious 10-year-old with no family and no home who claims to live in the woods with a giant, green dragon named Elliott. And from Pete's descriptions, Elliott seems remarkably similar to the dragon from Mr. Meacham's stories. With the help of Natalie (Oona Laurence), an 11-year-old girl whose father Jack (Wes Bentley) owns the local lumber mill, Grace sets out to determine where Pete came from, where he belongs, and the truth about this dragon. Disney's "Pete's Dragon" opens in U.S. theaters TOMORROW.
Visit the official Pete's Dragon website
Like Pete's Dragon on Facebook
Follow Pete's Dragon on Twitter 
Follow Pete's Dragon on Instagram
Pete's Dragon is Rated PG for action, peril and brief language.
PETE'S DRAGON OPENS IN THEATERS EVERYWHERE TOMORROW!