My Amazing Pete's Dragon Red Carpet Premier Experience #PetesDragonEvent
*I received an all expenses paid trip to Los Angeles for the coverage of several press events for Disney.   All opinions are 100% my own and I only recommend events and shows that are a great fit for my readers.
My Amazing Pete's Dragon Red Carpet Premier Experience!  As you all probably know, I just got back from an amazing whirlwind of a trip to Los Angeles to cover the red carpet premier of Disney's Pete's Dragon.  To say this was an amazing experience, is truly an understatement.  I have been to other red carpet premiers and have seen tons of movies, but each experience is unique in it's own way.  This red carpet did not disappoint.  I was rubbing elbows with the stars and having the time of my life!  This red carpet was similar to the others I have attended in that it was held at the legendary El Capitan Theatre on Hollywood Boulevard.
The pre-party was held just down Hollywood Boulevard at The Hollywood Roosevelt Hotel.  We had an amazing time.  There was amazing food and tons of Hollywood stars, but I was having too much fun riding dragons to be bothered with food and stars 😀  I rode on Elliot's back, lounged on his tail, and got an Elliot tattoo on my leg.  It was a magical experience in a beautiful historic hotel.
After the pre-party, it was off to the red, errr, green carpet!  I was walking down Hollywood Boulevard, just taking it all in.  I was walking past the stars and the chants of people standing along the ropes just waiting to catch a glimpse of some of Hollywood's most elite.  It is always so surreal being surrounded by such amazing talent in this high-energy environment.
I stopped to grab a couple of photos and watch the stars of Pete's Dragon signing autographs and posing for photos with their adoring fans.  It is such a whirlwind on the red carpet, but always so captivating!  Now, it was time to walk into the theater and watch Pete's Dragon.  I have been anticipating this moment since they announced the movie was coming out!
The historic and legendary El Capitan Theater is such an amazing place, it is the epicenter of everything entertainment in Hollywood.  The World Premier opens up with their organist playing "The Mighty Wurlitzer"!  He plays iconic Disney tunes while people are being seated and, just as the movie is about to start, the Wurlitzer; along with the organist, descend into the floor of the theater.  It is a spectacular sight and really sets the tone for an amazing theatrical experience!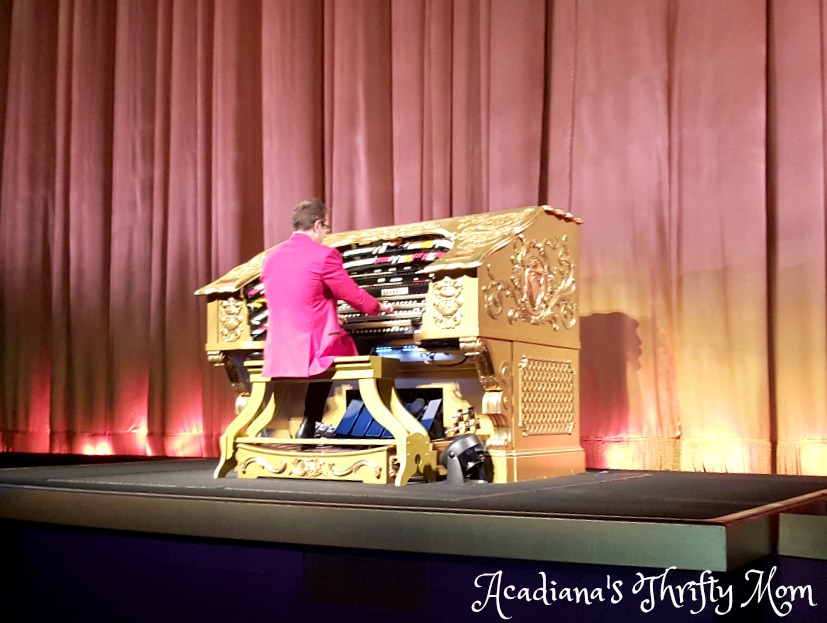 After Pete's Dragon was finished, I met up with the 24 other bloggers who were on this amazing journey with me and posed for a photo with Elliot, the dragon.
The day after the world premier, we were given a tour of El Capital Theatre and were completely surprised by the most amazing welcome ever!  The marquee outside of this legendary theater was welcoming us, the Mommy Bloggers!  How awesome is that?!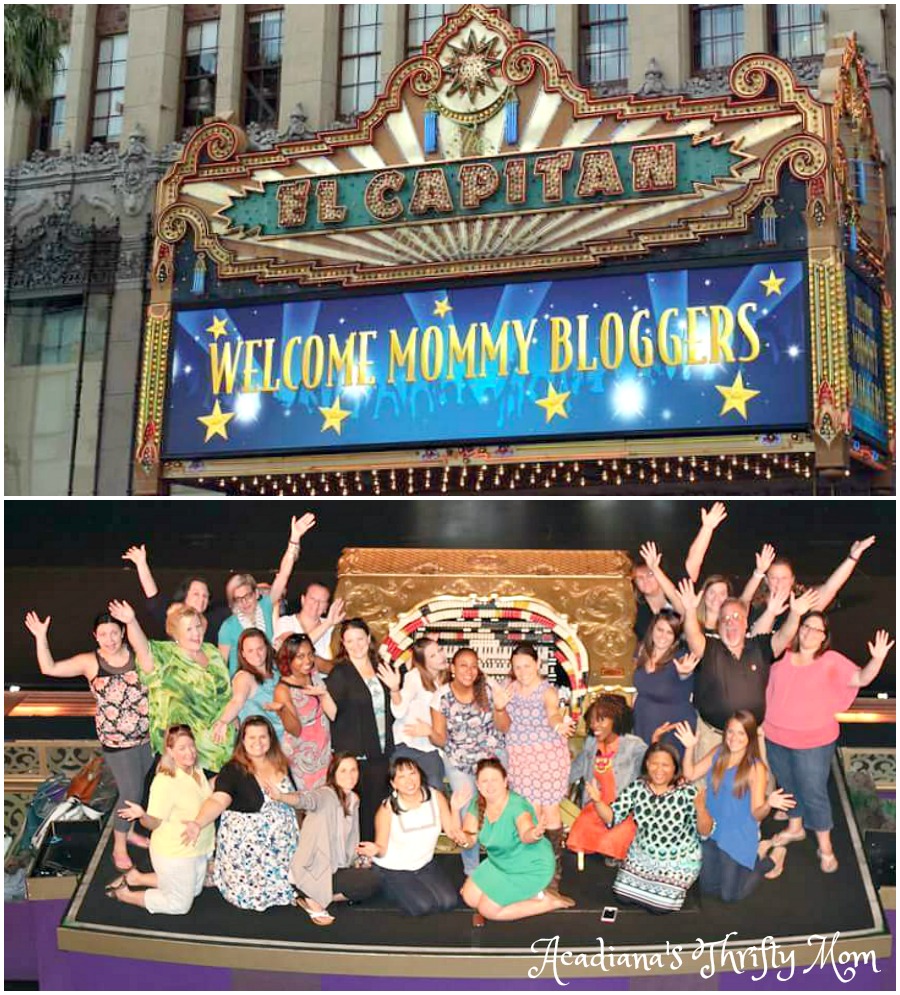 We were given a demonstration of the curtain show at the El Capitan Theatre with the opening of Pete's Dragon. You can see a little bit of how the theater is set up with the balconies on each side, just like it was back in the 1920's!  It is such a nostalgic feeling and really completes the whole Hollywood feel of any film.  Watch the video below to see the curtain show.  It is amazing!  My video does not do it justice, but you can get an idea of how amazing it is.

About El Capitan Theatre:
In the early 1920s, when Hollywood Boulevard was still a quiet mix of homes and agricultural businesses, real estate developer Charles Toberman envisioned a thriving theatre district there. Often called "The Father of Hollywood", Toberman played a role in developing over 30 buildings in the heart of Hollywood, including the Roosevelt Hotel and the Hollywood Masonic Temple (now the El Capitan Entertainment Centre, home to ABC's late night talk show, Jimmy Kimmel Live!). Along with Sid Grauman, Toberman developed three theme theatres — the Egyptian, the Chinese, and the El Capitan.
Stars of the stage attended the opening of the El Capitan Theatre, the largest legitimate theatre in Hollywood, which debuted on May 3, 1926. They filled the 1,550 seat theatre, dubbed "Hollywood's First Home of Spoken Drama", for the premiere of the fresh-from-Broadway play CHARLOT'S REVUE, starring Jack Buchanan, Gertrude Lawrence, and Beatrice Lillie.
In 1941, the El Capitan Theatre was converted from a playhouse to a movie theatre. Searching for a theatre in Hollywood to premiere his controversial film, CITIZEN KANE, Orson Welles rented the El Capitan. On May 8, 1941, Welles' first feature film, CITIZEN KANE, premiered at the El Capitan Theatre. Shortly thereafter, the theatre closed for a two month renovation and modernization. The theatre reopened in March 1942 as the Hollywood Paramount, a new, streamlined "art moderne" first run movie house. Meanwhile, the El Capitan name and the entire El Capitan staff moved to the nearby Hollywood Playhouse. ~ El Capitan Theatre

About Disney's Pete's Dragon:
For years, old wood carver Mr. Meacham (Robert Redford) has delighted local children with his tales of the fierce dragon that resides deep in the woods of the Pacific Northwest. To his daughter, Grace (Bryce Dallas Howard), who works as a forest ranger, these stories are little more than tall tales…until she meets Pete (Oakes Fegley). Pete is a mysterious 10-year-old with no family and no home who claims to live in the woods with a giant, green dragon named Elliott. And from Pete's descriptions, Elliott seems remarkably similar to the dragon from Mr. Meacham's stories. With the help of Natalie (Oona Laurence), an 11-year-old girl whose father Jack (Wes Bentley) owns the local lumber mill, Grace sets out to determine where Pete came from, where he belongs, and the truth about this dragon. Disney's "Pete's Dragon" opens in U.S. theaters on August 12, 2016.
Visit the official Pete's Dragon website
Like Pete's Dragon on Facebook
Follow Pete's Dragon on Twitter 
Follow Pete's Dragon on Instagram