Fun and Easy Christmas Tree Cupcakes
Y'all, these fun and easy Christmas tree cupcakes are so easy, you are going to love them!  Hannah first spotted them when she was surfing, looking for recipes and asked me if we can make some like them.  Of course, I said "sure"!  Hannah has really taken an interest in baking and cooking, so I try and let her participate as much as possible.  I don't always have great luck with candy melts, so I was a little nervous, but wanted to give it a try and, after all, what did we have to lose, right?  You can use any cake mix you want to use.  We used a box cake mix for these since Hannah is just learning how to bake.  The Christmas trees are super duper easy to make with pretzel sticks, green candy melts, and sprinkles.  Have fun with them and make them your own <3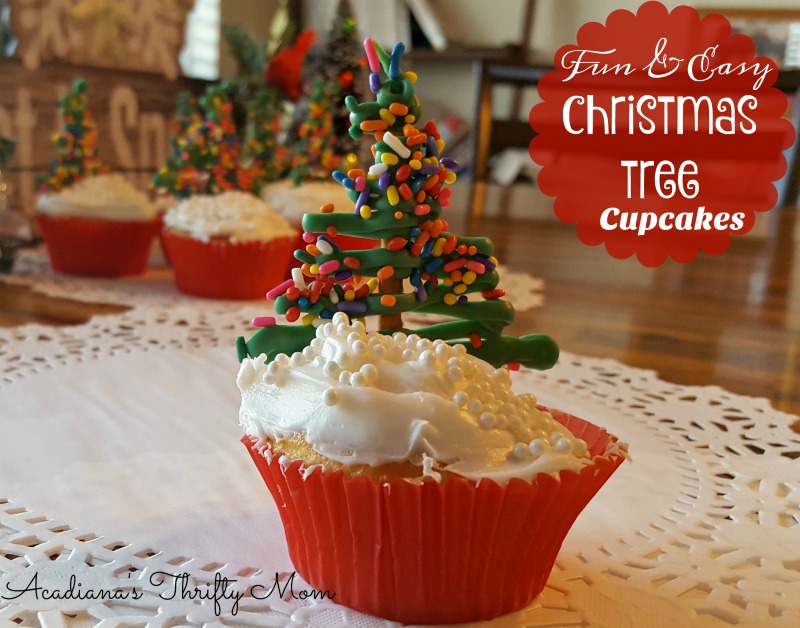 Gather your supplies:
Your favorite cake batter (enough for 16 cupcakes)
16 cupcake liners
White icing
1 cup green candy melts
16 pretzel sticks
1/4 cup White pearl sprinkles
2 Tbsp Multi-color sprinkles
Parchment paper
1 pastry (piping) bag
Get to creating:
Bake your cupcakes as desired and allow to cool.
While cupcakes are cooling, place pretzel sticks on parchment paper.
Melt the candy melts in microwave safe bowl on defrost or 50%, for 1 minute increments until melted completely.  Stir between 1 minute cycles.
Once the candy melts are completely melted, scoop them into the pastry bag and snip the tip of the bag off (about 1 inch from the tip).
Squeeze the green candy over the pretzel stick in a back and forth motion in the shape of a Christmas tree.   Start about 1 inch from the bottom so you have a little 'trunk' to stick in the cupcake.
Sprinkle each Christmas tree with sprinkles as you complete each one.  This will insure that the sprinkles stick.
Place the Christmas trees in the refrigerator for 30 minutes.
Ice the cupcakes with white icing and sprinkle with white pearl sprinkles.
Once the Christmas trees are cooled, stick them in the top of the cupcakes and ENJOY!