Easy Crescent Roll Apple Dumplings
Well, the season of apples is here and apples are on sale everywhere this week.  I decided to show Hannah how to make one of my favorite and easiest apple recipes; easy crescent roll apple dumplings.  These are so easy to make that your kids can definitely join in the kitchen.  I love making dishes that my kids can help me with.  Hannah, especially, loves cooking and baking.  My older two, not so much LOL  Two of our local grocery stores had apples 4/$1 this week and I still have a ton of them, so I decided to make our favorite apple dessert.  Not only are these crescent roll apple dumplings our favorite because they are delicious, but also because they are just so dang easy!  So, give them a try and get creative with them!  We used gala apples this time, but granny smith apples work very well too.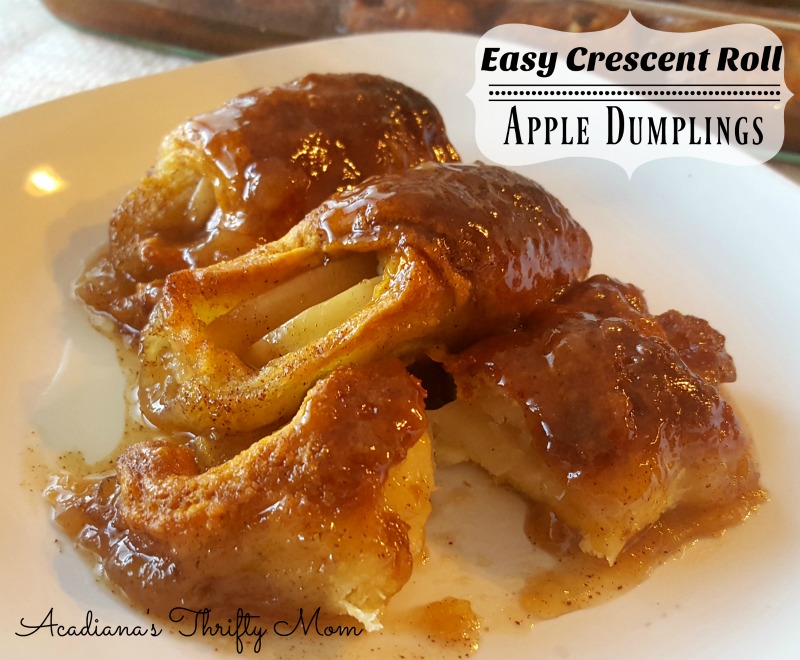 Gather your supplies:
2 small/medium apples (thinly sliced)
2 sticks of butter
1 1/2 cups brown sugar
2 tsp apple pie spice
1 1/2 cups lemon-lime soda (sprite or 7 up type soda)
2 cans of crescent rolls (16 rolls)
Get to baking
Preheat oven to 350 degrees.
Prepare a 13×9 inch pan by coating in butter or spraying with non-stick cooking spray.
Carefully wrap each apple slice in an individual crescent roll and place in pan, seam side down.
Heat two sticks of butter in 3 qt sauce pan over medium heat.  Add brown sugar and apple pie slice and cook on medium for 5 minutes while stirring constantly.  Add vanilla extract and remove from heat.
Pour this mixture over the top of the crescent rolls.
Carefully pour lemon lime soda around the outer edge of the crescent rolls, NOT over the top.
Carefully place the pan in the oven for 30-40 minutes.
Carefully remove the pan from the oven.  You can serve right away or allow them to cool.  These are great with vanilla ice cream on top!