Great Holiday Markets Across Acadiana You Must Visit This Holiday Season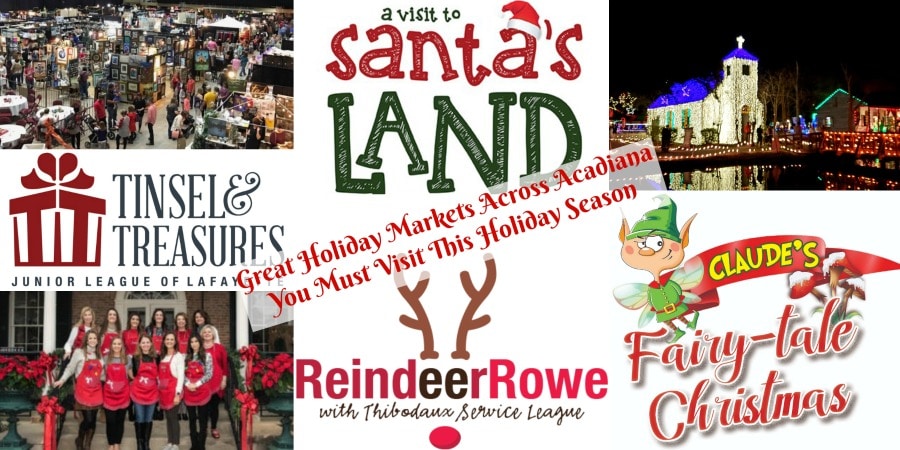 Great Holiday Markets Across Acadiana You Must Visit This Holiday Season! There may no better place in the world to celebrate Christmas than in Louisiana, Acadiana to be specific. Our area, the south-central region of the state is home to Cajun country. However, you slice it, Christmas in Acadiana features unique food and great gift ideas. Communities throughout the region kick off the holiday season with Christmas markets, bazaars and festivals.
Tinsel & Treasures – Lafayette
Kicking off the holiday season this year in Lafayette is Tinsel and Treasure on September 25, 2019 – September 28, 2019. Tinsel and Treasure is a holiday shopping market event to benefit community service projects presented by the Junior League of Lafayette. The market specializes in decorations, jewelry, antiques, food, toys, gifts and apparel.
Christmas at Coteau Holiday Market – Lafayette
Christmas at Coteau Holiday Market, a three-day event Dec. 5-7, features an array of vendors offering a variety of Christmas gift ideas, as well as great food and fun festivities, such as a gumbo cookoff and more. Celebrating the season for more than three decades, the Christmas market is held at the Schools of the Sacred Heart. As you visit the merchants' booths, make sure you check out the tasty treats and holiday-themed drinks.
Mistletoe and Moss – Lake Charles
Attracting vendors from around the country, the Mistletoe and Moss holiday festival in Lake Charles features more than 80 vendors at the Lake Charles Civic Center. Kicking of the Christmas season a couple of weeks before Thanksgiving, the three-day event runs Nov. 15-17. Merchants will offer a variety of goods, from jewelry, clothing and accessories to holiday-themed items such as ornaments and home decorations. Aroma from holiday treats and food will fill the air, tempting the approximately 6,000 visitors to sample the goods. The event will definitely put you in the holiday spirit.
Reindeer Rowe – Thibodaux
Filling up the arena floor at the Warren J. Harang Municipal Auditorium, Reindeer Rowe offers a unique take on Christmas shopping. Not only home to booths featuring holiday-themed products, the event on Dec. 7 will likely include vendors selling clothing, sporting goods, accessories, home décor and much more. Reindeer Rowe takes place in conjunction with Santa's Land, which features children's crafts, games and activities. Kids can also have their picture taken with Santa Claus. Santa's Land hosts an evening for special needs children Dec. 6.
Let It Sneaux Holiday Festival – New Iberia
Mark your calendar for Nov. 30, when New Iberia becomes Acadiana's winter wonderland with the annual Let It Sneaux Holiday Festival. With holiday music playing and other entertainment, children can enjoy train rides and maybe a holiday snack or two before they visit Santa Claus to review their Christmas wish lists. While the kids hang out with Santa and his elves, the adults can browse and shop at the vendors booths featuring crafts and other products.
Noel Acadian au Village – Lafayette
Possibly the area's biggest holiday attraction, Noel Acadian au Village combines a holiday lights festival with a Christmas market. About 500,000 festive lights, Christmas-themed displays and more await visitors as they enjoy a fun drive through the holiday exhibit. Following the drive, let the children visit Santa Claus while you take in some shopping, with holiday-themed items. You may find the perfect ornament, home decoration or craft that makes a wonderful Christmas gift.
With gift ideas ranging from handmade crafts to ornaments, as well as clothing and accessories, Acadiana communities love to celebrate Christmas Cajun style. As you venture off to the Christmas markets and festivals, check your list twice, because you know the jolly old elf will do it. Have a fun and Merry Cajun Christmas.
* * If you have a great market in Acadiana that you would like to see added, please email me at [email protected]