Follow Me Behind The Scenes of Disney's Moana #Moana
Today, I am inviting you to follow me behind the scenes of Disney's Moana!  You're going to be happy you did, I promise!  As many of you remember, I was in Los Angeles last month to walk the red carpet for Disney's Pete's Dragon.  Well, as everything Disney goes, there was SO MUCH MORE!  Not only did we get to walk the red carpet for Pete's Dragon, but we did celebrity interviews and got to take a peek behind the scenes for Pete's Dragon, and yes, Disney's Moana!  We were given an amazing opportunity to meet with Amy Smeed (head of animation), Dave Derrick (Story Artist), Dave Pimentel (head of story),  Jessica Julius (Development Sr. Creative Exec), and Eric Goldberg ("Mini Maui" Animation Supervisor).
At first, we were shown some of the exclusive, behind-the scenes photos and clips from Moana.  Moana isn't completed yet, so we didn't get to see the film in its entirety.  What we did see was amazing!  Not only did we see completed scenes from the film, but we were shown clips and photos of how those scenes came to be part of this film.  It is fascinating to me to see how these animated films literally start out as a pencil sketch on a piece of paper, followed by tons of creative input.
You can see, from these two images, how Moana was transformed and started to become the Moana we will see in the film in November (remember, Moana comes out on my birthday AKA Thanksgiving 🙂  When you're watching the finished film on the big screen, it's easy to forget that it's animated and just how much work and how many people it took to get it to that point.  It's always fun, for me, to take a look back at where the film came from and how it develops into the beautiful story with beautiful scenery and music all combined to create an amazing film.  If you know anything about art, you will notice a few familiar concepts used in these drawings that you may have used, yourself, when creating artwork.  I cannot wait to share more with you about this amazing film!  There is so much more to come and, don't forget, it comes out on my birthday AKA Thanksgiving 😀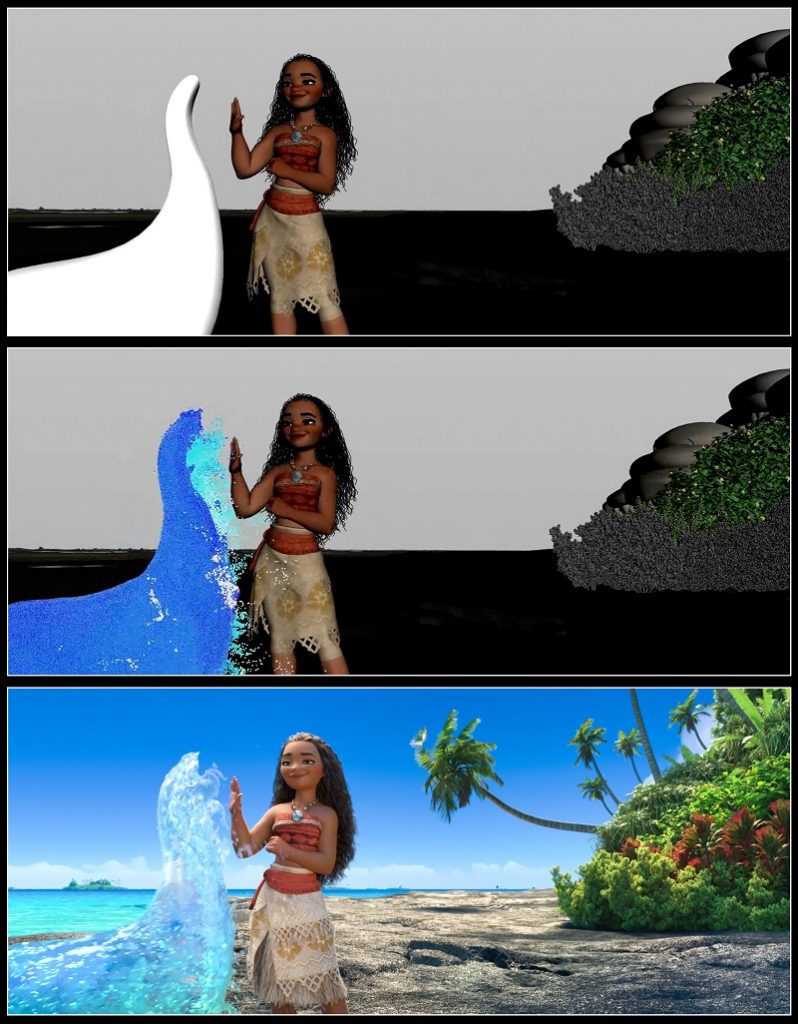 MOANA effects progression image, featuring Animation (top), Simulation (middle), and Render (bottom) passes.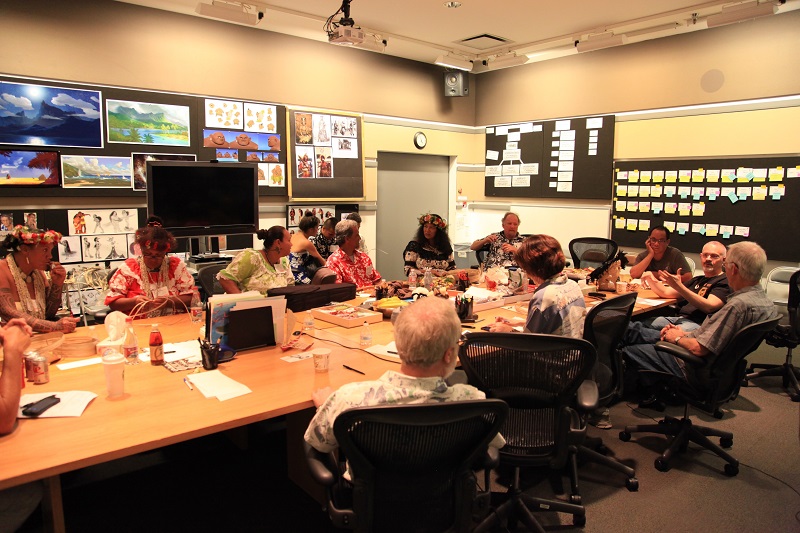 A couple of things that really stood out about the making of Disney's Moana were that they form a "story trust" when creating a film like this.  The trust is made up of people from Disney as well as people who are native to the region that the film is based on.  This ensures that the film remains true and authentic to the people it is portraying and representing.  The story of Maui is a common story among Polynesian people, but is changed up depending on the area the people are from.  It was also interesting to me to hear about how the characters were added, evolved, and even removed as the story progresses.
About Disney's Moana:
Three thousand years ago, the greatest sailors in the world voyaged across the vast Pacific, discovering the many islands of Oceania. But then, for a millennium, their voyages stopped – and no one knows why.
From Walt Disney Animation Studios comes "Moana," a sweeping, CG-animated feature film about an adventurous teenager who sails out on a daring mission to save her people. During her journey, Moana (voice of Auli'i Cravalho) meets the once-mighty demigod Maui (voice of Dwayne Johnson), who guides her in her quest to become a master wayfinder. Together, they sail across the open ocean on an action-packed voyage, encountering enormous monsters and impossible odds, and along the way, Moana fulfills the ancient quest of her ancestors and discovers the one thing she's always sought: her own identity. Directed by the renowned filmmaking team of Ron Clements and John Musker ("The Little Mermaid," "Aladdin," "The Princess & the Frog") and produced by Osnat Shurer ("Lifted," "One Man Band"), "Moana" sails into U.S. theaters on Nov. 23, 2016.
Follow Moana on Facebook
Follow Disney Animation on Twitter
Visit the official Moana website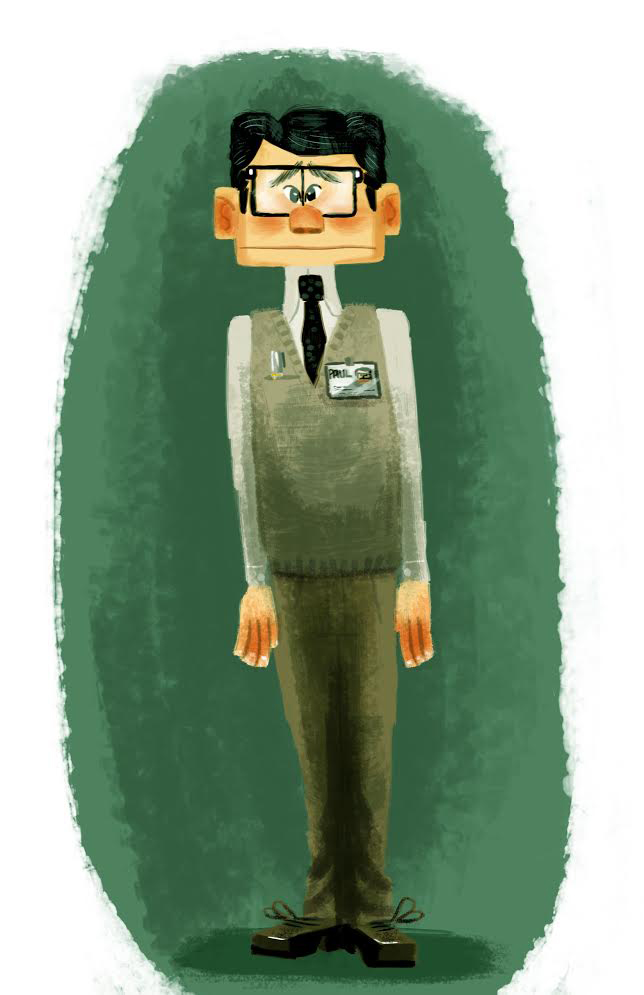 While we were learning about how Disney's Moana was created, we also learned about Disney's newest short Called Inner Workings.  Inner Workings is going to play in front of Moana in theaters everywhere.  If you have watched many Disney movies, then you are probably very familiar with the clever shorts that play in front of many of the movies.  Inner Workings is BRILLIANT!  Short, fun, engaging and even a little bit educational (shhhh, don't tell the kids)  We got a peak into how it was created and
About Inner Workings:
"Inner Workings," a new short from first-time director Leo Matsuda (story artist for "Big Hero 6," "WreckIt Ralph") is the story of the internal struggle between a man's pragmatic, logical side and his free-spirited, adventurous half. Created by a small team at Walt Disney Animation Studios in a unique, fast-paced style that blends CG and traditional hand-drawn animation, the short explores the importance of finding balance in daily life. "Inner Workings" opens on Nov. 23, 2016, in front of Walt Disney Animation Studios' "Moana."