Ewan McGregor Tells Us How He Prepared For His Role As Christopher Robin
Ewan McGregor Tells Us How He Prepared For His Role As Christopher Robin.  Christopher Robin isn't a role that any actor could take lightly.  Afterall, Winnie The Pooh is one of the most iconic characters that American children have grown up with for almost a hundred years.
*I received an all expenses paid trip to Los Angeles for the coverage of this press event for Disney/Marvel.   All opinions are 100% my own and I only recommend events and shows that are a great fit for my readers.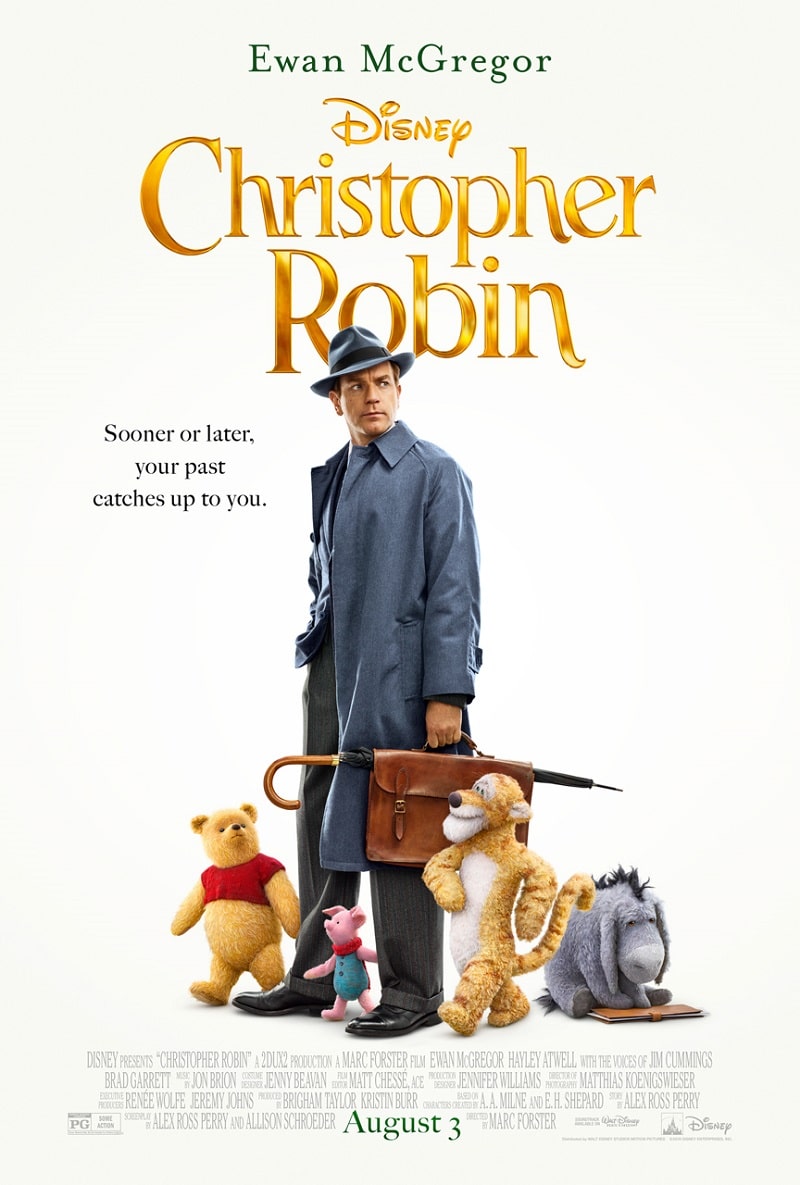 Sitting in the interview with the man I just saw play the role of a grown-up Christopher Robin from the Hundred Acre Wood was surreal to say the least.  There is a ton of preparation that goes into any acting role, but playing the role of such an iconic character as Winnie The Pooh must require even more emotional preparation.  I would imagine that this would be both exciting and daunting to perfect the grown up little boy that the world adores.
As Ewan McGregor walking into the room and it seemed to hit me; this is Christopher Robin!  There's always a balancing act happening in my head when I meet and share air space with actors I just saw on the big screen.  It's fun, exciting, and a bit confusing.  Well, I can assure you, Ewan McGregor is just as adorable and charming in person as he is on the big screen whether it's playing Christopher Robin or Obi-Wan Kenobi.  I have, personally seen him as Obi-Wan Kenobi, Christian in Moulin Rouge, and (in case you didn't know) Lumière in Disney's live-action Beauty and the Beast.  McGregor has been in many more films than the few I mentioned, which helped make him perfect for the part of Christopher Robin.
(Quite simply, but importantly) Have you seen the film yet?
Ewan McGregor:  Marc and I made a film together a long time ago called Stay. And back in two thousand and three, with Ryan Gosling and Naomi Watts. And then we've stayed in touch over that time. But through this film we've become really good friends, Marc and I. And we plan to work together in the future. So so I've become more of a collaboration with him in a way and he's had me in to see this film several times through the post production process. And that's been really nice and rare, as you don't often have that opportunity.
I've done quite a lot of ADR work, which is when you work on the sound, the sound track. And I've done that through its sort of- through the history of its post production. And so I have seen it quite a few times but I haven't seen it finished and I'm going to see it tonight for the first time. Also I haven't seen it with anybody else. I've seen it alone or with Marc or my agent or something, I haven't watched it with an audience. So that'll be exciting to see it tonight.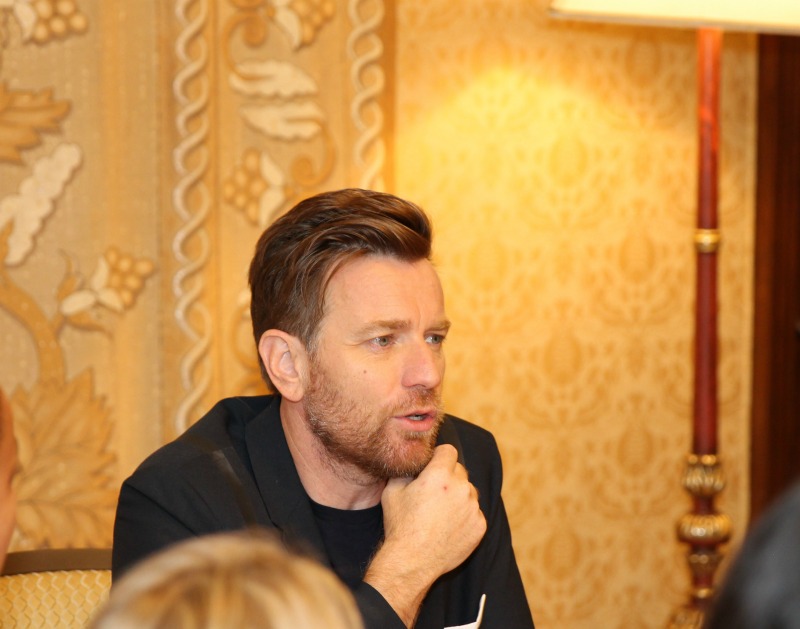 Did you have any trepidation coming into this role (as the grown up Christopher Robin)?
Ewan McGregor:  No I didn't feel like that. I suppose nobody really knows about what – I mean – we know of the story of the real Christopher Robin.  And there was a very beautiful movie made about him last year, Farewell Christopher Robin or Goodbye Christopher Robin. And I liked, I thought that was a beautiful film, I love that actor. But what I, nobody really knows about Christopher Robin as a forty hmm year old man so I  didn't have any, you know.
Also when I read the script, I felt like I knew him, I just knew him. I don't know- some parts come along just- I felt like it was just the right part for me to play at this point, in this time. And then felt like I absolutely knew what I wanted to do with him.  So I didn't have a lot of trepidatious. I think anything that makes you sort of- any of that kind of fear is usually the good- it's a good idea to do. It's better to do stuff you're slightly scared of than not.
Any classic Pooh tales that you grew up on, that were favorites of you that inspired you in doing this?
Hmm no. I think what inspired me was the way Marc spoke about it first. He called me and told me he was going to direct it and described to me, how he saw it, and what he thought it could be.  And how this movie might be an important movie for now- that it could be a good film for people to watch at this point in time. And that was really what inspired me. And then the lovely script, I really liked reading it. But I don't remember any particular Pooh stories growing up.
I mean I just know that I knew him- everyone- in Britain he's so well known and loved. And I've read all the stories to my kids and I know
by reading them that I'm familiar with them all. There's no surprises in them. I mean not all of the books, but the first ones certainly.  I just know I must have read- must have known them when I was a kid.  And then Winnie the Pooh's voice, you know, it's not 'til I heard his voice in this that I knew how familiar I was with the Disney versions of Pooh as well, because I know his voice so well, you know, and Eeyore.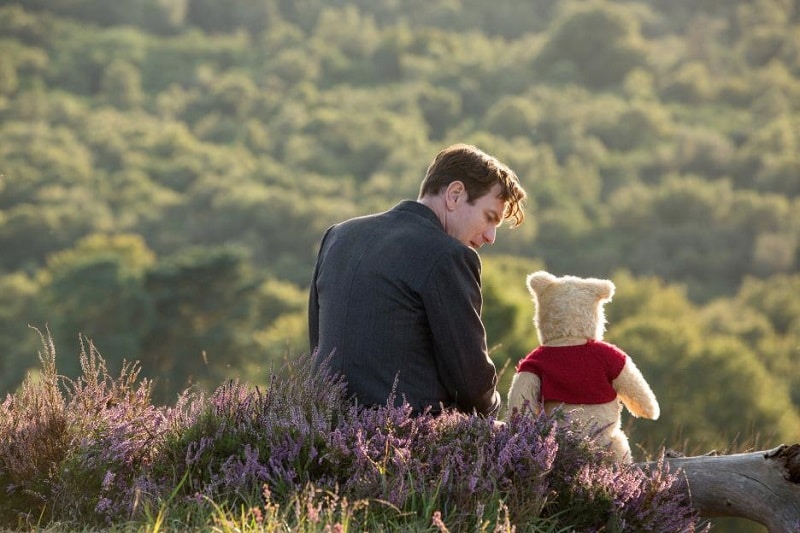 Who is your favorite character?
I really partial to- I really like all of them, you know.  I think Pooh is the one I spent the most time with. And he's definitely my guy, you know. Like my little side kick and I learned a lot from him because he's very wise, he's got a great wisdom, Pooh. But I also liked Eeyore's funny and I had to start- the sort of second longest story line I suppose was Eeyore. But h's so glum, glum isn't he.  Down in the dumps. So he's sort of fun too, because he makes you feel so happy when you're with him.
But I love them all. I tell you who's lovely was Kanga, because she was the only one of the few female characters of the bunch. And the mom.  And she was the very calming voice in this sequence around the log, where I when I go off to fight the Heffalump and come back, she's definitely the most sort of calming and she's the maternal character of the bunch, isn't she. She's the mum.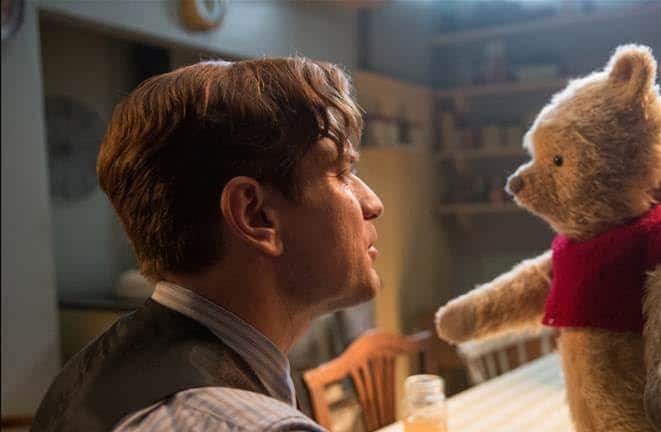 What message do you feel is in the film?
I think it's just about connection isn't it?  It's about being available to each other and being there, being present. And, you know, through one reason or another, Christopher Robin is sort of not present at home.  I think, at that time probably, men weren't really expected or didn't- wouldn't have thought about it. They would go to work and come home and the wife was looking after the kids and they probably wouldn't be very close to your children, it made me think a lot about my dad.
Because he was born in nineteen forty one and I would imagine our daughter in this film was probably born around about then. And, you know, Christopher Robin goes off to war and comes back and she's about six or seven so she's probably the same age as my father. And or was born at the same time as my father. And so his relationship with his dad was probably really quite like that. And I've heard my mom talk about she- my mom- loved our father very much. And I knew him dad when I was quite young.
But I don't know that there was closeness, you know, she's seen me with my daughters and she made a remark upon it once or twice, said how different it is, how close we are now with our children.  And how then men weren't. And so that was really interesting to play.  And I found it quite difficult the first the early scenes with Bronte who's so lovely that little girl, she's a great actor and she's a lovely little girl.  And she's not really spoiled by it in any way, she's got a great parents, her parents are both actors.
But she's totally a little girl and she's not like a little starlet. She's not- she hasn't got any pretensions at all, she's lovely. And so those scenes at the beginning when I'm reading her a story and I go to tell her that I can't come for the weekend and stuff it was difficult. I knew I wanted to be cold with her, it was quite difficult to do. My instincts were not that. So I don't know.  I don't really concern  myself with messages in movies, I don't like to think about that.  I think that it's up to the viewer. Everyone will receive it in a different way and it'll mean something different to everybody, and I think that's what's lovely about any art.
How will you remember Christopher Robin?
I will remember it, it will be an important film for me I think for many reasons. But, yes the atmosphere on the set was lovely. I mean Marc is such a beautiful collaborative director.  He really loves to hear everybody's ideas. He's very-very open.  That's not to mean that he doesn't have- he also absolutely understands what the film is he wants to make. But he just he allows maybe he allows us to feel.
But you feel like you've got a lot of room, you've got a lot of input.  And he listen and with me, you know, like I said. It was my second film with him. But the first week we shot the sequence with me and Pooh when we arrived in Hundred Acre Wood.  And it's all misty and a bit scary looking. That sequence was just me and him alone. And so that was our first week shooting.  He came up to me after a few days and he'd seen the first rushes and he was- it was funny he was quite excited and sort of surprised looking.  Going, it really works, it's really like you really look like you're talking to him and it really feels really real.
And I was thinking well that's sort of my job. That's why I'm here. But I love that he was enthusiastic about it and let me know that it was working.
And so from then on, I felt it was a great trust in me and he really let me- and I also really knew how- I really felt instinctively how I wanted to play him. And I felt like I was able to do that really.  Marc and I, we just did it together, it was lovely to work with. So I'll remember that.
And also just the creatures and there was a sort of slow pace to the film because it was a big film. And the bigger films are slower to make. And I usually don't like that very much because I like to work fast and hard. And I'm not very good at waiting. But this was so gentle and beautiful and we were in beautiful places like the woods. And we shot in really nice places. And then we got to hang out with Winnie the Pooh all day, so it was nice, yeah it felt good.
It really is great, when you get to talk to the cast of a film,  and feel how they feel.  I love that McGregor said he didn't really get into what the message of the film is.  He wants it to be interpreted by the viewer.  This is such a simple, but profound way of looking at this film.  I feel like Disney's Christopher Robin is going to speak to many different ages and types of people. Also, when Ewan McGregor simply said it felt good to make this film; that is exactly how the film left me feeling.  It just felt good; like a warm hug from the big screen.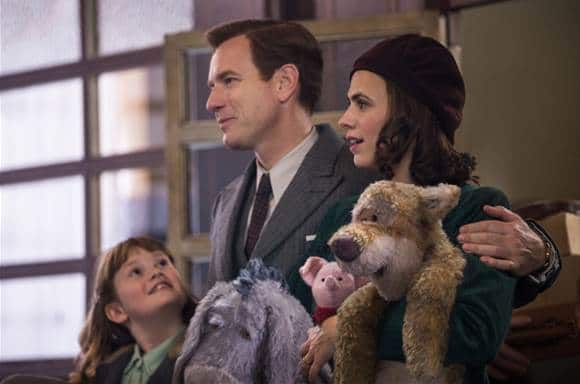 About Disney's Christopher Robin:
In Disney's heartwarming live action adventure, the young boy who shared countless adventures with his stuffed animal friends in the Hundred Acre Wood has grown up and lost sight of what's important in life. Now it is up to his childhood friends to venture into our world and help Christopher Robin rediscover the joys of family life, the value of friendship and to appreciate the simple pleasure in life once again.
Christopher Robin is directed by Marc Forster from a screenplay by Alex Ross Perry and Allison Schroeder and a story by Perry based on characters created by A.A. Milne and E.H. Shepard. The producers are Brigham Taylor and Kristin Burr, with Renée Wolfe and Jeremy Johns serving as executive producers. The film stars Ewan McGregor as Christopher Robin; Hayley Atwell as his wife Evelyn; Bronte Carmichael as his daughter Madeline; and Mark Gatiss as Keith Winslow, Robin's boss. The film also features the voices of: Jim Cummings as Winnie the Pooh and Tigger; Brad Garrett as Eeyore; Toby Jones as Owl; Nick Mohammed as Piglet; Peter Capaldi as Rabbit; and Sophie Okonedo as Kanga.
Get social with Christopher Robin:  Facebook     Twitter     Instagram     #ChristopherRobinEvent
Christopher Robin arrives in theatres everywhere on August 3rd!
You can get advance tickets now, before all of your friends, over at Fandango!
https://acadianasthriftymom.com/2018/08/01/disneys-christopher-robin-took-me-down-the-red-carpet-into-the-hundred-acre-wood/
https://acadianasthriftymom.com/2018/08/01/disneys-christopher-robin-took-me-down-the-red-carpet-into-the-hundred-acre-wood/
https://acadianasthriftymom.com/2018/07/28/the-wnba-dallas-wings-an-inspiring-show-of-strength-teamwork-and-athleticism/