Disney's Christopher Robin Took Me Down The Red Carpet Into The Hundred Acre Wood
Disney's Christopher Robin Took Me Down The Red Carpet Into The Hundred Acre Wood!  I'm not sure I have the words to tell you what a special event this was for me, but I'm going to try.
*I received an all expenses paid trip to Los Angeles for the coverage of this press event for Disney/Marvel.   All opinions are 100% my own and I only recommend events and shows that are a great fit for my readers.
This was my 7th red carpet and my 6th with Disney.  I hope the butterflies in my stomach never go away!  I had been eyeballing this film since the very first trailer came out.  I mean, Winnie The Pooh was an integral character in my childhood.  So, to be able to attend the red carpet event was an emotionally overwhelming experience.
Disney invited 25 of their top bloggers from across the country for this once-in-a-lifetime experience.  This was a trip none of us will soon forget.  As you can see from the photo above; yellow was the color of the night!  We all traveled to Burbank, California to be a part of history and the premier of the iconic Disney film, Christopher Robin.  This was my first red carpet on the Disney Studio lot, which added such a warm feeling to he whole experience.  Having this red carpet on the Walt Disney Studios lot seemed to be the most fitting for such a warm and familiar film.  It was just that; perfect!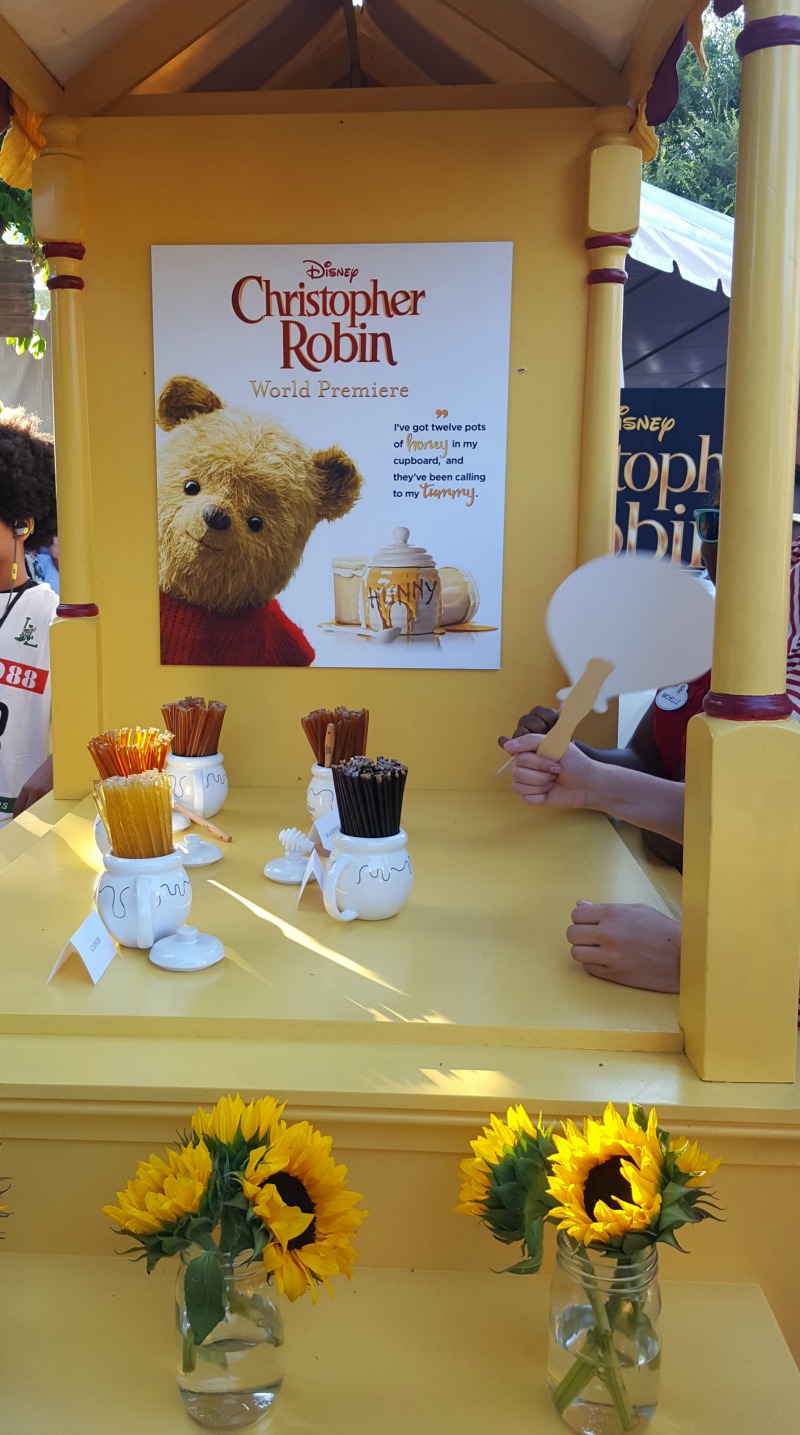 From the beginning, this red carpet was more laid back than others.  We were able to casually walk down the carpet and catch a glimpse of all of the talent who took part in the making of this film.  I spotted Ewan McGregor who played Christopher Robin (pictured above).  Hayley Atwell (pictured below) played his wife, Evelyn.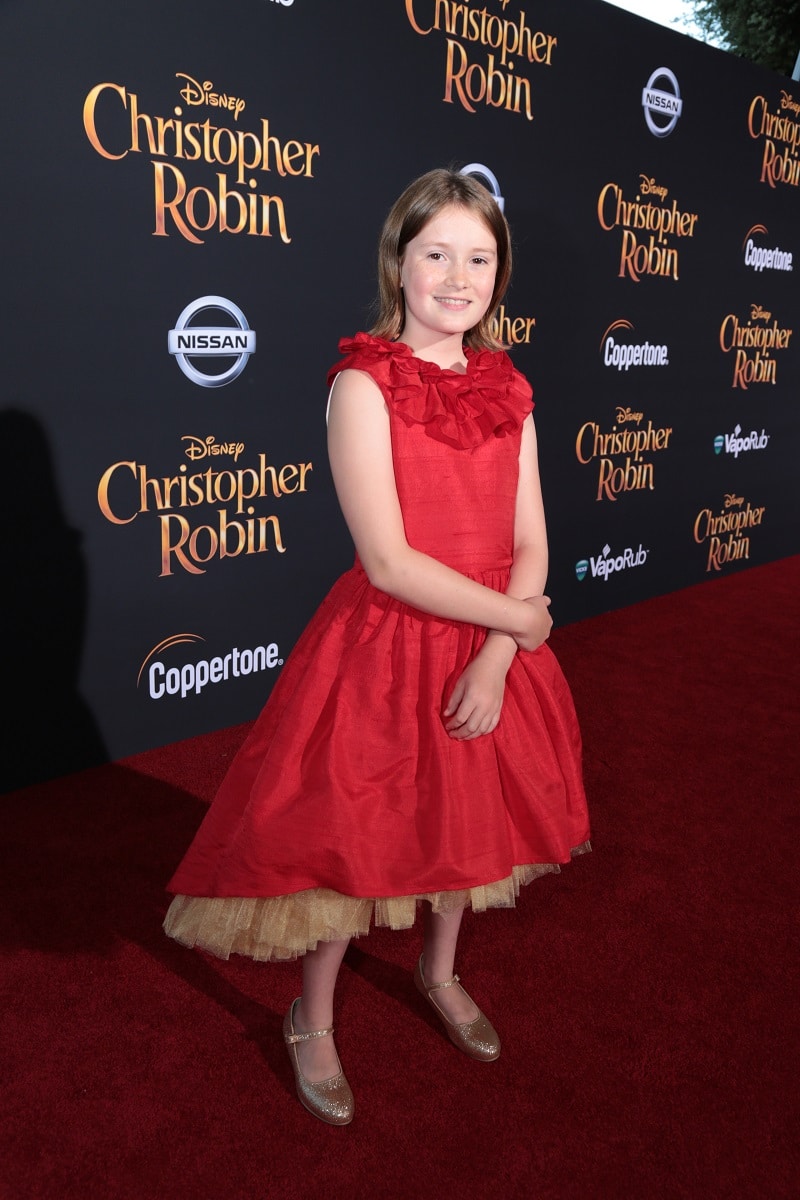 Bronte Carmichael (pictured above), who plays Christopher Robins' daughter Madeline looked adorable in her iconic Winnie The Pooh red and gold.  She is such an adorable and charming young lady! Jim Cummings (pictured below), who plays the voice of Winnie the Pooh and Tigger, was full of personality as usual!  He was so much fun to interview!  Be sure to check back for that interview coming soon.
I also spotted Brad Garett (pictured above), who does an amazing job as the voice of Eeyore, on the red carpet.  As you can see below, after I was finished with the red carpet, it was time for some fun at the pre-party!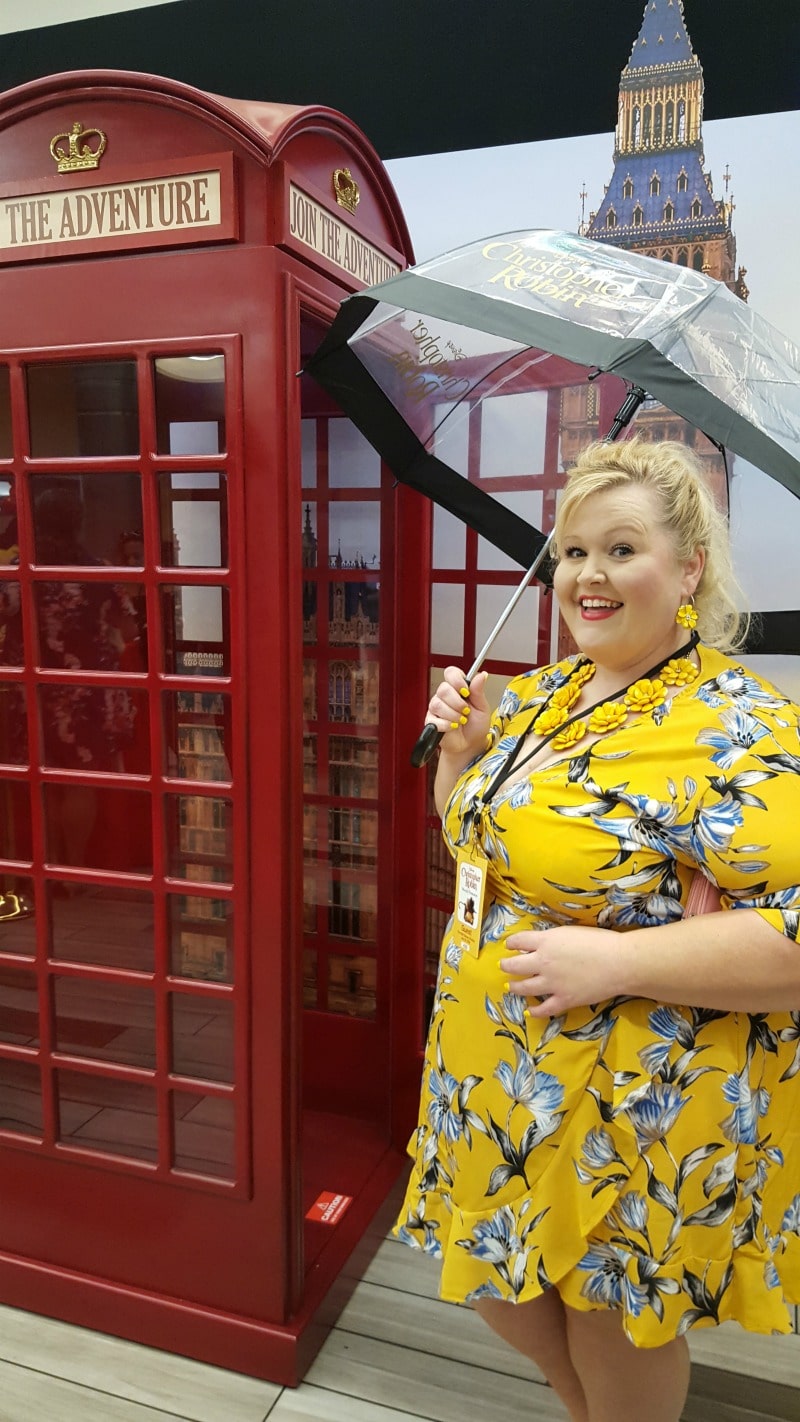 Everyone was having so much fun and there were tons of great photo opportunities.  Disney red carpets always have a lot of fun for everyone who attends.  There are often child actors and their parents having fun alongside all of us, which adds to the excitement.  There was a virtual wall (pictured below) where everyone could sign their name and it was up on a large digital board for everyone to enjoy.
Disney History was made before the screening of the film with legendary composer Richard M. Sherman. for the dedication of the studio's historic Orchestra Stage (where the music for the "Winnie the Pooh featurettes, "Mary Poppins" and "The Jungle Book" were recorded), which was renamed Sherman Brothers Stage A in honor of Richard and his late brother Robert B. Sherman.  This was such an exciting and historic moment.  What an honor it was to be able to say I was part of that!
About Disney's Christopher Robin:
In Disney's heartwarming live action adventure, the young boy who shared countless adventures with his stuffed animal friends in the Hundred Acre Wood has grown up and lost sight of what's important in life. Now it is up to his childhood friends to venture into our world and help Christopher Robin rediscover the joys of family life, the value of friendship and to appreciate the simple pleasure in life once again.
Christopher Robin is directed by Marc Forster from a screenplay by Alex Ross Perry and Allison Schroeder and a story by Perry based on characters created by A.A. Milne and E.H. Shepard. The producers are Brigham Taylor and Kristin Burr, with Renée Wolfe and Jeremy Johns serving as executive producers. The film stars Ewan McGregor as Christopher Robin; Hayley Atwell as his wife Evelyn; Bronte Carmichael as his daughter Madeline; and Mark Gatiss as Keith Winslow, Robin's boss. The film also features the voices of: Jim Cummings as Winnie the Pooh and Tigger; Brad Garrett as Eeyore; Toby Jones as Owl; Nick Mohammed as Piglet; Peter Capaldi as Rabbit; and Sophie Okonedo as Kanga.
Get social with Christopher Robin:  Facebook     Twitter     Instagram     #ChristopherRobin
Christopher Robin arrives in theatres everywhere on August 3rd!
You can get advance tickets now, before all of your friends, over at Fandango!
https://acadianasthriftymom.com/2018/07/15/think-it-over-think-it-under-and-follow-me-to-the-christopher-robin-red-carpet/
https://acadianasthriftymom.com/2018/06/13/disneys-live-action-dumbo-teaser-trailer-and-poster-are-precious-to-me-sweet-as-can-be/
https://acadianasthriftymom.com/2017/08/24/walk-with-me-through-the-walt-disney-family-museum-and-the-creation-of-the-lion-king/