Easy Homemade Fried Ice Cream Pie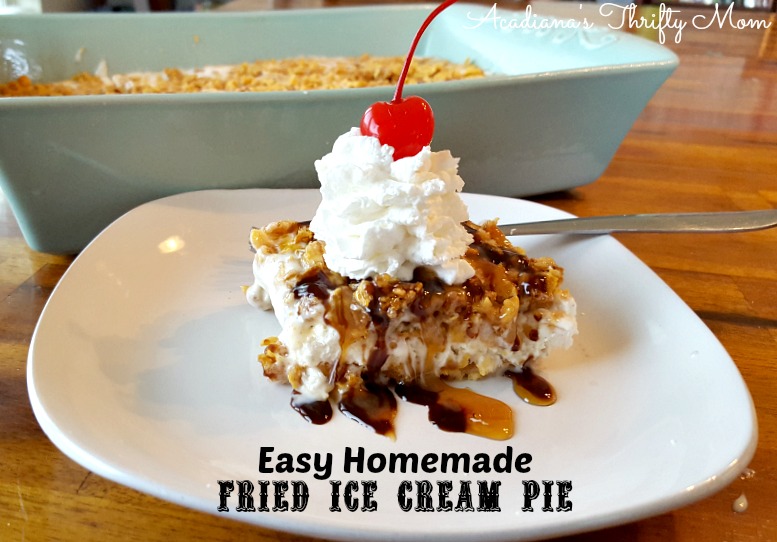 If you are looking for a super fun and easy recipe that will WOW your family and friends, then this Easy Homemade Fried Ice Cream Pie is going to make you veryyy happy 😀   I have made this a few times for my family and am going to make it for our neighborhood pot luck soon.  The kids always clean it out quickly when I make it for us.  You really have to make it and taste it to understand how amazing this pie tastes.  It is perfect for your Cinco de Mayo celebrations as well as Fourth of July and any other time you might just want an easy and delicious dessert dish to take 😀  I'm sure you're going to love this as much as my family does!
Gather your ingredients:
3 cups Corn Flakes cereal (crushed)
2/3 cup sugar
1/2 cup (1 stick) butter (or margarine, but butter tastes best)
2 Cups heavy (whipping)cream
1 can sweetened condensed milk
1 (8 ounce) container Cool Whip
1 teaspoon ground cinnamon
1/4 cup honey
Chocolate syrup
Caramel sauce
Get your fry on!
Mix the cream on medium high until fluffy (about 2 minutes), then fold in sweetened condensed milk until well combined.  Fold whipped cream and cinnamon into cream mixture until well blended and place in freezer for about 30 minutes.
While the 'ice cream' is in the freezer, melt butter in a medium skillet, over medium heat. Add the crushed corn flakes and sugar. Stir to combine. "Fry" this mixture for 5 minutes, stirring constantly, until cereal is golden-brown.  Be sure to watch the whole time.  Burned Corn Flakes are not good 🙁
Coat 9×13 baking dish in non-stick cooking spray.  Spread 1/2 of the corn flakes mixture into the bottom of pan. Set aside.
Remove ice cream from freezer and give it a stir.  Spread ice cream mixture on top of corn flake mixture in baking dish.
Spread the remaining corn flake mixture evenly over the ice cream. Cover pan, and place in freezer.
Let ice cream freeze for at least 6 hours or overnight.  Once ice cream is frozen, remove from freezer and cut into 12 squares.
Drizzle honey, chocolate, and caramel over the top of each piece before serving.
ENJOY!