Easy Creole Hummingbird Cake
This Easy Creole Hummingbird Cake is my all-time favorite cake to make from scratch. Not only is this the most moist cake ever, but it tastes amazing!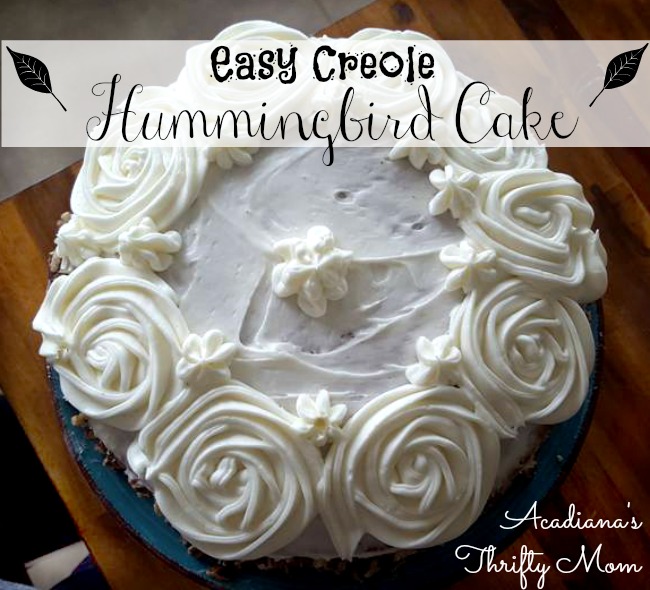 My husband's birthday was yesterday and this is the cake he always requests. One of the awesome things about this cake is you can add, just about anything, to it and it will only get better! You can add raisins, pecans, or any dried fruits or nuts to the batter and it will be that much more amazing.  This Easy Creole Hummingbird Cake is a staple around our house for family gatherings and special occasions.  I hope you will enjoy it as much as we did!
Gather your ingredients:
For the cake:
3 cups flour
1 Tbsp ground cinnamon
1 tsp baking soda
1 tsp salt
1 cup granulated sugar
1 cup brown sugar (packed)
3 large eggs
1 cup vegetable oil
1 Tblsp vanilla extract
1 cup crushed pineapple, undrained
4 large ripe bananas
1 cup chopped pecans for garnish
For the frosting:
1 (8-ounce) packages of cream cheese, at room temperature
1 stick (8 Tblsp) butter, at room temperature
4 cups powdered sugar
2 tsp vanilla extract
Bake the cake:
Combine flour, cinnamon, salt, & baking soda in a bowl.
In a separate bowl, cream together both sugars and eggs.  Once these are creamy; add oil and vanilla extract and mix for about a minute at medium speed.
Mix the flour mixture with the sugar and oil mixture and mix on medium for about a minute.
Slowly add the bananas and pineapple and mix on medium for another minute until well blended.
Divide the batter between three 9 inch round pans and bake in an oven preheated to 350 degrees for 20-25 minutes.  You will know the cake is ready when a toothpick inserted in the middle comes out clean.
Carefully remove the pans from the oven and allow to cool.
Once the cakes are cooled, ice with frosting and serve 🙂
ENJOY!
Make the frosting:
Mix the cream cheese, butter, and almond extract until creamy and a little bit fluffy.
Sift in the powdered sugar 1 cup at a time.
Mix with mixer on medium until smooth and well blended.
Apply frosting between the layers of the cake as you stack them.  Then apply to the sides and top of cake.
Enjoy!
Give these other  amazing recipes a try:
https://acadianasthriftymom.com/2015/06/20/southern-pecan-praline-cake/
https://acadianasthriftymom.com/2013/03/13/no-bake-strawberry-icebox-cake/
https://acadianasthriftymom.com/2016/03/05/copycat-cadbury-cream-eggs/