Easy Cheesecake Stuffed Strawberries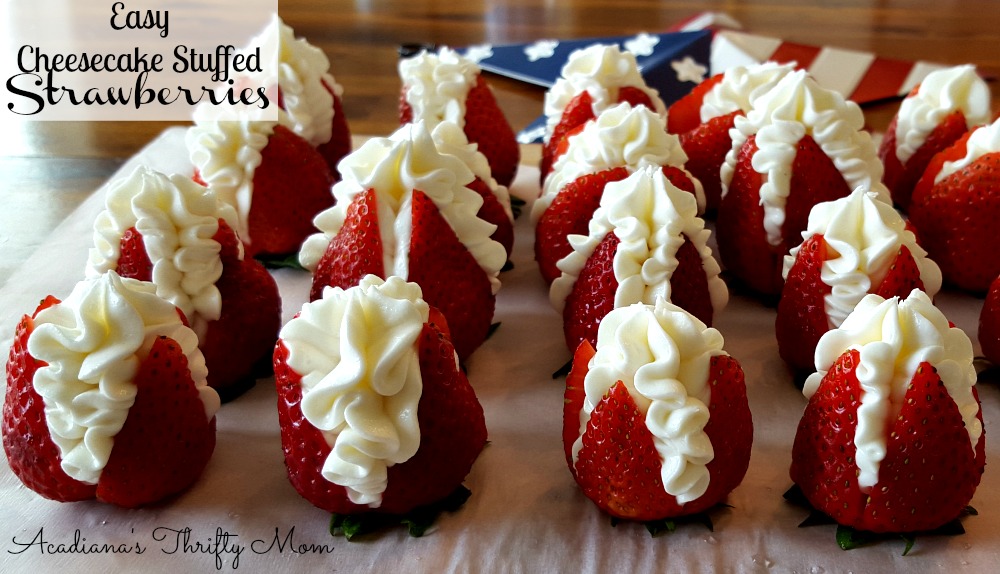 These easy cheesecake stuffed strawberries are perfect if you're looking for an easy and beautiful dessert or appetizer for your family or next get-together!  I have been making these for a few years and my kids are always excited when they see me slicing strawberries.  We have fun with strawberry recipes and I'm always looking for great new ones to try and share.  You can really do these a lot of different ways.  I've made them by hollowing them out at the big end and filling them with the cream cheese filling.  You can even put sprinkles or a blueberry on top of these and make them patriotic.
Gather your ingredients:
2# fresh strawberries
1 package cream cheese
2 cups powdered sugar
2 tsp vanilla extract
Get to making:
Mix your cream cheese, sugar, and vanilla extract with a hand mixer or stand mixer on medium speed until well blended (about 2 minutes).
Scoop the cream cheese into a pastry bag with preferred tip.  Tie off end and let set in the refrigerator for about an hour.
While the cream cheese mixture is in the refrigerator, rinse strawberries and allow to dry on paper towel for about 15 minutes.
Carefully slice a cross shape in the end of the strawberries to the bottom.  Leave a little bit of strawberry above the stem so the strawberry doesn't fall apart when you are adding the filling.
Get the cream cheese filling out of the refrigerator and snip the end off of the pastry bag and begin filling each strawberry by placing the tip of the pastry bag inside of the strawberry and filling to the edge of the strawberry.
That's it!  You're done!  You can arrange them how you like or add sprinkles or blueberries to the top.
Enjoy!