Disney's Tomorrowland Activity Sheets and Fun Facts #TomorrowlandEvent
The wait is finally over and one of the coolest movies of the year, Disney's TOMORROWLAND, is now playing in theatres everywhere!  We have activity sheets for you and your kiddos! My kids love, love, love these and I kinda like doing them with them. We have seen the movie, so they're a little more special around our house, than if you haven't seen Tomorrowland yet, but these are also a super fun way to get your kiddos ready to see the movie. This movie is amazing, rated PG, and stars George Clooney! What better way to spend your long weekend than relaxing with a bag of popcorn with George, right?! I have seen Tomorrowland twice and I really want to see it again. We took all 3 of our kids to see it on Friday and all 3 of them LOVED it! Even Hannah loved it and she is not easy to please when it comes to movies.
Print Coloring Sheets

Print Spot The Difference

Print Mazes

Print Fortune Teller Game

Print Jet Pack Balloon Races

Print Memory Game

Lots of fun facts!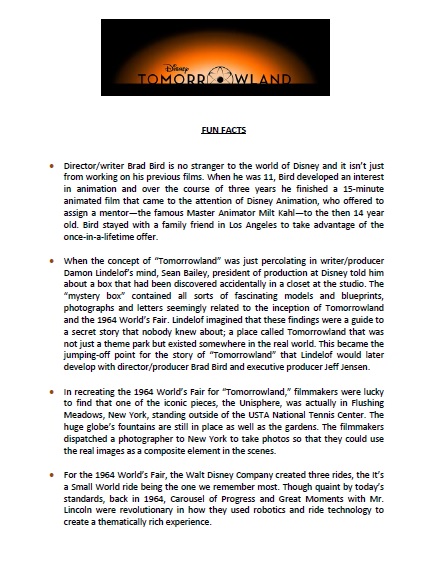 From Disney comes two-time Oscar® winner Brad Bird's riveting, mystery adventure "Tomorrowland," starring Academy Award® winner George Clooney. Bound by a shared destiny, former boy-genius Frank (Clooney), jaded by disillusionment, and Casey (Britt Robertson), a bright, optimistic teen bursting with scientific curiosity, embark on a danger-filled mission to unearth the secrets of an enigmatic place somewhere in time and space known only as "Tomorrowland." What they must do there changes the world—and them—forever.
Featuring a screenplay by "Lost" writer and co-creator Damon Lindelof and Brad Bird, from a story by Lindelof & Bird & Jeff Jensen, "Tomorrowland" promises to take audiences on a thrill ride of nonstop adventures through new dimensions that have only been dreamed of.
Like TOMORROWLAND on Facebook 
Follow Disney Pictures on Twitter #Tomorrowland
Visit the official TOMORROWLAND website 
TOMORROWLAND opens in theaters everywhere NOW!