10 Reasons You Need To See Tomorrowland Today #TomorrowlandEvent
*I received an all expenses paid trip to Los Angeles for the coverage of several press events for Disney. All opinions are 100% my own and we only recommend events and shows that are a great fit for our readers.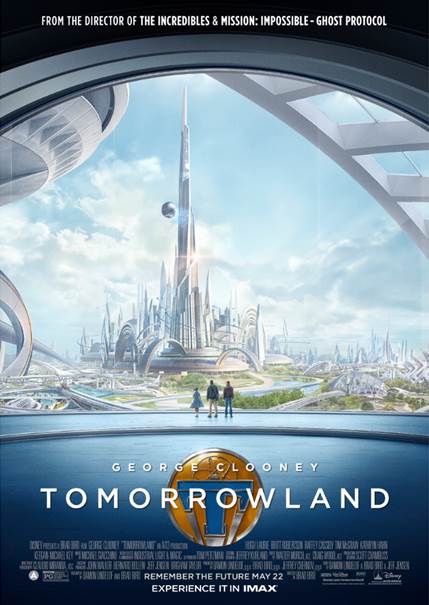 "What if the greatest minds of the past left behind hidden keys to our future?"
Today is the big day!  Disney's Tomorrowland is open in theaters everywhere today 😀  I have been so nervous about writing this review of Tomorrowland.  Ever since the day I saw it, I had so many ideas running through my head and just hope I can convey to each and every one of you how much I want you to see this movie!  Disney's Tomorrowland is about so much more than the past and the future and how in the heck does Casey get from one time and world to the next just by touching that crazy pin!?  Tomorrowland is about hope in a hopeless world and renewing a sense of urgency in dreaming to the next generation.  I am planning on taking all 3 of my children to see Tomorrowland today and full expect that all 3 of them (ages 16, 10 & 8) will LOVE it!  How did I decide to convey your need to take your family to see Tomorrowland today?  Well, I made a list, of course!  Surely, I can get that right, right?
10 Reasons You Need To See Tomorrowland Today
1.  Hellooooo GEORGE CLOONEY IS IN A BATHTUB! Oh yes, maybe you didn't know this, but there is this one scene….where George Clooney gets in the bathtub….okay, so he's fully clothed, but hey, it's George Clooney 😀
2.   It's rated PG.  Oh yes!  Everyone, I mean everyone from age 42 down to 8, in our house, will be in love with Tomorrowland; I just know the will.
3.  Hello again…JETPACKS.  There are jet packs….lots and lots of jet packs.  There are jet packs from the past and jet packs in the future.  Will they work?  You'll have to see Tomorrowland to find out!
4.   Casey will make you happy 😀  I just love Casey in Tomorrowland.  She is such a dreamer and believes there is good in the world.  She is determined and head strong; everything I love in a young actress!
5.  There's something for everyone.  Not only is Tomorrowland appropriate for all ages; there's something to keep the attention of everyone.  There's a sweet story about a daughter and her father for all the moms out there!  There's tons of action for all of the action lovers.  There is a romantic vision of the future for all the dreamers (this is what is going to draw my 16 year old daughter in).  There is space, time travel and scientific innovation.
6.  You will feel, no BE,  inspired!  You won't just 'feel' like there is something better waiting in the future; you will know it!  By the end of this movie, you'll be ready to go out and change the future.  When I say shape the future, I'm not talking about deep, philosophical issues, I'm talking about hope and dreaming of a brighter future.  This is a movie about hopes and dreams and how we can bring them back to life.
7.  Athena will steal your heart.  Athena is a young girl, a child.  She has a very grown up 'mission' in Tomorrowland and watching her pull no punches in getting that accomplished is nothing short of magical!
8.  The Eiffel Tower splits in half!  Oh yes, I'm not going to tell you anymore about that scene, but it is AMAZING!   Go watch the movie so you can see it for yourself 😀
9.  It takes place around the World's Fair.  If you're like me, you have fond memories of wanting to go to the World's Fair.  I never got to go, buy I can remember the 'magic' that surrounded it!  Tomorrowland will take you there, in a new  and exciting way.
10.  It was directed by Brad Bird!  He's the guy who's won two Oscars also worked on Ratatouille (2007), The Simpsons (1989) and The Incredibles (2004).  Yeah, he's that good!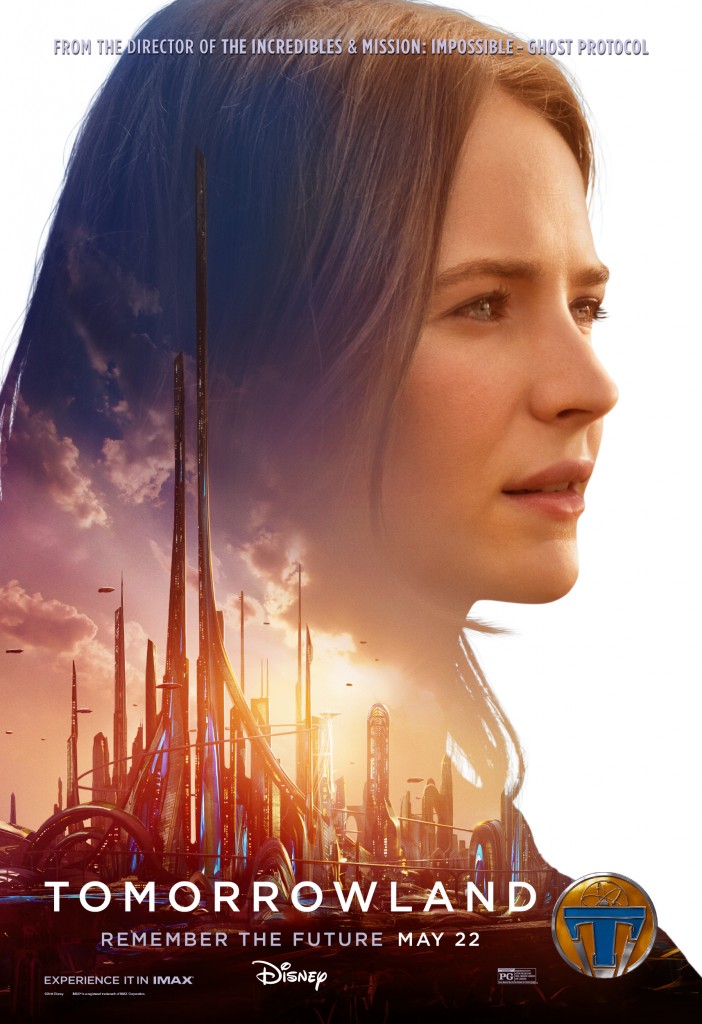 Casey Newton, played by Britt Robertson, is a teen with boundless scientific curiosity.  Growing up watching NASA space launches in person, Casey dreams of being an astronaut.  But with Cape Canaveral shutting down and her engineer father out of work because of it, Casey sees her dream slipping away.  Casey is driven to fight the bland acceptance of a diminished future, to do big things – and she won't take no for an answer. ~ Disney.com
Frank Walker, played by George Clooney, once a dreamer and budding scientist, isolates himself on the family farm, living like a hermit, surrounded by his unique inventions spawned from his growing sense of paranoia.  When a young stranger shows up on his doorstep, Frank is forced to leave his secure world and deal with his past.  ~ Disney.com
Athena, played by Raffey Cassidy, is an intelligent, mysterious young girl with a seemingly unlimited skill set.  Although her origins are unknown, she possesses a deep knowledge of Tomorrowland, believing it is her mission to recruit dreamers energized to realize the promise of a better world. ~ Disney.com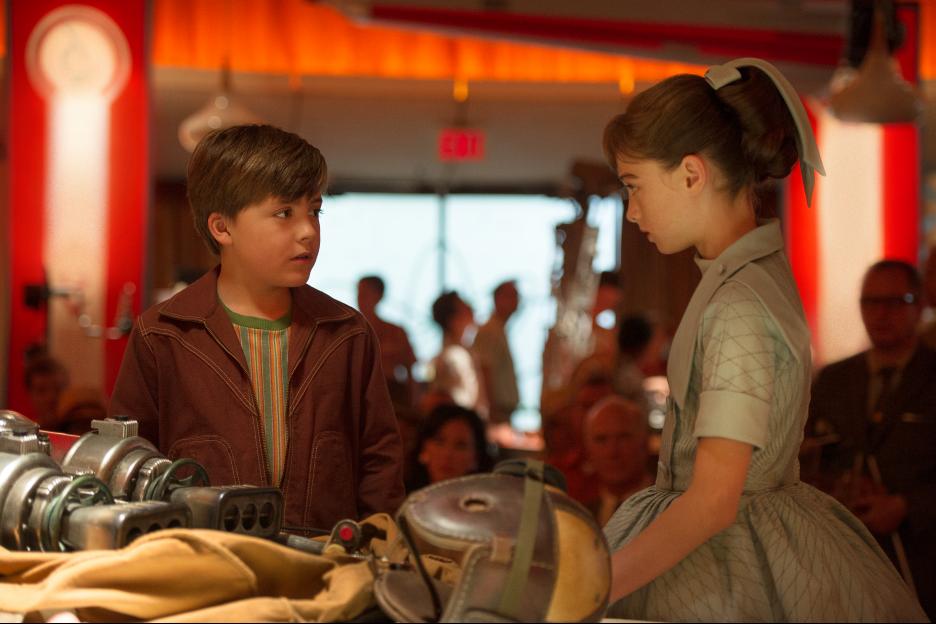 The story of "Tomorrowland" started with a box labeled "1952," supposedly discovered by accident in the Disney Studios archive.  The mystery box contained all sorts of fascinating models and blueprints, photographs and letters related to the inception of Tomorrowland and the 1964 World's Fair. Lindelof was excited by the find and recalls, "I began to imagine that the contents of the box were a guide to a secret story that nobody knew. But if so, what would that story be? And the most obvious answer to me was that there really was a place called Tomorrowland that was not a theme park but existed somewhere in the real world." ~Disney
 "Tomorrowland. That word is so evocative of all the themes that we've been talking about here," concludes Jensen. "It's evocative of the future. It's evocative of the notion of progress. It is evocative of the idea  of a culture working together collaboratively—not necessarily without disagreement, but creatively to build the future that we want. We're putting that word out there and asking people to respond to it." ~Disney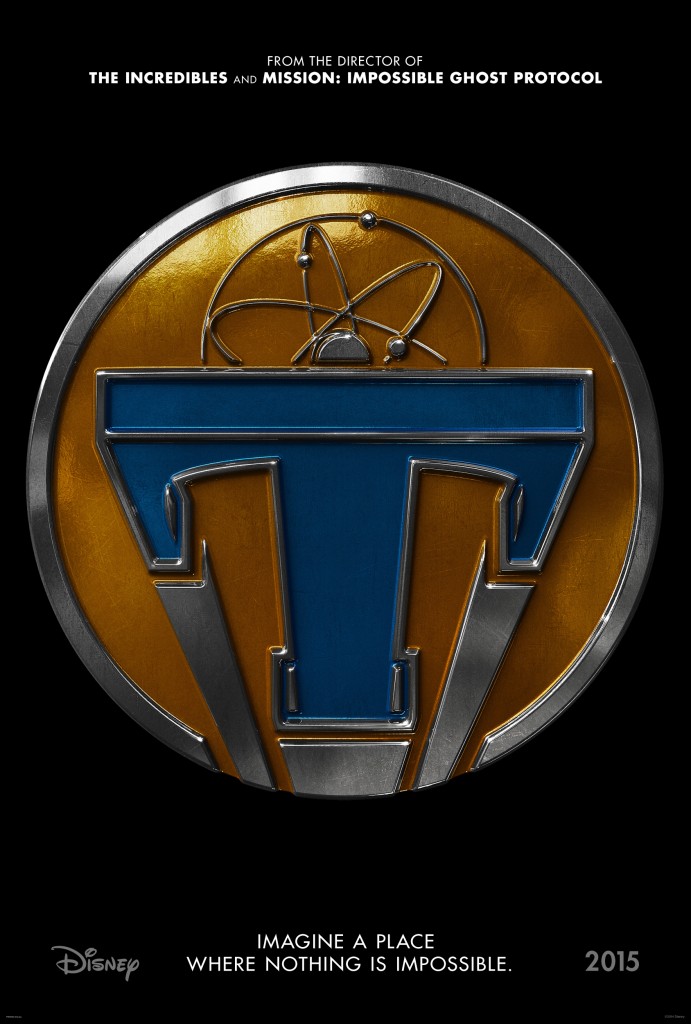 From Disney comes two-time Oscar® winner Brad Bird's riveting, mystery adventure "Tomorrowland," starring Academy Award® winner George Clooney. Bound by a shared destiny, former boy-genius Frank (Clooney), jaded by disillusionment, and Casey (Britt Robertson), a bright, optimistic teen bursting with scientific curiosity, embark on a danger-filled mission to unearth the secrets of an enigmatic place somewhere in time and space known only as "Tomorrowland." What they must do there changes the world—and them—forever.
Featuring a screenplay by "Lost" writer and co-creator Damon Lindelof and Brad Bird, from a story by Lindelof & Bird & Jeff Jensen, "Tomorrowland" promises to take audiences on a thrill ride of nonstop adventures through new dimensions that have only been dreamed of.
Like TOMORROWLAND on Facebook 
Follow Disney Pictures on Twitter #Tomorrowland
Visit the official TOMORROWLAND website 
TOMORROWLAND opens in theaters everywhere on May 22nd!