Layered Cornbread Salad #SaveALotInsiders
#spon: I'm required to disclose a relationship between our site and Save-A-Lot. This could include Save-A-Lot providing us w/content, product, access or other forms of payment.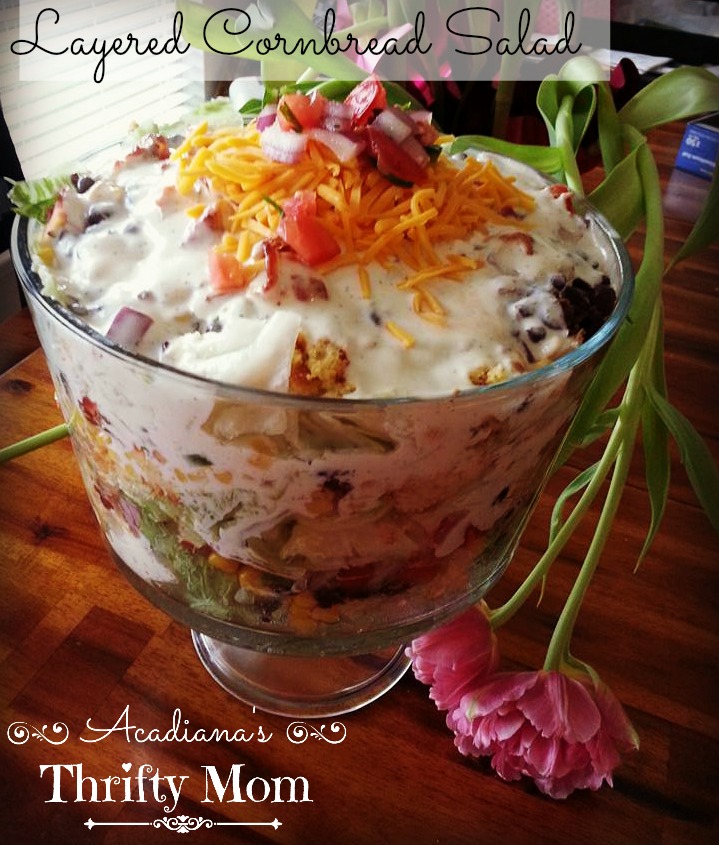 I was given the fun task of creating a new spring salad recipe for Save A Lot Insiders!  I am such a huge fan of layered salads and make my 7 layer salad every chance I get.  I have seen a cornbread salad in a lot of different places and decided to incorporate two of my favorite foods; 7 layer salad and corn bread!  This turned out amazing and I just couldn't wait to share it with all of you 😀  I hope you enjoy it as much as I did.
I have to say, our Save A Lot in Opelousas has some of the best produce around and they definitely have the best prices.  If you haven't checked out Save A Lot lately, you really should give them a shot!
Ranch dressing:
1 packet Ranch dressing mix
1 tsp chili powder
1 cup milk
1 cup mayonnaise
For the pico de gallo:
4 medium Roma tomatoes
1/2 medium purple onion
1 medium jalapeno pepper (seeded)
1/3 cup chopped fresh parsley (or cilantro)
Juice of 1 lime
garlic salt and black pepper to taste
For the salad:
1 (7.5 oz)box cornbread mix prepared according to directions on box, cooled, and crumbled.
3 cups canned or frozen corn
1/2 red bell pepper
1 (15 oz) can black beans, drained & rinsed
2 cups cheddar cheese (shredded)
1 head chopped iceberg or romaine lettuce
12 oz. bacon cooked, crumbled & cooled
Directions:
Chop tomato, jalapeno, onion, and parsley (or cilantro) and mix with lime juice, garlic salt, & pepper.
Prepare the dressing (I use a Mason jar to add the ingredients and shake) and chill for about an hour.
Mix bell pepper with corn.
Begin to layer with 1/3 of the lettuce, then 1/3 cornbread, 1/3 pico de gallo, 1/3 corn, 1/3 beans, 1/3 cheddar cheese, then 1/3 bacon.  Repeat this process until all of the ingredients are used.
Cover the salad and refrigerate for 3 hours.
Serve cold and ENJOY!