Complete List of Summer Camps in Acadiana 2015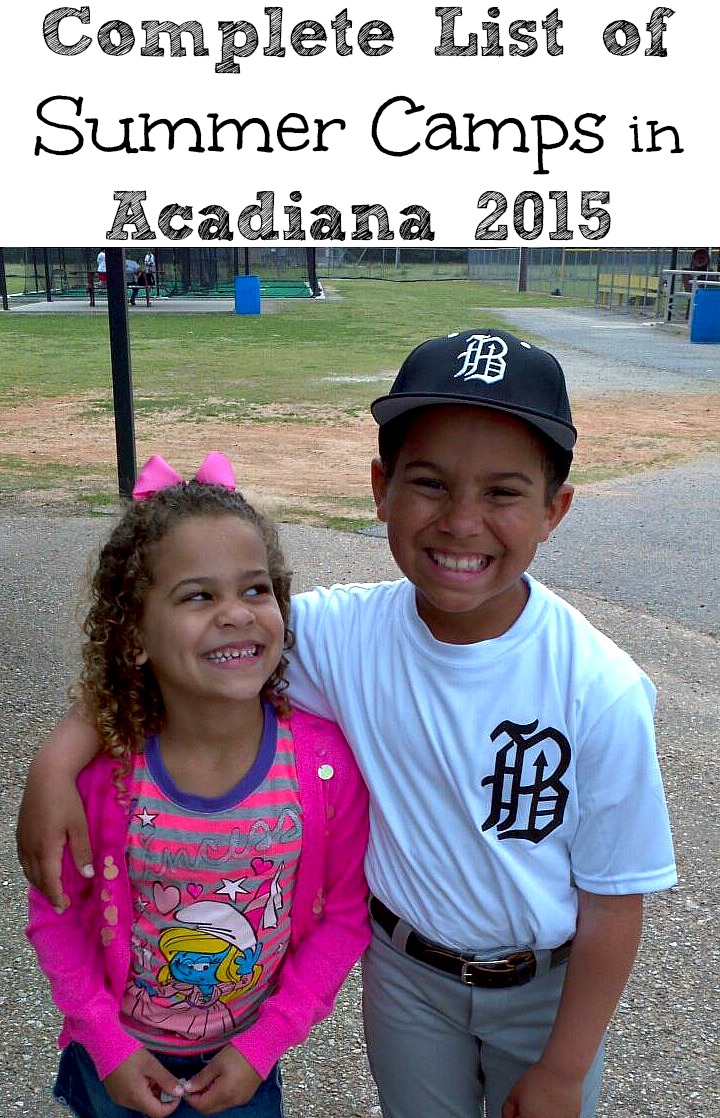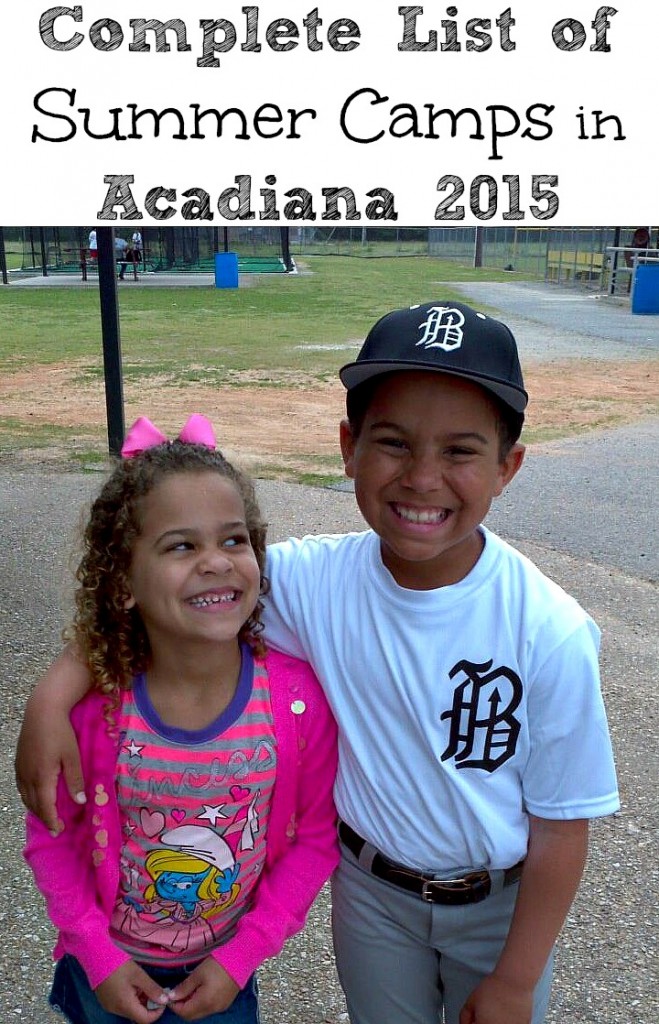 If you live in Acadiana and are you looking for something fun to keep the kids busy and happy this summer, you have come to the right spot! Acadiana's Thrifty Mom has rounded up the biggest list of camps in Acadiana around! Be sure to check back often; I will be adding more as I find them 🙂
Acadiana School of the Arts:  ROCK CAMP! ~ Rock Camp 2014 will be June 22 – 26.  This is the camp that started it all – reserve your slot before it fills up!
Acadiana Symphony Orchestra ~ SUMMER PIANO & VISUAL ARTS CAMP ~ This Summer, the ASO Conservatory of Music is offering a Piano Camp for students of various ages and levels, to provide students with some supplemental FUN and learning experiences, to get a chance to explore new styles or areas of interest in all things PIANO! The Camps will also include art workshops so students can explore different ways of expression through music and visual art. Students must bring their own lunch. Snacks will be provided throughout the day.
 Brick Zone ~ We learn and build while having fun. It has been a wild ride, but I am enjoying helping kids learn.  Please call (337) 839-8606 to register.
Camp Calvary ~ Summer registration is also available. Registration is $99. Camp fee is $120 for the week with lunch provided by camp, $99 for the week with lunch provided by parents.
Camp In The City ~ Camp is Coming! Register today for Pinecove Camp in the City here at TBC. Camp will be the week of June 1-5 for kids completing Kindergarten through 5th grade.
Camp Invention ~ Camp Invention celebrates its 25th season in 2015 — that's right, we've been spreading an innovative spirit to 1st – 6th graders for a quarter of a century! We inspire girls and boys to think BIG and imagine how they can change the world for the better one day! This one-of-a-kind weeklong experience connects science, technology, engineering and math through fun hands-on activities. The program allows students to learn about creative problem solving (and so much more!) in teams grouped by age.
Christian Youth Theater Camp ~ Join CYT summer camp and fill your day with theater workshops using a Broadway-style theme. Workshops include musical theater, voice, dance and drama. Other activities include high energy games and rehearsals for the Friday Showcase for family and friends.
City Club Youth Sports Camp ~ Head Tennis Pro Chad Hebert has over 20 years experience running summer camps and has been running the Sports Camp since creation.
Crossroads Church Camp Courageous ~ June 15 – 17 ages 5-13
Episcopal School of Acadiana ~ ESA Summer combines the spirit of ESA's academic and athletic programs with the fun and energy of summertime. Students are invited to extend their learning through hands-on activities that take advantage of the resources on ESA's campuses and in the Acadiana community.
Family Life Church Kids Camp ~ his summer, kids have the opportunity to join us for Kids Camp June 22-25th. This is a four day FREE camp for kids ages 6-11yrs old. We will utilize music, skits, videos, crafts, games, and scripture to share the Word and love of God. We need volunteers in our classrooms, behind the scenes, and for the production team.
Just 4 Kicks Soccer Camp ~ Each day will be divided into three or four sessions, depending on the heat. The first two or three sessions are for instructional purposes. It is at this time that we will demonstrate and teach the correct way to pass, trap, dribble and shoot. The last session of each day is for scrimmaging, which will provide your child with the opportunity to use what he or she learned in actual game situations.
KidCam Camp Lafayette & Broussard ~ For 40 years, KIDCAM has been delivering all of this and more for thousands of happy campers. We've taken the very best time of year for kids, and made it even better. With hand-selected camp locations throughout Louisiana, Texas and Illinois, you're sure to find a KIDCAM summer camp that works for you.
Lafayette Martial Arts ~  If your kid's just looking for a fun time – we won't disappoint. Our camp is loaded with games, activities and exercises that'll have your kid laughing, smiling and having the time of their life.
Lafayette Parks and Recreation ~ Summer Enrichment Program.  The Summer Enrichment Program offers, for a minimal fee, day time supervised play and activities for youths during a designated summer period.
Lafayette Youth Soccer Association ~ The Lafayette Youth Soccer Association is the longest serving youth soccer organization in Acadiana. We offer a variety of camps throughout the year ranging in both age & various ability levels. Recreational & competitive players alike will benefit from our professional coaching staff during our Day Camps, Full-Day Camps, & Position Specific Camps. We aim to develop skills & knowledge in order to foster a life-long love of the game in our Acadiana youth .
LSU continuing education ~ For an enjoyable activity with lifelong benefits, we recommend one of our eight different reading skills programs designed and taught by instructors from the Institute of Reading Development. Programs have been offered as a community service by LSU Continuing Education, a non-profit organization, since 2003.
Play & Learn with me Summer Camps 2015 ~ Our Fun Summer Camp offers an abundance of fun filled recreational, educational and creative activities for campers ages 3 – 8. We have a wide variety of themed camps to provide campers an experience best suited for their individual interests.
Ragin Cajuns Athletic Camps ~  If applicable, discounts are applied at the end of the registration process. Please call 337-482-6380 if you have any camp registration questions.
St. Thomas More summer camp schedule is designed to meet the summer needs of most families with sessions begining June 2 and running through August 1.  No camps are offered the first week of July. Several camps have multiple sessions, with a few offering half day or full day options.
Summer At The Bayou ~ Summer is a refreshing time of year. It's the perfect opportunity for families to forget about the routines of the school year and enjoy time being together. It's also a time for kids to be … well, kids! And what better way for them to celebrate all that summer has to offer than creating moments to remember at summer camp?!
UL Lafayette Continuing Education ~ From art & culture, to professional development & technical training – we have over 200 courses to choose from.
YMCA of Acadiana; Fun in the sun at the YMCA!  ~ Summer Camp at the YMCA of Acadiana begins at 7:00 am and lasts until 6:00 pm Monday through Friday. We engage our campers through outside and inside play that is active in both mind and body.  We service ages 5-12 years old, and divide our campers according to age and gender. Our Camp Counselors are made up of college students and Lafayette Parish teachers, and are trained to be role-models to all those who attend camp.
Zoo of Acadiana Jungle Camp ~ A week in Jungle Camp exposes the campers to all of the wonderful things Zoosiana has to offer, including: daily zoo tours, arts, crafts, and activities; Playground time, behind the scenes tour, Special "Friday only" activities, educational animal programs (to include up-close enjoyment!), and more!