Salted Caramel Cupcakes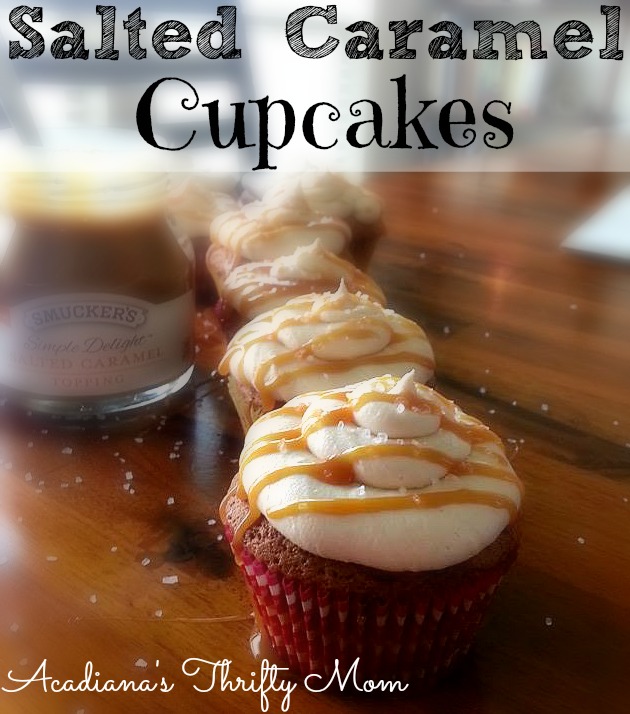 There are not very many caramel cake recipes out there.  Most caramel cake recipes are actually a yellow cake with caramel icing.  I was determined to make a caramel cake and, well, I succeeded!  It tastes pretty darn good too 😀  If you are able to find caramel pudding mix in your area, that would be a great substitution for the vanilla pudding mix that I used in this recipe.  I am very excited that the cupcakes and icing turned out great for this recipe since I kinda made it up as I went along.  My grandmother makes an amazing caramel cake, but as with all of the others I have had, hers uses a yellow cake and caramel icing.  I hope you enjoy this recipe as much as we did.
Gather your ingredients:
1 box yellow cake mix
1 box vanilla instant pudding mix
4 eggs
1/2 cup oil
1/2 cup water
1/2 cup caramel ice cream topping
2 sticks butter
1/2 cup caramel ice cream topping
3 cups powdered sugar
1 tsp vanilla extract
1 Tbsp sea salt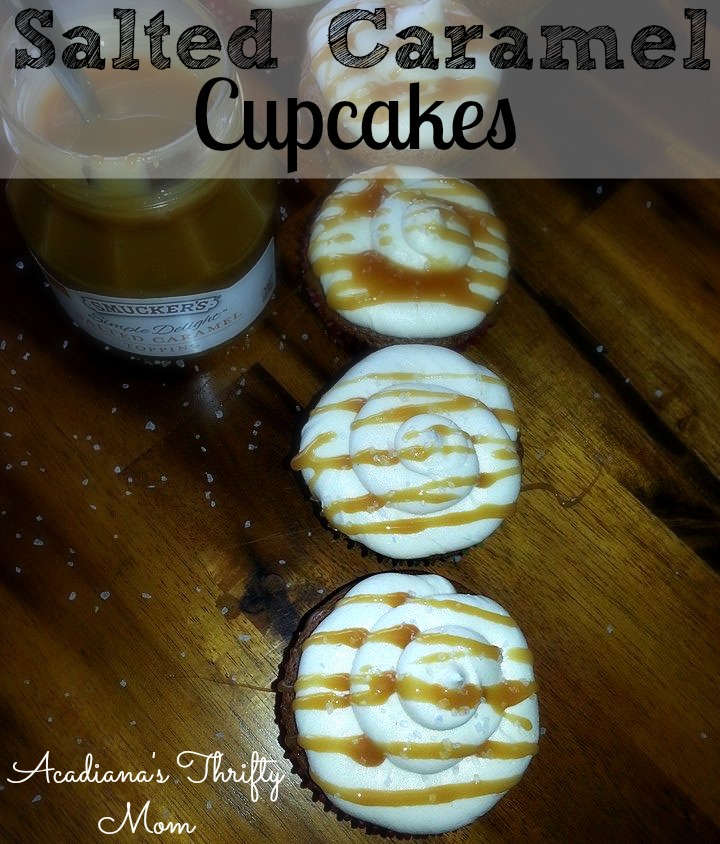 Get to baking!
Mix cake mix, eggs, oil, water, caramel topping and pudding mix together on medium for 2 minutes.
Fill 24 cupcake cups 1/2 full with batter.
Bake in oven preheated to 350° for 25-30 minutes or until you can stick a toothpick in the center and it comes out clean.
Allow cupcakes to cool. I always cool them in the refrigerator because that locks in the moisture better than allowing them to cool on the counter top.
Mix butter and 1/2 cup caramel topping together on low for 1 minute or until well combined.
Mix powdered sugar into butter mixture 1/2 cup at a time until well blended.
Add vanilla extract to frosting mixture and mix on medium for one minute. Scrape the sides of the bowl and mix on medium for one additional minute.
Add icing to piping bag and pipe onto cupcakes or just spread it with a spoon.
Drizzle top of cupcakes with additional caramel topping and sprinkle with sea salt.
ENJOY!