Come Along As We Bring Skeletons To Life In Disney/Pixar's COCO Land Of The Dead #PixarCocoEvent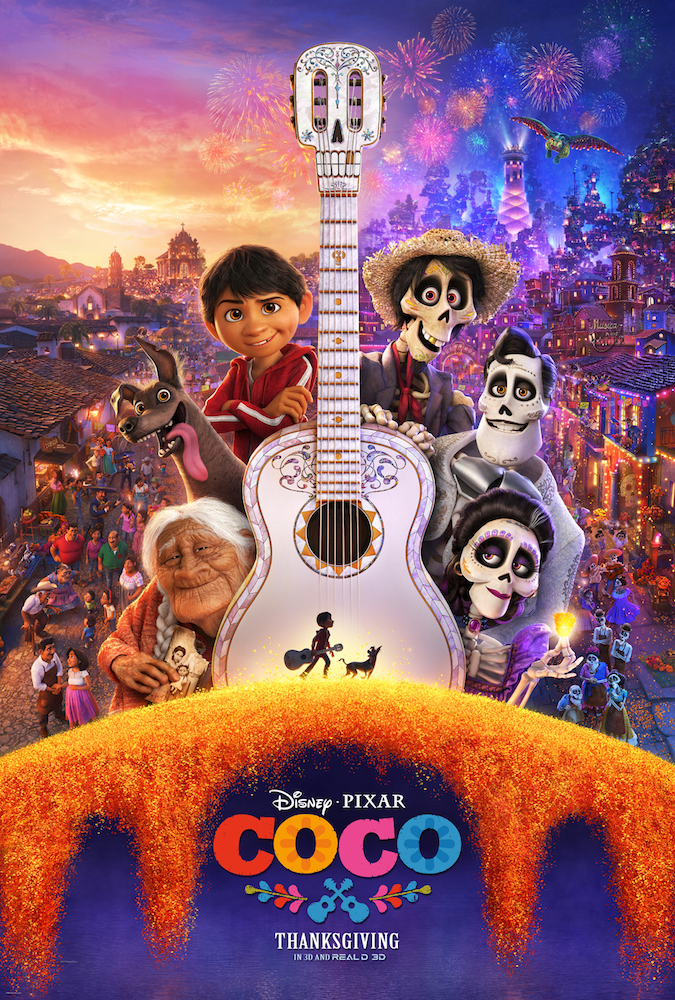 The countdown is on!  We are, now, only weeks away from Disney/Pixar's COCO opening everywhere!  Yes, that even means we are just weeks away from Thanksgiving.  This is going to be an amazing movie and an all-around spiritual and cultural experience for us all.  Back in August, I went to Pixar Studios to learn more about COCO, the traditions around the film, and how it was made.
As you can imagine, visiting Pixar Studios was an amazing experience I could not have imagined being as much fun as it was.  What was even more unexpected was how much I learned about  Dia de los Muertos and the significance it holds in many different areas of Mexican culture.   Dia de los Muertos is a celebration of family and and our connections to the people who came before us and paved our way in this world.
About The Land of The Dead:  
"While most of the action in the Land of the Living takes place during the day, in "Coco," Miguel's journey into the Land of the Dead takes place at night. "When Miguel arrives in this magical new world, we wanted it to be an explosion of color and texture," says Jessup. "The Land of the Dead is vertical, which is in contrast to the flat layout of Santa Cecilia. The towers represent layers of history: Mesoamerican pyramids are at the base with Spanish colonial architecture built on top. And it just keeps going—period by period, layer by layer, as people continue to arrive."" ~Disney/Pixar
"Inhabiting the Land of the Dead is a rich and vibrant community. But these characters had to be built without many of the usual traits because they are all skeletons. "We had to figure out how to give them personality without skin, muscles, noses or even lips," says Arriaga. "We played with shapes and did a lot of paintings. We studied skulls from every angle to figure out where we could add appeal and charm."" ~Disney/Pixar
It was truly amazing to watch as Daniel Arriaga (Character Art Director), Gini Santos (Supervising Animator), Byron Bashforth (Character Shading Lead), Emron Grover (Simulation Technical Director) of Disney/Pixar COCO turned skeletons into something a lot less creepy.  They explained how they gave them personality and style.  They created an entire world of skeletons of family members that passed on before us.  Some were funny, some serious, some were old and some young.  Each skeleton displayed pieces of their personalities from when they were with us, in the land of the living.  Such detail and thought was put into the way they walk and stand as well as their facial expressions and the way their clothing flowed across their skeletons.
About Hector:
Hector, a charming trickster in the Land of the Dead, enlists Miguel's help to visit the Land of the Living. "He desperately wants to cross the bridge of marigolds on Día de los Muertos to visit his family," says co-director Adrian Molina. "But there's a rule that if no one in the Land of the Living is actively remembering you—if no one has put your photo up on an ofrenda—then there's no one in the Land of the Living to receive you and you cannot cross over."
Hector promises to help Miguel find Ernesto de la Cruz, and in return, Miguel agrees to take Hector's photo back to his family's ofrenda. But their journey through the Land of the Dead isn't exactly easy. Says Molina, "Miguel is a living boy, so he draws a lot of attention in the Land of the Dead. And Ernesto de la Cruz is still a big star, which makes things very complicated." ~ Disney/Pixar
About Disney/Pixar COCO:
"Despite his family's baffling generations-old ban on music, Miguel (voice of newcomer Anthony Gonzalez) dreams of becoming an accomplished musician like his idol, Ernesto de la Cruz (voice of Benjamin Bratt). Desperate to prove his talent, Miguel finds himself in the stunning and colorful Land of the Dead following a mysterious chain of events. Along the way, he meets charming trickster Hector (voice of Gael García Bernal), and together, they set off on an extraordinary journey to unlock the real story behind Miguel's family history." ~Disney/Pixar