Clean Eating Fruit Salsa with Honey Cinnamon Tortillas #CleanEating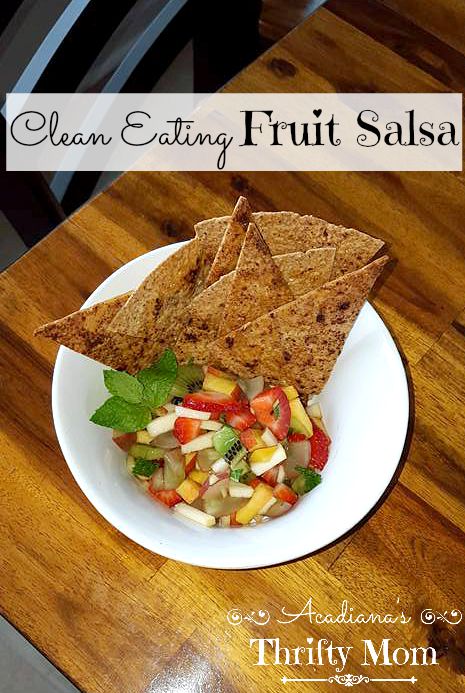 Well, we did it again with this clean eating fruit salsa!  We found another recipe that we just love!  We also found a new way to prepare our tortillas.  We tried whole grain tortillas this time instead of just the whole wheat.  This definitely gave us a change in texture and a little more crunch.  All of the kids really like this treat too. It's not always easy to find clean recipes that the whole family can enjoy, but this is definitely one of them.  I hope you enjoy this as much as we did!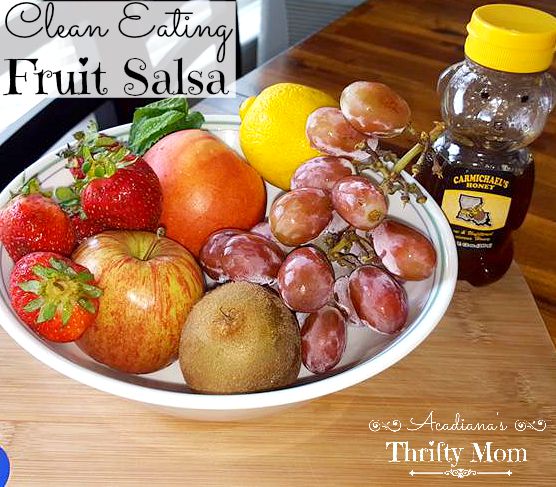 For the salsa
Gather your ingredients:
1 cup grapes, chopped
1 cup strawberries, chopped
1 medium nectarine, chopped
1 medium apple, chopped
1 kiwi, peeled and chopped
Juice of 1/2 lemon
2 tablespoons honey
1 fresh mint leaf, chopped (optional)
Get to mixing:
Mix all ingredients together and allow to sit in the refrigerator for 1 hour before serving.
Honey cinnamon tortilla chips
Ingredients:
4 whole wheat or whole grain tortillas
drizzle of honey
drizzle of grape seed oil
pastry brush or oil sprayer
Get to baking:
Brush tortilla with grape seed oil
Cut tortilla into 8 even triangles.  I used a pizza cutter.
Drizzle tortilla with honey and spread with back of spoon.
Place tortilla triangles, honey side up, onto a baking sheet.
Place into oven preheated to 350 for 10 minutes.  The tortillas will bubble a bit and start to brown.
Allow to cool and ENJOY!