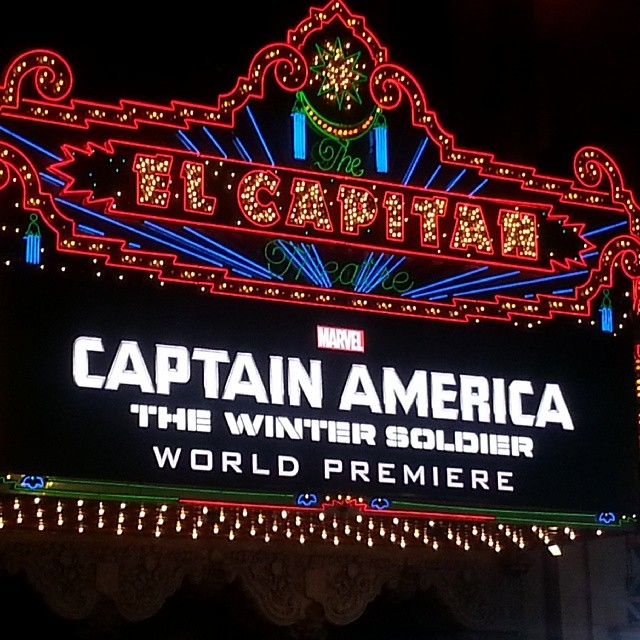 Captain America Red Carpet World Premier at the HISTORIC El Capitan Theatre in Hollywood SAY WHAT?!  Oh yes!  Oops, I did it again!  I scored a SECOND red carpet event in one week!  How fun is that?!  I can tell you, it was a whole bunch of fun 😀  Um, yes, that is me on the iconic Oscar stairs AGAIN….
Oh yes, that is me standing on the red carpet AGAIN;
and YES, that is me, Rachel Mouton, Acadiana's Thrifty Mom standing on the stage that was occupied by Chris Evans, Scarlett Johansson, and Samuel L. Jackson only a few minutes earlier!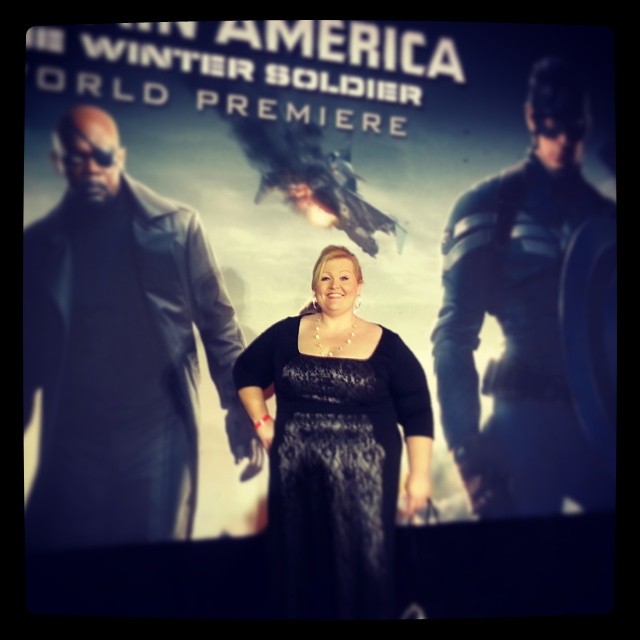 Okay, now that I've been back home for over two weeks and am FINALLY starting to get back into the groove of homeschooling, cooking, cleaning, and blogging again.  I can tell you that this trip was AMAZING, but I sure missed my family.  While I was on my trip, though, I got to hang out with some of the coolest people I have met in a long time (all 3 are pictured below)!  Marshall Weinbaum (right next to moi) put this amazing trip together and I was able to share this night with two amazing bloggers; Tara from Trippin' With Tara (the  brunette to the left) and Tiffany from Fabulous Mom Blog (right 0n the other side of  Marshall)!  Okay, I'm not really that much shorter than everyone in the photo, they all stepped up one step just before the picture was taken and, honestly at this point in the trip, I was doing to to stand upright LOL
There we are, walking the red carpet on our way to see Captain America Winter Soldier.  In case you have ever wondered what it is like on the actual red carpet; it is busy!  It is very busy and full of body guards LOL  This was an amazing trip and what better way to end it than with this AMAZING red carpet event!  Just a few hours after this picture was taken, I was on my plane headed back to my babies in Louisiana 😀  I was one happy mama!