April Fool's Day Litter Box Cake
This April Fool's Day Litter Box Cake is a huge hit at our house every year!  I saw different versions of it all over the internet and decided to give it a try.  Not only do we have fun making it, but it is a ton of fun to share with the kids on April Fool's Day.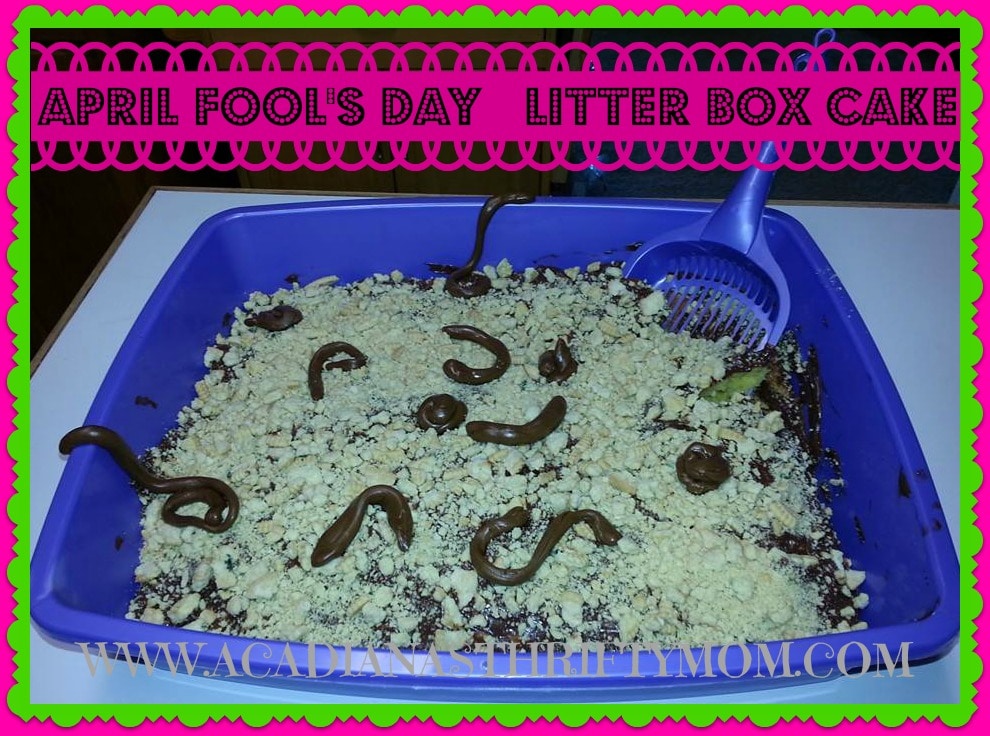 April Fool's Day Litter Box Cake
Talk….about….FUN! My daughters and I stayed home from baseball practice last night to make this dessert for our picnic that my husband was taking us on today! I have seen this treat everywhere and decided to put my own twist on it! The girls were giggling so much by time we finished! They were imagining their daddy's expression when he sees the cake. We were making bets on whether he would even try it or not. I'm guessing he won't LOL Even if no one eats the cake; it was well worth the fun we had making it! I encourage you to try it with your little ones. Have fun with it and make it your own! This recipe can easily be adapted to buckets with gummy worms and that is a fun summer treat. I hope you enjoy it 😀
Gather your supplies:
2 ~ (18.25 ounce) packages cake mixes of your choice (I used yellow)
2 ~ (3.5 ounce) packages instant chocolate pudding mix
1 ~ (12 ounce) package vanilla sandwich cookies
1 ~ (12 ounce) package tootsie rolls
1 ~ "litter box" (I used an actual litter box purchased new and cleaned, but you can really use any kind of pan)
Prepare your dessert:
Prepare cake mixes and bake according to package directions (any size pans).
Prepare pudding according to package directions and chill until ready to use.
Crumble sandwich cookies either by hand or in food processor.  I put them all in a gallon size freezer bag and banged them with a rolling pin LOL  This got them nice and crumbly and helped with any built up frustration 😀
Cut cakes to cover the bottom of  litter box chosen.
Cover the cakes evenly with chocolate pudding.
Sprinkle 1/2 of the cookie mixture over the pudding mixture.
Heat 2-3 Tootsie Rolls at a time to make them pliable (about 8 seconds for 2 Tootsie Rolls) then mold them so that they are no longer blunt, and curve the tootsie rolls slightly. Bury tootsie rolls randomly in the cake. Spread all but one randomly over top of cake mixture. Sprinkle with any remaining cookie crumbs. Hang the remaining tootsie roll over side of litter box and sprinkle with a few cookie crumbs.
Serve with the clean/new pooper scooper for a gross April Fool's dessert.
ENJOY!
If you like this fun recipe, then you should give these a try: