Seven Layer Salad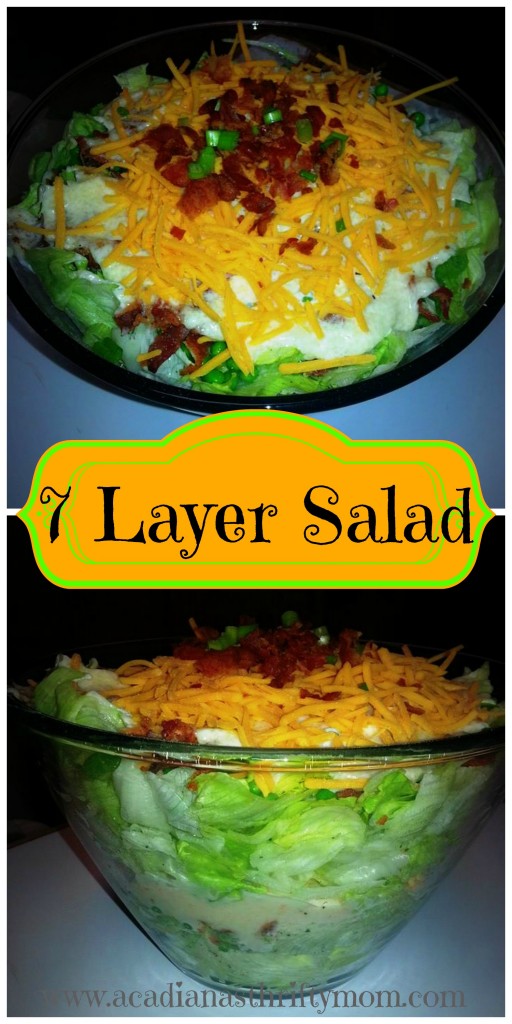 This seven layer salad is an amazingly easy and tasty dish that is ALWAYS huge hit at family and church functions! This is a recipe from my grandmother who, at age 87, still makes this salad when we go visit her in Tennessee. We are going to make this for our annual cook out at the local shelter this year. I'm sure it will be a huge hit! You can really get as creative as you like with this recipe. I have seen people use red onions in place of green onions and also cauliflower is a great addition. My kids request it every time they see me making it for someone else LOL I'm sure it will quickly become a favorite at your house too!
Gather your ingredients:
1 pound bacon
1 large head iceberg lettuce – rinsed, dried, and chopped
4 stalks of celery, chopped
4 green onions, chopped
1 (10 ounce) package frozen green peas, thawed
2 cups shredded Cheddar cheese
3 cups cups mayonnaise
1/2 cup white sugar
Prepare the salad:
Brown bacon, crumble and set aside
Mix Mayonnaise and sugar for dressing and set aside
In a large bowl, place 1/2 lettuce, 1/2 celery, 1/2 onion, 1/2 green peas, and 1/2 cheese then top with 1/2 of mayonnaise mixture and 1/2 of bacon. Layer remaining ingredients in the same order.
Garnish with onions and cheese.
ENJOY!