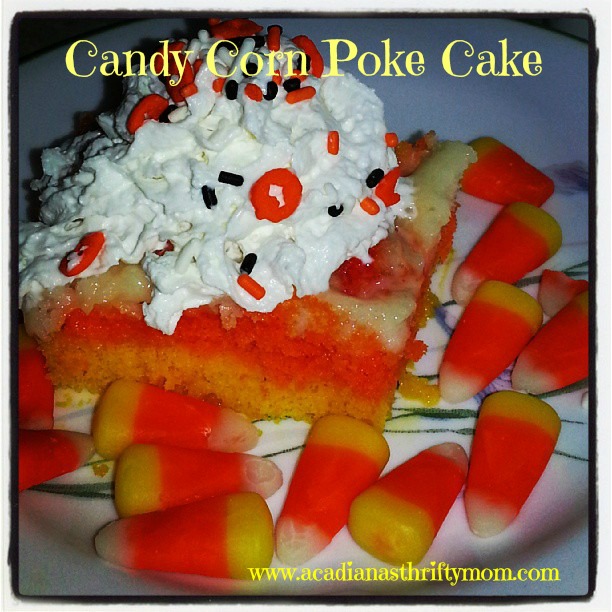 This is a delicious recipe that was so much fun and easy peasy to make!  You can change it up depending on the holiday and make it your own.  Get creative, but most of all, HAVE FUN!
Gather your ingredients:
1 box white cake mix and everything to prepare it as directed on the box
Orange and Yellow food coloring
14 oz sweetened condensed milk
whipped topping
candy corn
Get to baking:
Mix the cake batter as directed.
Divide the batter into 3 bowls equally portioned. Color one yellow, one orange, and leave the last one white. I used about 120 drops per color to make really bright colors. Don't be shy!
Spray the bottom of a 9 x 13 pan. Spread the yellow layer evenly across the bottom, then freeze flat for 1 hour.
Remove the pan from the freezer and quickly and carefully spread the orange layer over the yellow layer. Pour it as evenly as possible then gently spread it to cover the yellow. Put it back in the freezer for 45 more minutes.
Remove the pan and spread the white layer on top of the orange layer very carefully.
Preheat your oven as directed on the cake mix and allow the cake to sit on top of the stove while it is heating so it can defrost.
Bake according to package directions.
As soon as the cake comes out of the oven, poke holes throughout the cake with the end of a wooden spoon. Pour the sweetened condensed milk evenly over the cake, making sure to fill each hole.Refrigerate overnight.
Top with whipped topping, candy corn, and enjoy!
Adapted from a recipe from Mom's Kitchen