Candy Corn Marshmallow Pops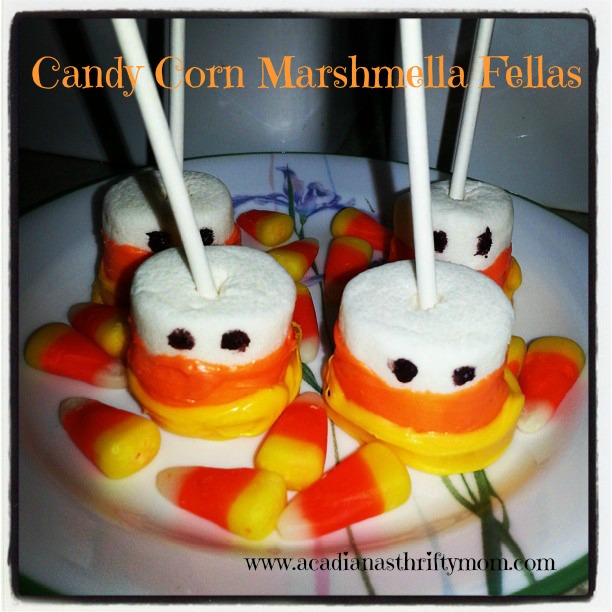 As many of you know; I'm on a candy corn kick right now LOL I've been browsing Pinterest for the cutest and easiest candy corn recipes I can find. I found this one and it's not really much of a recipe as most people called it a craft. These were so easy to make and, as you can see, you can make it into anything you want!
Gather your supplies:
24 regular marshmallows
1 bag white candy melts (you can also use the orange and yellow if you like)
Yellow and orange food coloring * *Make sure you use food coloring for candy. The regular food coloring won't work. (You can also mix yellow and red food coloring to make orange)
24 candy sticks
Get to making!
 Heat your candy in a microwave safe bowl on the defrost or 50% setting for 1 minute at a time until melted. If you used the white candy; half the mixture into 2 bowls. Dye one bowl of candy yellow and the other orange with the food coloring. I used a LOT of food coloring to make the colors more vibrant.
 Place candy sticks into one flat end of each marshmallow and dip it in the orange candy. Make sure it covers about 2/3 of the marshmallow. Place on waxed paper to cool while you finish coating all 24 marshmallows in orange candy.
 After the orange coating is set; dip the orange end of the marshmallows in the yellow candy. Make sure this candy coating covers the bottom 1/3 of the marshmallow. I used a wooden craft stick (Popsicle stick) to help smooth it out.
 If you want to dip the bottom in sprinkles, you MUST do it before you place the marshmallow on the wax paper to cool. Once you place the marshmallow on the wax paper, it will become hard very quickly. You can also use black icing to make eyes or whatever you want. Get creative and have fun!