B & G Martin Has The Perfect Gift Your Pooch Will Love
This is a sponsored post from B & G Martin. All opinions are 100% my own.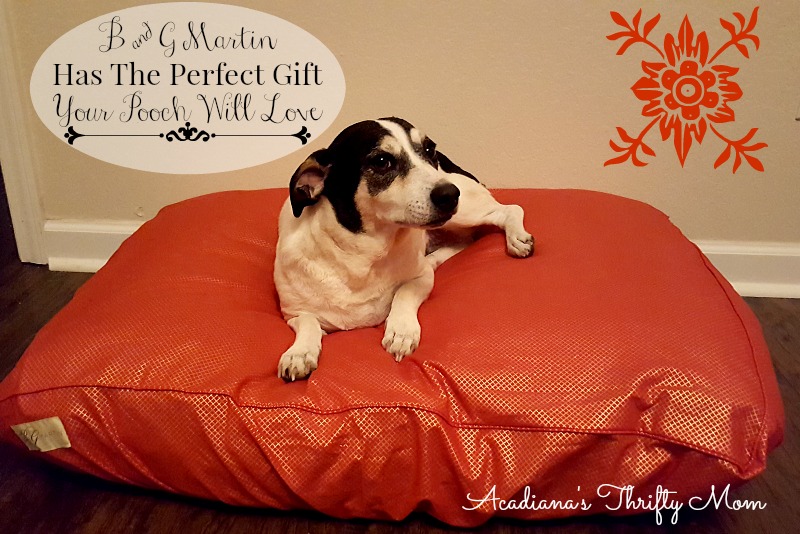 Oh my goodness y'all!  Annie Belle has a new bed and she loves it!  When I was asked if I wanted to review a luxury dog bed for my pooch, I thought "mmmm-K".  I do not have luxury dogs, but they do mean the world to our family <3  I was a little apprehensive because our pups are used to their beds and I wasn't sure how Annie Belle would take to trying out a new one.  Now that we have the B&G Martin bed for our Annie Belle; I'm wondering why we didn't do this sooner?!  It's like buying something nice for my kids and them falling in love with something beautiful.  It makes me happy to see them truly happy.
Now, let's talk about the color and feel of the bed.  The cushion itself is very soft and silky.  B & G Martin didn't stop at that though.  They also sent us a beautiful fitted cover!  This is essential for our pup.  Not only is the cover a gorgeous red, but it can be easily removed for washing.  This is very important since our pups go outside quite a bit.  I'm going to be honest with you, it seemed like a nice bed, but I wasn't real sure that Annie Belle would care that it was a "luxury" bed.  Guess what?!?  I don't think she has a sense of luxury, but OH MY GOODNESS, she fell in love with it right away!  I've never seen anything like it.  You can see in the picture below; she was falling asleep in less than 5 minutes 😀 Go take a look for at B & G Martin yourself!  You're going to love them and your pup will too 🙂
THE 3 PRINCIPLES OF B&G MARTIN:
LUXURIOUS YET PRACTICAL
We design the highest quality and most luxurious fitted linens and beds for dogs as well as custom beds for those seeking a truly bespoke experience.
Our fitted linens will keep your dog's bed clean and your home fresh, and are super easy to put on and take off, with a large variety of fabrics that will coordinate with your home's interior. We believe that luxurious can also be practical.
ECO – FRIENDLY
Our faux down dog beds cushion inserts are made from recycled plastic bottles. This is great news for the planet AND for our feathered friends.
All materials used are eco-friendly, Vegan and cruelty-free. We use NO animal products – NO leather, NO wool, NO Goose down or feathers, NO fur, NO silk – because we believe that no animal should have to suffer or die for the comfort of another animal.
BENEFITING DOG RESCUE
Every time a dog bed is purchased, a canine will be spayed or neutered with the proceeds in an effort to reduce pet overpopulation worldwide.
And each time an accessory, such as a fitted linen, is purchased, a dog will receive a potentially life-saving vaccine that prevents diseases like rabies and parvo.  Although the business is based in West Hollywood, CA dogs all over the globe will be positively impacted.
Stay Social with B & G Martin
B & G Martin on Facebook        B & G Martin on Twitter