Create Your Personal Christmas Wonderland With Oriental Trading #OrientalTrading
This is a sponsored post from Oriental Trading. All opinions are 100% my own.
Okay y'all, I'm going to go ahead and tell you; I am not super crafty.  I am, probably, mediocre when it comes to being crafty.  I have decided to start coming out of my comfort zone and dabble in some crafts.  I have shared a few over the years, but never really felt like that was my calling.  Well, Oriental Trading just lit a fire in my crafty-spot again!  Oriental Trading is full of such as crafty supplies to create seasonal decorations or fun kids crafts, or party supplies to throw a holiday themed party or play date – the options are endless!   Honestly, I always forget about Oriental Trading when I'm getting ready to start a craft project or even a new recipe.  I won't make that mistake again.  It was so easy to order and my order was delivered in two days, so I had plenty of time to get it all put together before Christmas 🙂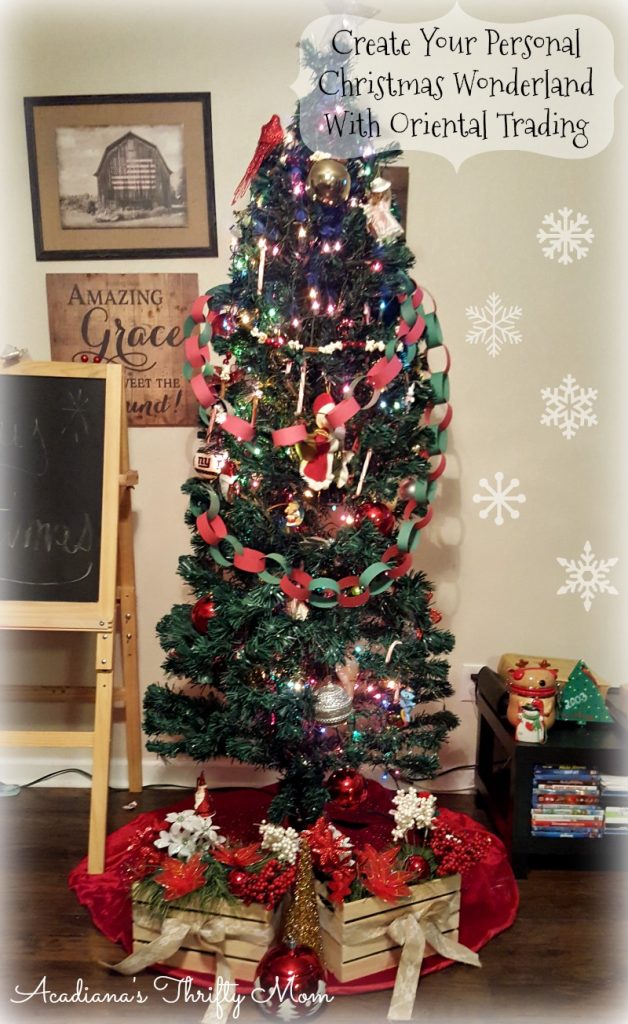 I was able to order everything I needed to make these super cute Christmas crates from Oriental Trading.  I used giant artificial greenery garland, DIY Crate, burlap & vintage lace ribbon, and glitter poinsettia Christmas ornaments, all found on their Christmas landing page!  You will also love exploring their Christmas crafts page and their  winter page.  So, go ahead, look around!  You are going to absolutely love their amazing decor and party supplies.  Plus they have tons of stuff for your New Years celebrations as well.  What's the best part about Oriental Trading, you ask?  Well, for me, a mother of three, it is the fact that I can order in the comfort of my living room and have everything delivered to my door.  The weather is cold and yucky everywhere.   So, cut out one more trip outside and let Oriental Trading do all of the work!
The Christmas Store at Oriental Trading
Get your home ready for the holidays with our fabulous selection of Christmas decorations. Deck your halls with festive indoor Christmas décor including unique holiday accents, beautiful Nativity sets, poinsettia garland, snowman shower curtains, holiday throw pillows and a sleigh full of other holiday decorations that will have your family in the spirit all season long.
Spread holiday cheer to your neighbors with outdoor Christmas decorations. You'll find a great selection of decorations for your yard like luminary bags, Christmas yard flags and decorative outdoor string lights. You'll find holiday yard stake decorations including a Nutcracker, the nativity scene and more.
Plus, Oriental Trading has hundreds of Christmas ornaments to decorate your tree. Choose a theme, a color palette or simply chose the Christmas tree ornaments you love. You can't go wrong with a selection this big! And guess what? There's a wonderful assortment of Christmas stockings too.
If you are planning a party this holiday season, Oriental Trading is your Christmas party supply store. You'll find everything you need to plan the perfect get together from Christmas party decorations to Christmas tableware, party favors, candy and much more.
Get social with Oriental Trading:
Oriental Trading on Facebook
Oriental Trading on Twitter
Oriental Trading on Pinterest
Oriental Trading on Instagram