What Should You Buy And Stock Up On In September?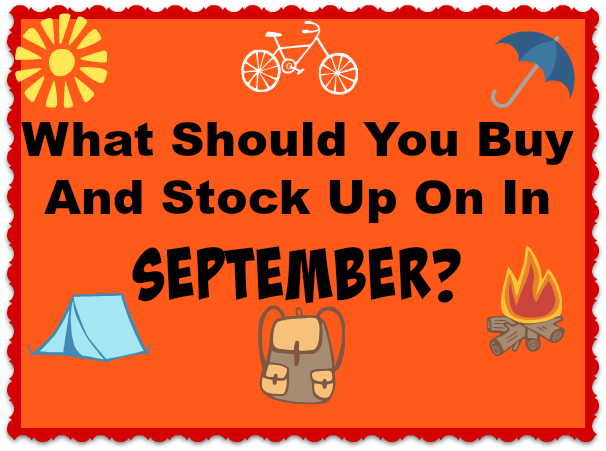 In September, summer officially comes to an end.  I know, I know, I hate to see summer end too, but it's a great time for sales!  Summer clothes and equipment have huge discounts everywhere you turn.
Lawn equipment ~ Summer will be officially over this month and everything summer will be going on sale.  This is a great time to buy that lawnmower you've had your eye on.  Since we live in south Louisiana, you will still have plenty of time to use it.
Cars ~ The new models for next year are being release this month, which will make this year's models less appealing.  This spells SAVINGS for you!  You will be able to get this year's models at a discounted price.
Outdoor furniture ~ More summer savings!  Because summer is now coming to an end, you can buy that beautiful outdoor furniture you've been wanting all summer.
Camping equipment ~  With fall weather quickly approaching, this is a great time to get a discount price on that summer camping equipment.  We still have plenty of time for you to use it.
Fans/Air Conditioners ~ You guessed it!  More summer savings that you can cash in on!  Fans and air conditioners will be on sale everywhere.  With temperatures still in the 90's across the south, this is a great time to buy a new unit.
Fruits and veggies that are in season in September ~ apples, artichokes, blackberries, blueberries, broccoli, cabbage,  cauliflower, carrots, chile peppers, cucumber,  figs, French beans, garlic, leeks, lettuce, mushrooms, nectarines, peaches, pears, plums, pumpkins, spinach, squash, sweet corn, and tomatoes.