5 Tips To Help Your Child Survive Their Weeks At College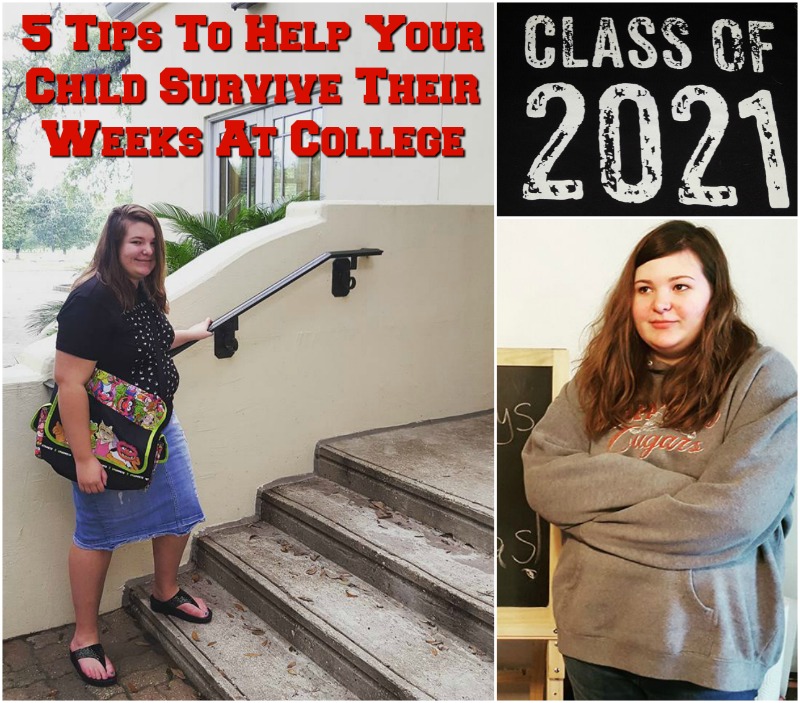 Okay, we have our little ones back in school, now it's time to focus on the big kids!  Starting college is such an exciting and challenging time.  Your young adult is likely experiencing some growing pains and Mom and Dad probably are too.  Should they work?  Should they live on campus or get an apartment?  Should they drive to school, ride the city bus, or have parents drop them off?  These are all great questions and the answer to all of these questions is the same:  "It depends".  It really does depend on each, individual student, what they are capable of and what Mom and Dad are able to do to help them through this transition.
So many college students are driving now, so it's a great time to let them really spread their wings and drive themselves to class if they are comfortable with that.  My oldest daughter is starting ULL this year as a freshman and she is not able to drive.  I will be driving her or I will have friends who will help get her to school.
 Plan out your days ahead of time ~ Sit down with your student and help them plan out their day.  Most colleges and universities have campus maps online that you can print out.  Print out the map and help them come up with a plan for parking and getting around campus.  This is a huge help when you're unfamiliar with the new campus.
Pack light ~ The first week of college is not like the first week of high school.  Many students are still finalizing their schedules, which means your class sizes and content will change.  Unless their instructor tells them otherwise, don't purchase your books yet.  Have them sit through the first class of each subject and listen to the instructor and take notes.  Be sure to pack an umbrella, especially down here in south Louisiana.  A compact umbrella will fit neatly into any backpack.
Pack a snack and water ~ They will be able to snack and drink between classes, which could be a huge time and money saver for you.  If they have an hour between classes, there is no reason they need to leave campus.  Tell them to pack a snack or two and a bottle of water.  They can sit on campus and go over their schedule and notes from any of the classes they have already taken notes in.
Buy your books online ~ If you can, buy your textbooks online. This will save you a ton of time and frustration.  There are times when you need the book right away or they are not available online.  In these instances, I suggest you go to the bookstore at opening.  Usually, if you arrive earlier, the lines are shorter; plus it is not so hot outside if you have to walk a distance to the bookstore or wait in line outside.
Stay in touch ~ If you feel like you are texting your student too much, you probably are and that's okay!  College campus can be a scary, and sometimes dangerous, place.  Although they may complain, it is comforting to know that someone knows where you are.  Make sure your student is checking in with someone every time they change location, especially when they are out after dark.