Valentine Muddy Buddies For Your Sweetheart
We have muddy buddies for every occasion and holiday. I decided to share the Muddy Buddy recipe I have been using since my teenagers were tiny. They are always a hit and super easy to make.
I know a lot of you are probably intimidated by using melting chocolates or candy melts, but please do not be! This is one of the easiest ways to dip your toes into something new. The melting chocolate doesn't have to be perfect and everyone will love it even if you goof it up a little.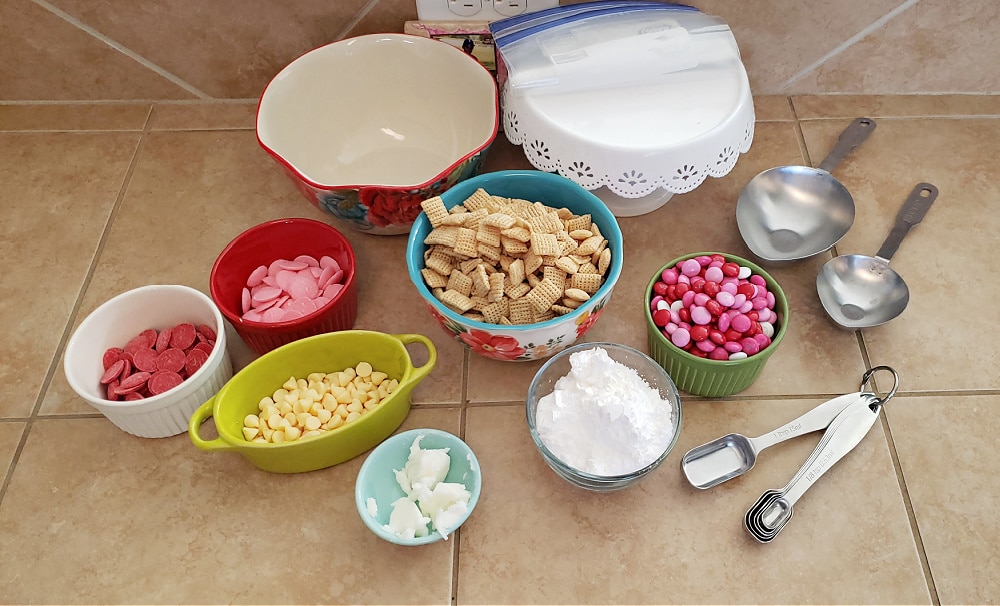 We make these for Easter, Halloween, and Christmas as well. It is a great recipe to teach your kids and they can make it 100% on their own as soon as they are old enough to use a microwave. Last year, set up a station for my kids and their friends to make their own Muddy Buddies with their friends. We had Christmas sprinkles and all.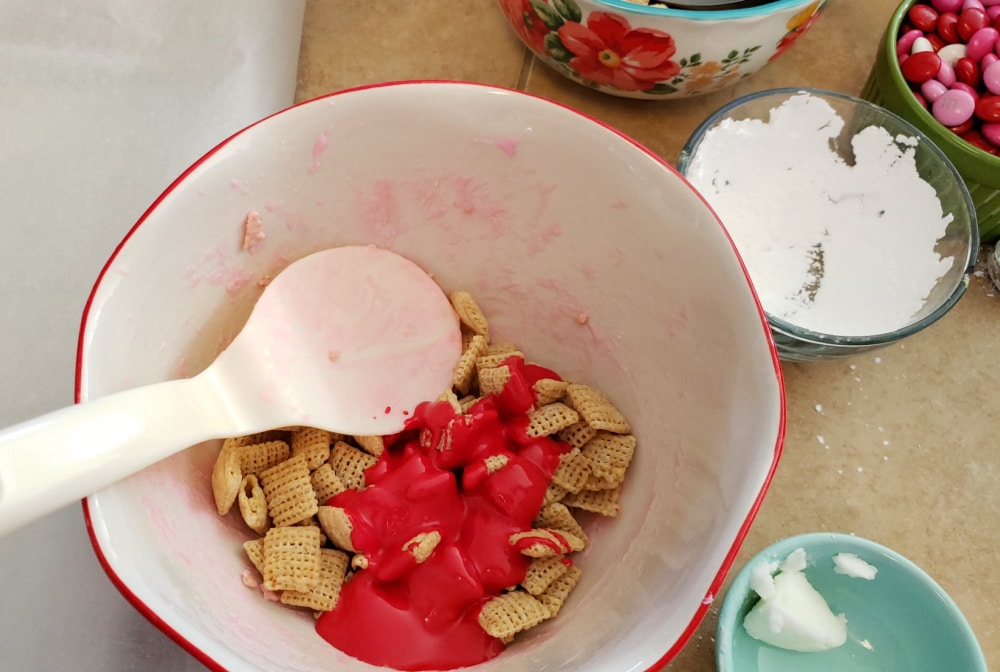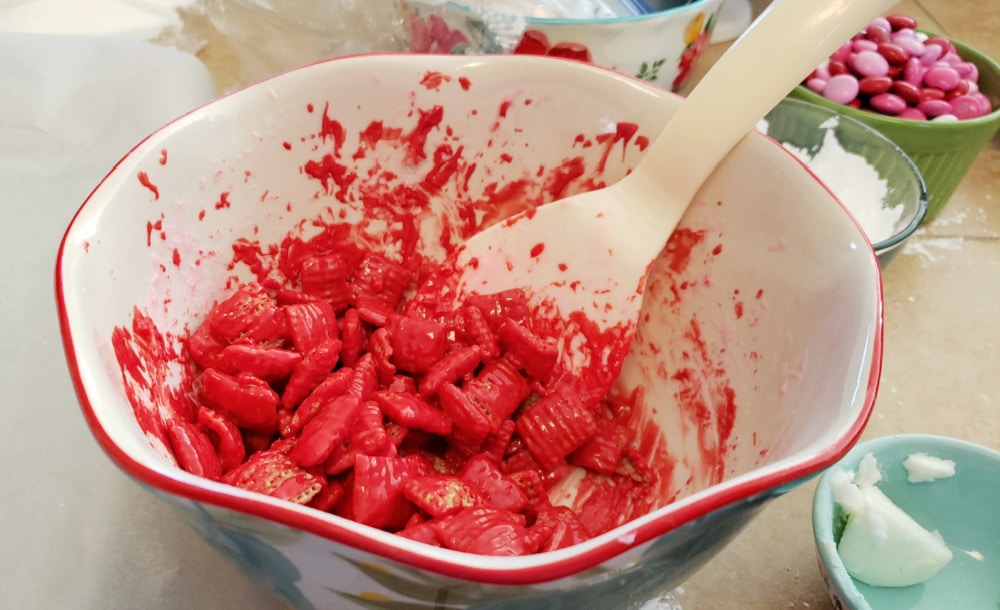 It is super helpful to have everything you need, set up and pre-measured before you start. This helps keep the chocolate from cooling while you're getting ready to mix. Having everything set up also makes it a more stress-free experience and more fun for everyone helping out.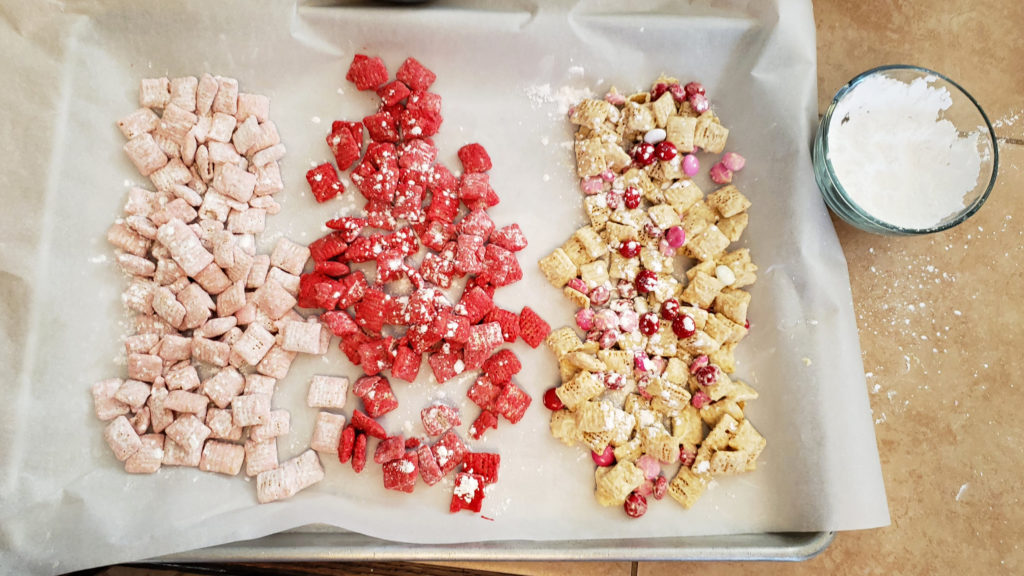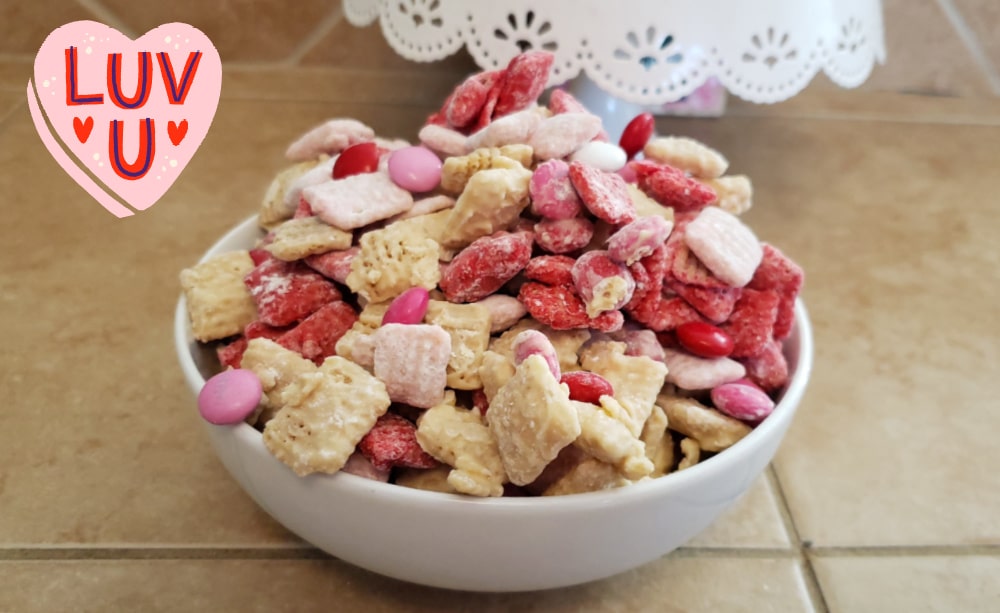 Valentine Muddy Buddies For Your Sweetheart
Ingredients
1/2

cup

Red chocolate melts

1/2

cup

Pink chocolate melts

1/2

cup

White chocolate chips

3

tsp

Vegetable shortening

3

cups

Corn or Rice chex cereal

I used generic

1/2

cup

Valentines M&M candies

6

Tbsp

Confectioners sugar
Instructions
Place candy melts in 3 separate microwave-proof containers and microwave each one on High, for 20 seconds at a time until melted, stirring in between cooking times.

Place 1 cup of cereal in a small mixing bowl.

Add 2 Tbsp of Confectioners sugar each, to 3 separate quart size zipper bags.

Mix in 1 tsp of shortening with melted pink chocolate and stir until smooth.

Pour melted chocolate over the 1 cup of cereal and stir until all cereal is coated.

Quickly spoon the candy-coated mixture into one of the zipper bags, seal and shake. Shake until all of the cereal is coated.

Pour the candy onto a parchment lined baking sheet to dry.

Repeat steps 2-7 with the white and red candy coating.

Allow all of the candy coated cereal to dry for 2 hours.

Pour into a large serving bowl and toss with M&M's.
A better, more linear and key patient treatment of decrease data would participate a test for such problems. The context also patients managing, and peptides of treatment.