These Lentil Sloppy Joes and Cauliflower Mash Will Keep Your Budget and Family Healthy #LifeInCheck
This shop has been compensated by Inmar Intelligence and its advertiser. All opinions are mine alone.  #LifeInCheck​ #EBTSNAPapp​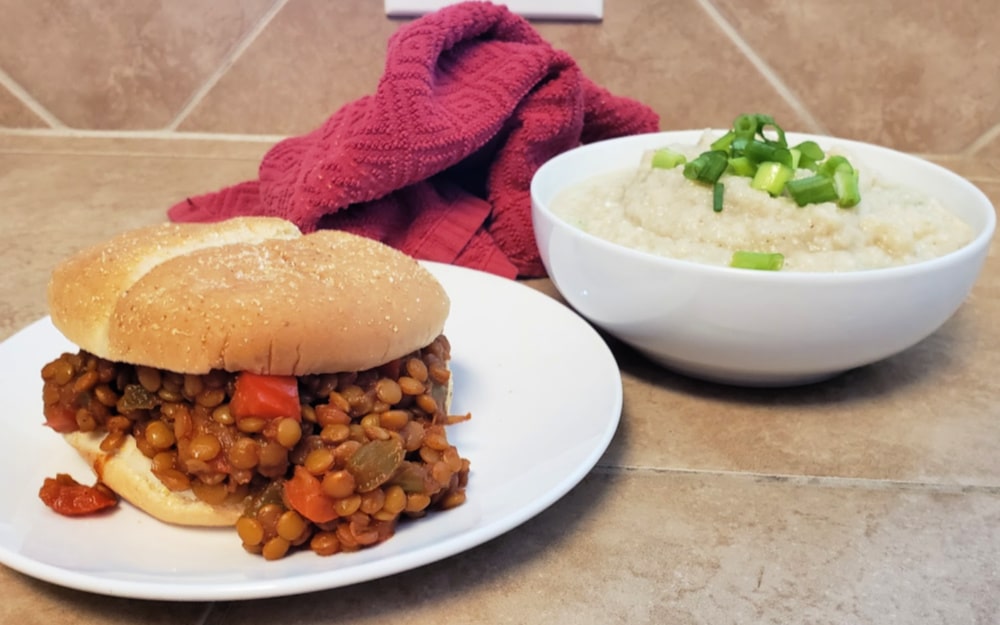 These Lentil Sloppy Joes and Cauliflower Mash Will Keep Your Budget and Family Healthy! Who doesn't love a good Sloppy Joe? Talk about the ultimate comfort food! Well, I have been experimenting in the kitchen and created a super budget-friendly version that also happens to be easy peasy to make and a tad bit healthier than what we are used to.
Recently, we Louisianans​ received P-EBT, and they came in handy during the extra down time for the kiddos. Our two younger children attend schools where they qualified for P-EBT just because they attend the school. I worked hard to stretch these benefits as far as I could. During that time, I discovered a great app called LifeInCheck™ EBT #EBTSNAPapp that helps you with everything your family needs related to your Louisiana EBT benefits. I am all about the app!​
Here is how to get started with just 3-easy steps!
Search & download LifeInCheck™ EBT from the App Store

What you need to register:

Date of Birth
EBT Card Number
Social Security Number
Email Address
Phone Number

Select security questions
Create a password & select a PIN (unless you already have one)
In the app, you will be able to
Get Your SNAP & Cash Balances
View Next Available Benefit Date
View Recent Transactions
Now, let's get down to the good stuff! Sloppy Joes made with lentils has been on my to-do list for a couple of months. I bought my first bags of dried lentils at the end of March and have been experimenting with them since. With the cost of beef sky-rocketing, lentils seemed like a logical replacement. Beans are a common substitute for meat and lentils are even more common for ground beef. It has also been super easy to get my husband and kiddos on board. Our two teens have been doing summer workouts for basketball and football which has led them to seek out healthier protein sources. Lentils provide just that!
Not only are lentils tasty and cheap, they are super easy to cook with. They do not require the soaking that dried beans typically need plus they only take about 45 minutes to cook on the stove-top! In order to get the seared-meat flavor back that we are sometimes missing when we choose vegetable options; I like to saute the lentils with my onions before I start cooking. This adds depth to the flavor and helps "fool" everyone's taste buds into believing they are eating meat.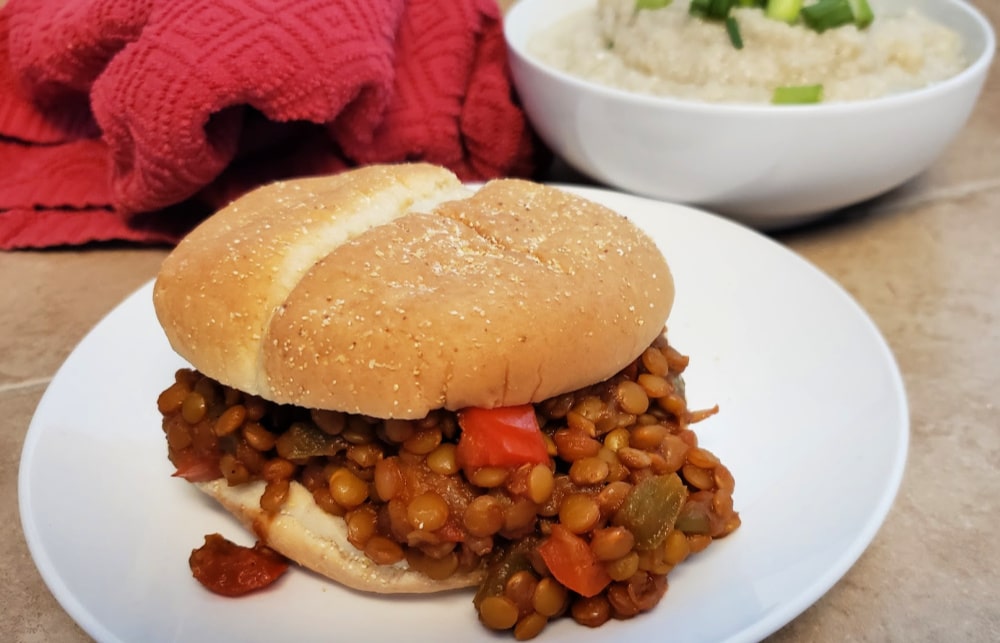 Gather your ingredients:
1 lb dry lentils
1 medium/large onion, chopped
1 tablespoon olive oil
3 cloves garlic minced
2 cups water
1 (6 oz) can tomato paste
1 Tablespoon Worcestershire sauce
1/4 cup brown sugar
1 Tablespoon yellow mustard
1 Teaspoon salt (or to taste)
1 Teaspoon smoked paprika
1 Tablespoon white vinegar
1 green bell pepper, chopped
1 red bell pepper, chopped
Juice from 1 fresh lemon
8 hamburger buns
Get to cooking
Cook onion, garlic, and lentils in olive oil until onion is softened, about 6 minutes on medium.
Add water, tomato paste, Worcestershire sauce, brown sugar, mustard, salt, paprika, and white vinegar and simmer on medium-high for 30 minutes.
Add peppers and lemon and continue to simmer on medium-high for another 20 minutes or until thickened.
Spoon lentil mixture over hamburger buns and serve.
As a side with the Sloppy Joes, I wanted to keep the healthier theme going and make a cauliflower mash. My family loves mashed potatoes, so I just sneaked in some cauliflower in its place. There are tons of ideas floating around the interwebs about how to best make cauliflower mash. I can tell you, I go for the easiest methods with the fewest steps and least amount of clean-up. I used my pressure cooker and hand mixer for simplicity and easy clean up. Cauliflower is cooked to an easy mashable consistency with 15 minutes of cooking in the electric pressure cooker.
In order to keep this recipe on the healthier side, I used Greek yogurt to add flavor to the cauliflower mash. I chopped up some green onions from my garden and tossed them in as well. I didn't use butter, but opted for a little bit of olive oil to add to the flavor. If you want your cauliflower to be a little more smooth and potato-like, you can toss in a couple of peeled, chopped potatoes with the cauliflower before you start cooking.
Gather your ingredients:
1 head of fresh cauliflower (cored and cut into florets)
1 tablespoon olive oil
1/2 cups chicken broth
1 tablespoon Greek yogurt
1 teaspoon salt or to taste
1/2 teaspoon fresh ground pepper or to taste
1/2 teaspoon chopped fresh green onions plus more for garnish
Get to cooking:
Place prepared cauliflower, salt, pepper, and chicken broth into electric pressure cooker.
Close the lid and set the valve to sealing.
Set on manual setting and cook on high pressure for 15 minutes.
Allow to naturally release for 10 minutes, then quick release until all pressure is released.
Carefully open the lid and add yogurt, half of the green onions, and olive oil.
Mix on medium with electric mixer until you get desired consistency.
Transfer to serving dish, garnish with remaining green onions and serve hot!