Santa and Mrs. Claus TerraCotta Bell Ornament Craft . If you love Christmas crafts or just activities to do with the kids during holiday break, these Santa and Mrs. Claus TerraCotta Pot Bell Ornaments are a simple, fun craft that you'll love for years to come!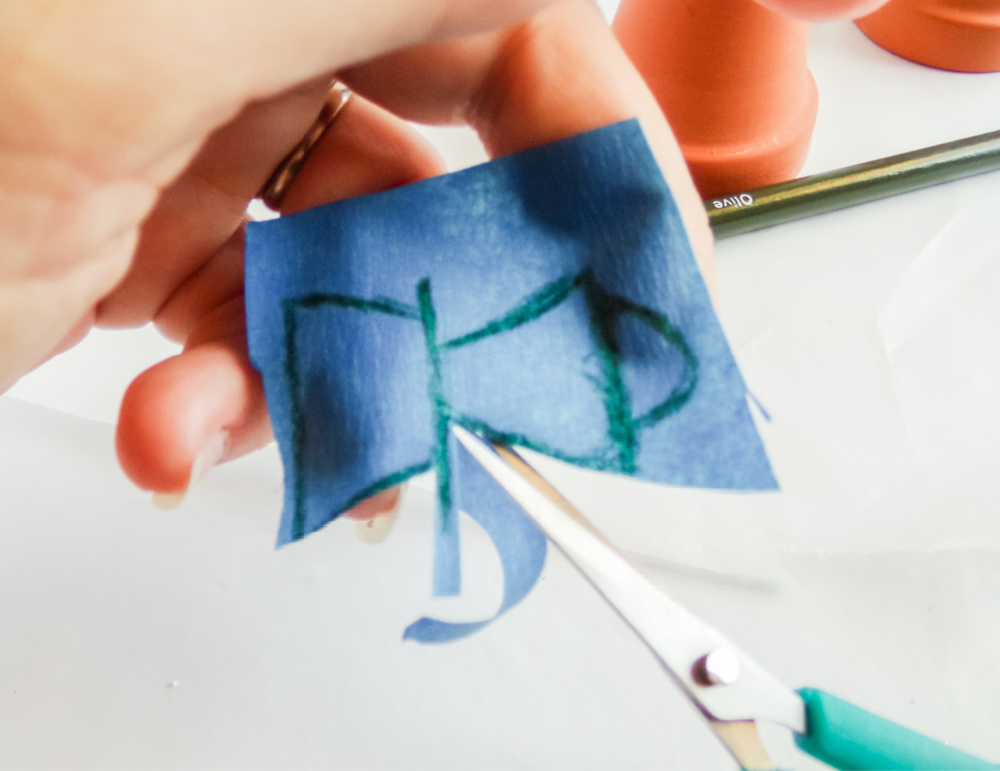 Tips to Paint TerraCotta Pots
Make sure your pot is clean. Just a quick wipe with a damp paper towel is usually good enough to remove any dust, but sometimes terra cotta pots need a little more cleaning. You can use a plastic brush or a soft scrubber.
If the pot is rough, sand it with some sandpaper. Some terra cotta pots are super rough or have some imperfections in their surface. It's easy to fix it up and smooth the pot out to be a great painting canvas. Just use a piece of high grit sandpaper. Just remember to wipe your surface off afterward. That way the dust doesn't muck up your paint.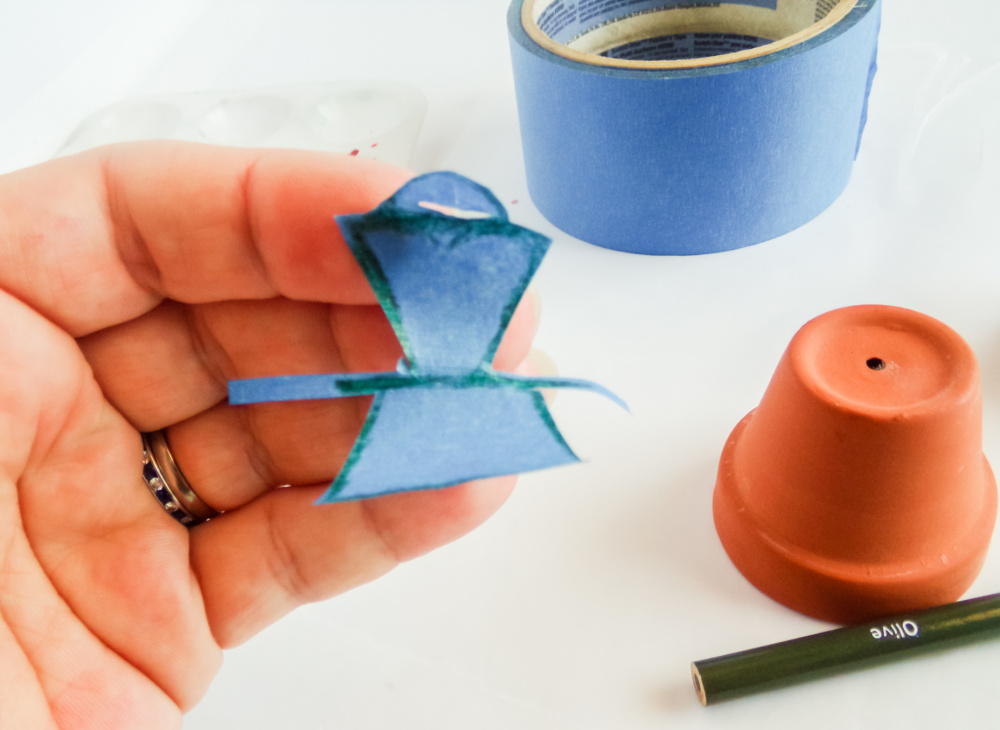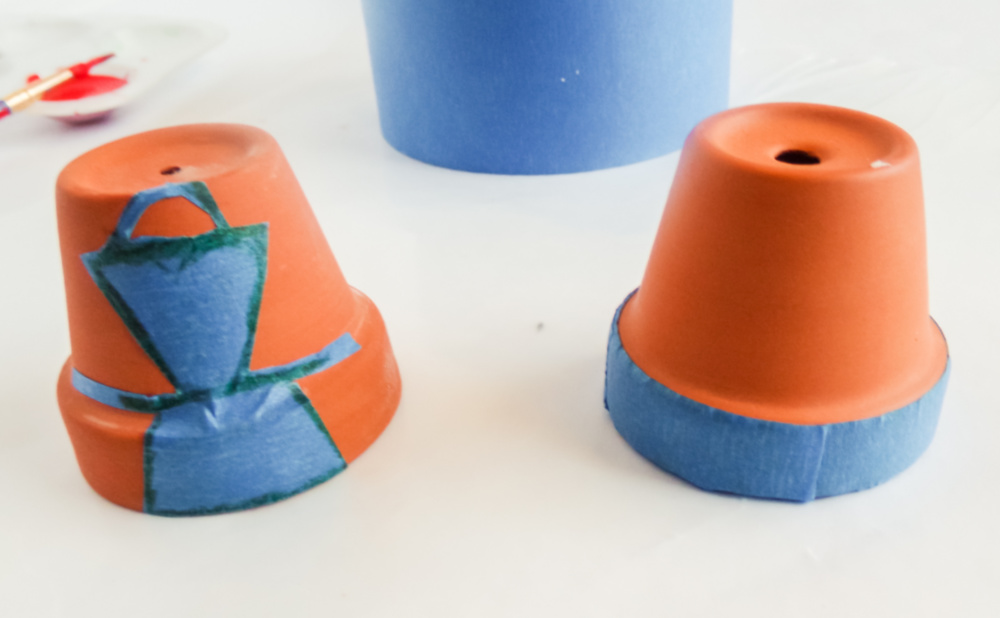 When you're using a template, paint away from the edges. Usually, when you're painting on a potentially uneven surface using a template, any bleedthrough is actually the brush pushing the paint under the template.
Add a coat of craft sealant when you're done. This isn't strictly required, but, if you're planning on having your ornaments around for more than a year or they might be handled a lot, a coat of Mod Podge is definitely necessary.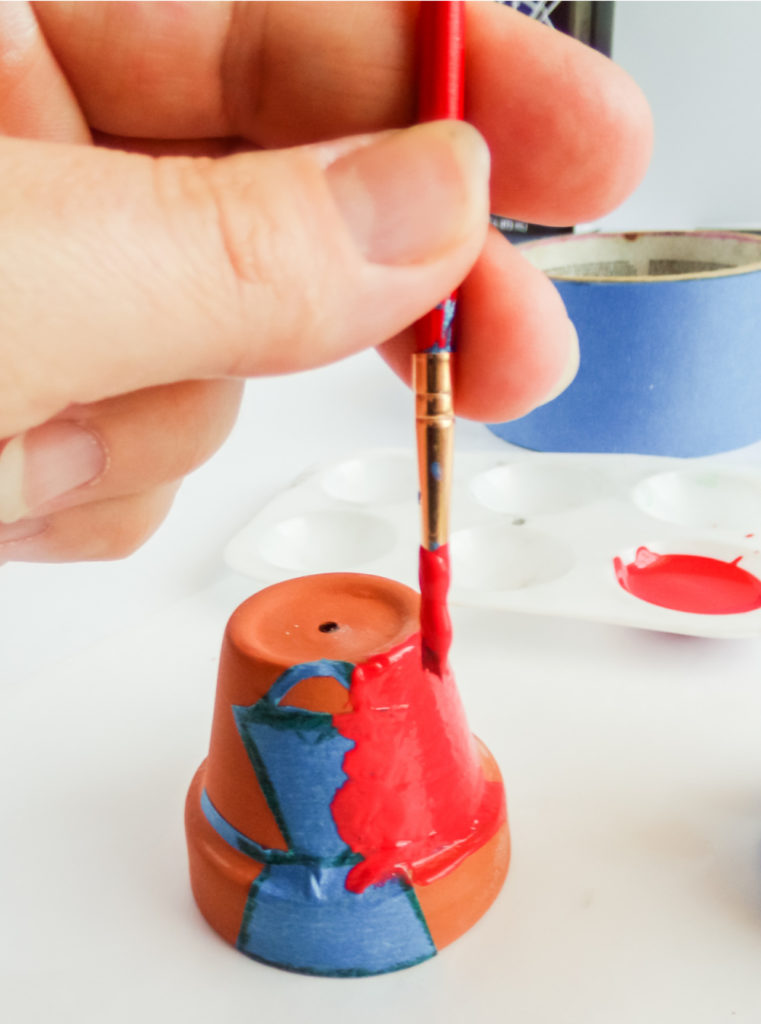 The biggest trick though is to take your time. If you rush through any craft, you're more likely to make a mistake and end up with a craft you aren't super in love with.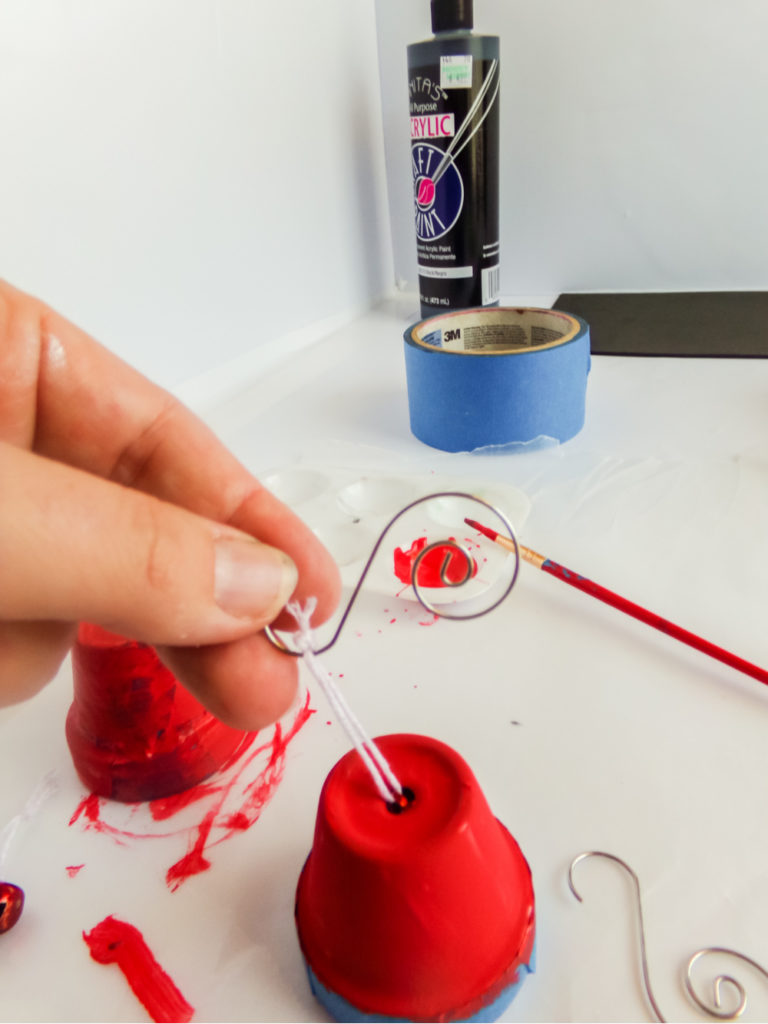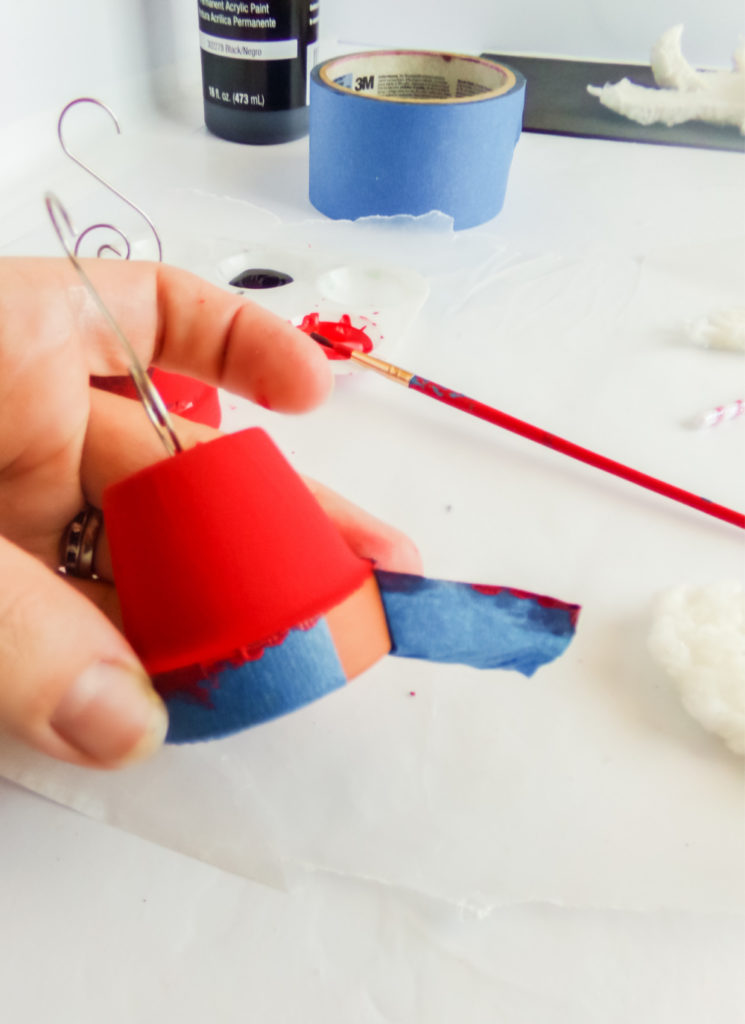 Ultimately, it's easy enough then to just paint, right?! And you'll have a sweet little set of Santa Claus Christmas ornaments in no time.
If you're loving this Santa and Mrs. Claus TerraCotta Pot Bell Ornaments but you don't have your paintbrush right there ready to go, be sure to pin this to your favorite holiday crafts board on Pinterest, so you can find it again quick when you're ready!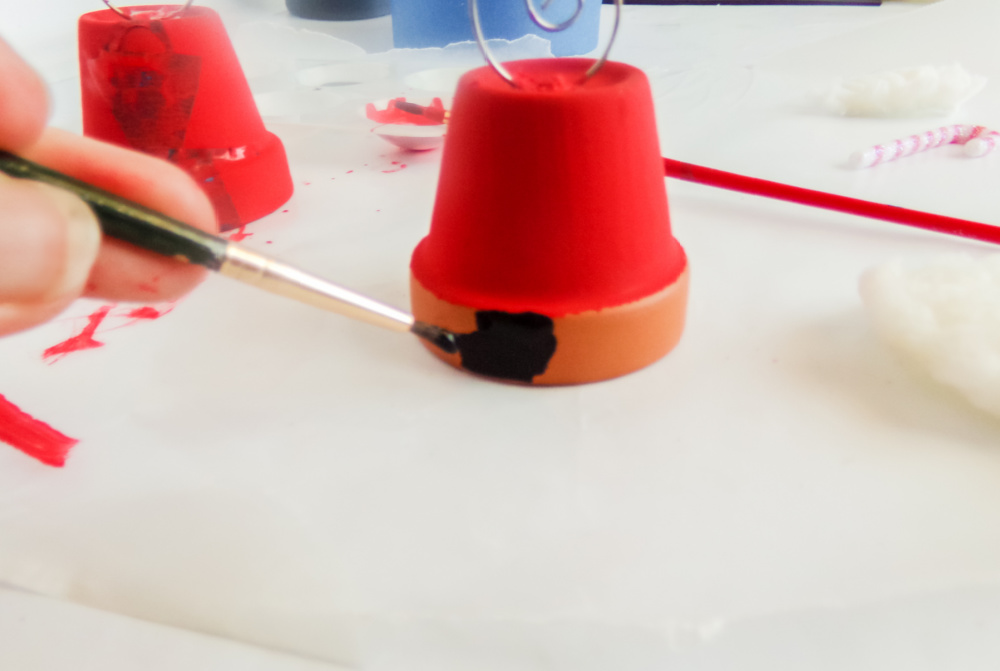 Supplies
2 – 1-inch Terra Cotta Pots
White Acrylic Paint
Red Acrylic Paint
Black Acrylic Paint
Gold Acrylic Paint
Scraps White Fluffy Fabric (I used sherpa fabric)
1 Red Chenille Wire
2 Tiny Red Bells
White Embroidery Thread
2 Ornament Hangers
2-3 Christmas Baubles (I used a mini holly and tiny candy cane)
Tiny White Pom Pom
Tools
Painter's Tape
Pencil
Paint Brush
Hot Glue Gun & Glue
Scissors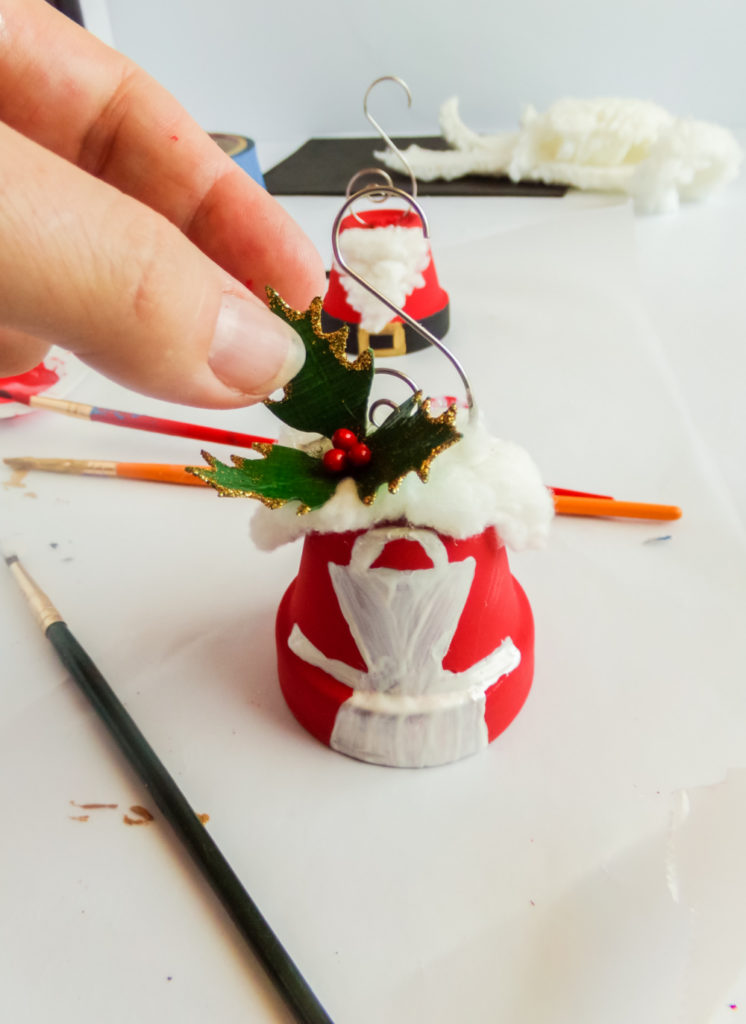 Instructions
While the tape is still on the roll, draw a tiny apron shape onto the tape. Basic shapes work well. Cut the piece of tape off the roll then cut the apron shape out. Place the tape apron shape onto one of the terra cotta pots.
Tape off the rim of the other terra cotta pot. Paint the non-taped areas of both pots and allow the paint to dry completely.
Remove the tape and paint the apron shape white and the rim of the other terra cotta pot black. Allow that coat of paint to dry completely.
Paint a small gold rectangle for a buckle on the front of the black band. Allow that coat of paint to dry completely.
Thread the bell onto the embroidery thread and through the inside of the pot and the hole in the center. Tie the ends of the thread to the ornament hanger, then hot glue this in place inside the pot.
Cut a tiny triangle beard of the fluffy fabric about ¾ inches by ¾ inches. Hot glue this to the front of the Santa bell.
Cut a tiny round circle of the fluffy fabric about ¾ inches in diameter. Hot glue this to the top of the Mrs. Santa bell. You may want to cut a slit into it to fit it around the ornament holder, depending on your particular ornament holder.
Attach any of the little baubles to Mrs. Claus that you might like.
Twist the chenille wire into a coil, about ¾ inches in diameter at the bottom, but getting tighter and tighter toward the other end.
Hot glue the chenille wire coil to the top of the Santa bell, then hot glue the pom pom to the tip. Put your ornaments on the tree and enjoy!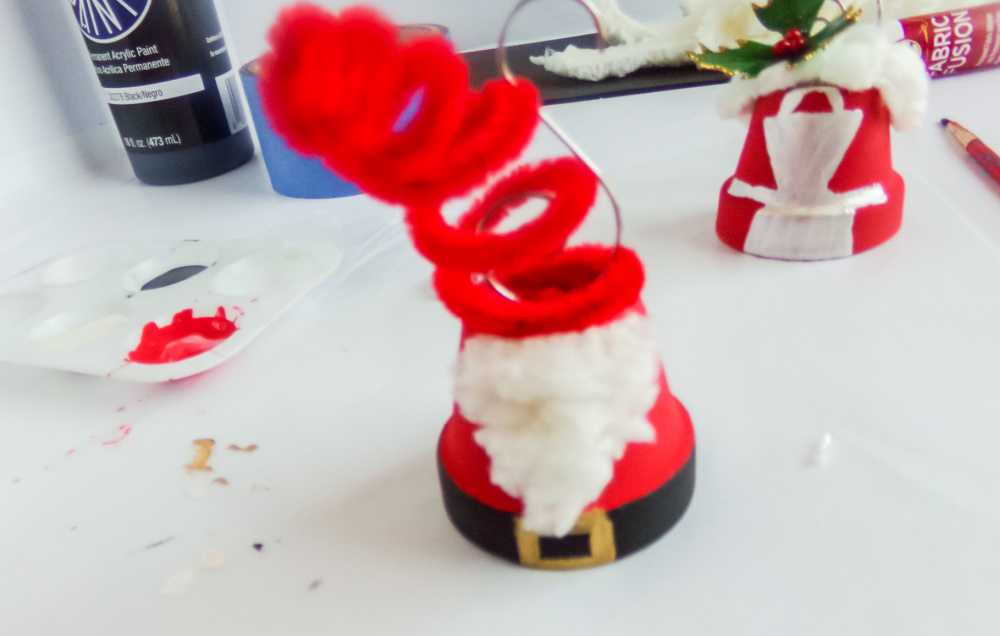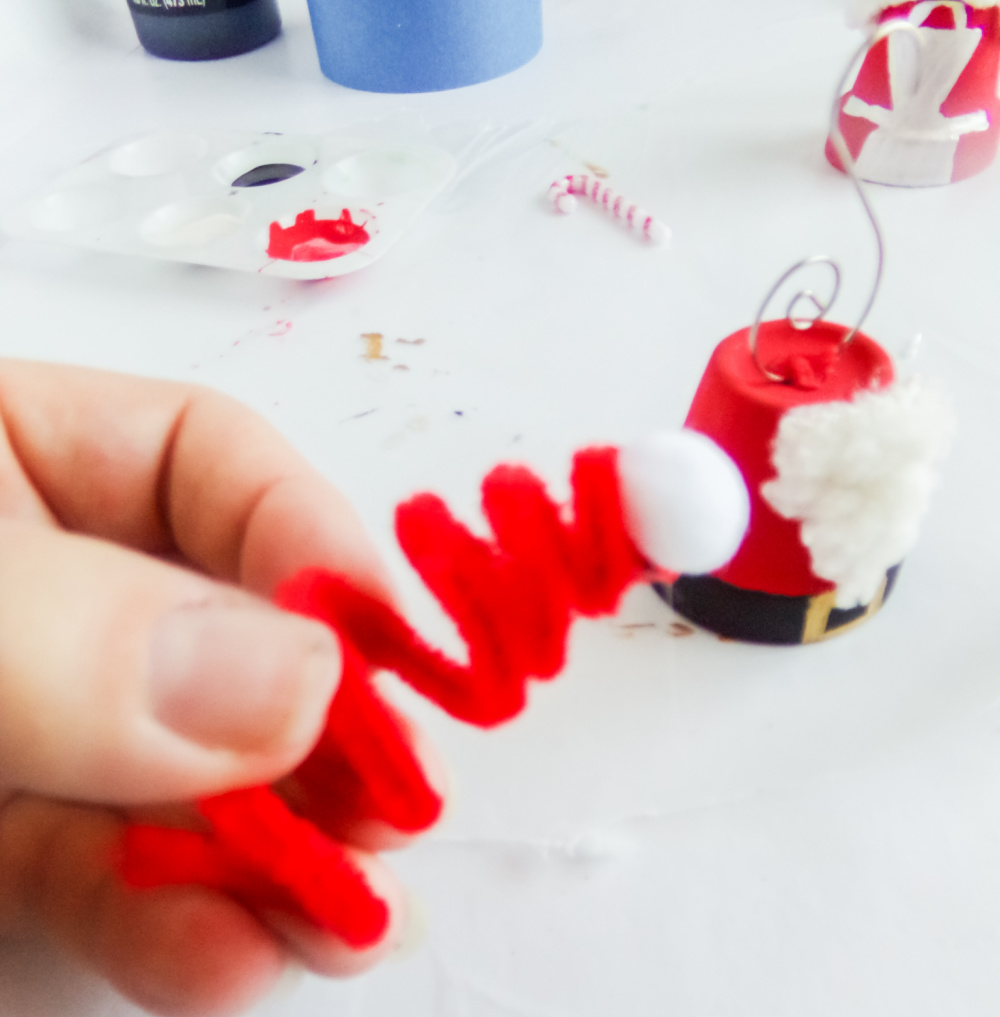 Check out these great posts from Acadiana's Thrifty Mom!