The New Trailer and Poster for TMNT: Out Of The Shadows #TMNT2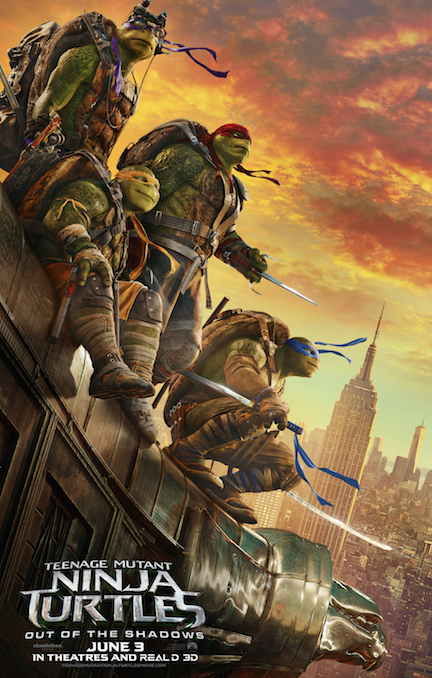 Oh my goodness, my kids were a little too excited to see Casey Jones make an appearance in the new trailer for TMNT: Out of The Shadows!  If your family loves Teenage Mutant Ninja Turtles like our family does, you have to show them the trailer for the new film.  We were checking it out just as they were getting ready to walk out the door to school and, I'm sure, it will be the talk of the fourth and fifth grade today (after all of their school work is done, of course).  You know, I kind of have a soft spot for these guys myself.  They're a lot of fun to watch, but also the MUSIC!  Oh my goodness, the soundtrack of the TMNT films are always the best mix of today's music with the 90's hip-hop I love.  So, gather your kiddos (and their friends) and take a look at the trailer.  You'll be happy you did!
Teenage Mutant Ninja Turtles:  Out of The Shadows is in-theaters June 3, 2016!
Michelangelo, Donatello, Leonardo, and Raphael return to theaters this summer to battle bigger, badder villains, alongsideApril O'Neil (Megan Fox), Vern Fenwick (Will Arnett), and a newcomer: the hockey-masked vigilante Casey Jones (Stephen Amell). After supervillain Shredder escapes custody, he joins forces with mad scientist Baxter Stockman (Tyler Perry) and two dimwitted henchmen, Bebop (Gary Anthony Williams) and Rocksteady (WWE Superstar Stephen "Sheamus" Farrelly), to unleash a diabolical plan to take over the world. As the Turtles prepare to take on Shredder and his new crew, they find themselves facing an even greater evil with similar intentions: the notorious Krang.
Check out the TMNT official website
Follow TMNT on Facebook
Follow TMNT on Twitter
Follow TMNT on Instagram