Learning to Drive In Tomorrowland With Raffey Cassidy #TomorrowlandEvent
*I received an all expenses paid trip to Los Angeles for the coverage of several press events for Disney. All opinions are 100% my own and we only recommend events and shows that are a great fit for our readers.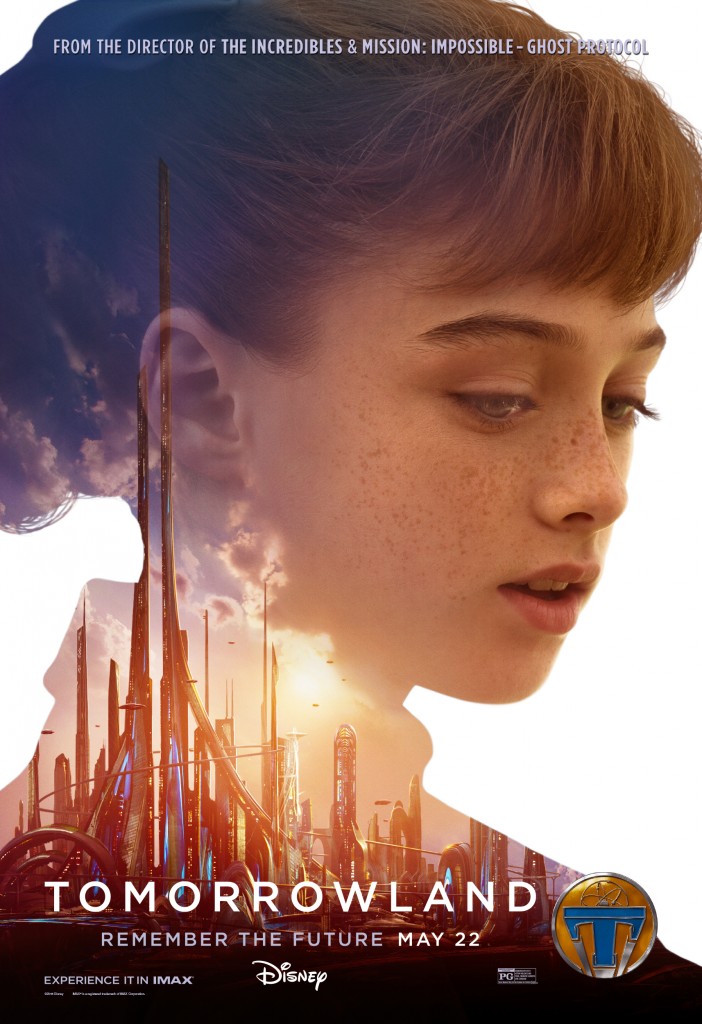 Photo Credit: Disney
While I was in Los Angeles two weeks ago getting ready for all of the events surrounding Disney's Tomorrowland, I had the amazing opportunity to sit down with Raffey Cassidy, who plays Athena in Tomorrowland.  She is also known for her roles in Snow White and the Huntsman in 2012 and Dark Shadows in 2012.  Before I tell you how absolutely adorable she is, I want to tell you how very smart she is!  Of course, her charming Brittish accent did not hurt at all 😀  Listening her talk in such a mature way about her experience filming such an epic Disney film was both refreshing and humbling.  If you haven't seen Tomorrowland yet, you have to see Raffey play Athena, it truly is captivating!  Oh yeah, plus George Clooney in there, in a bathtub…yeah, um, I'm just going to leave that out there for you to ponder 😀  Okay, let's get on to the interview, shall we?  She is adorable!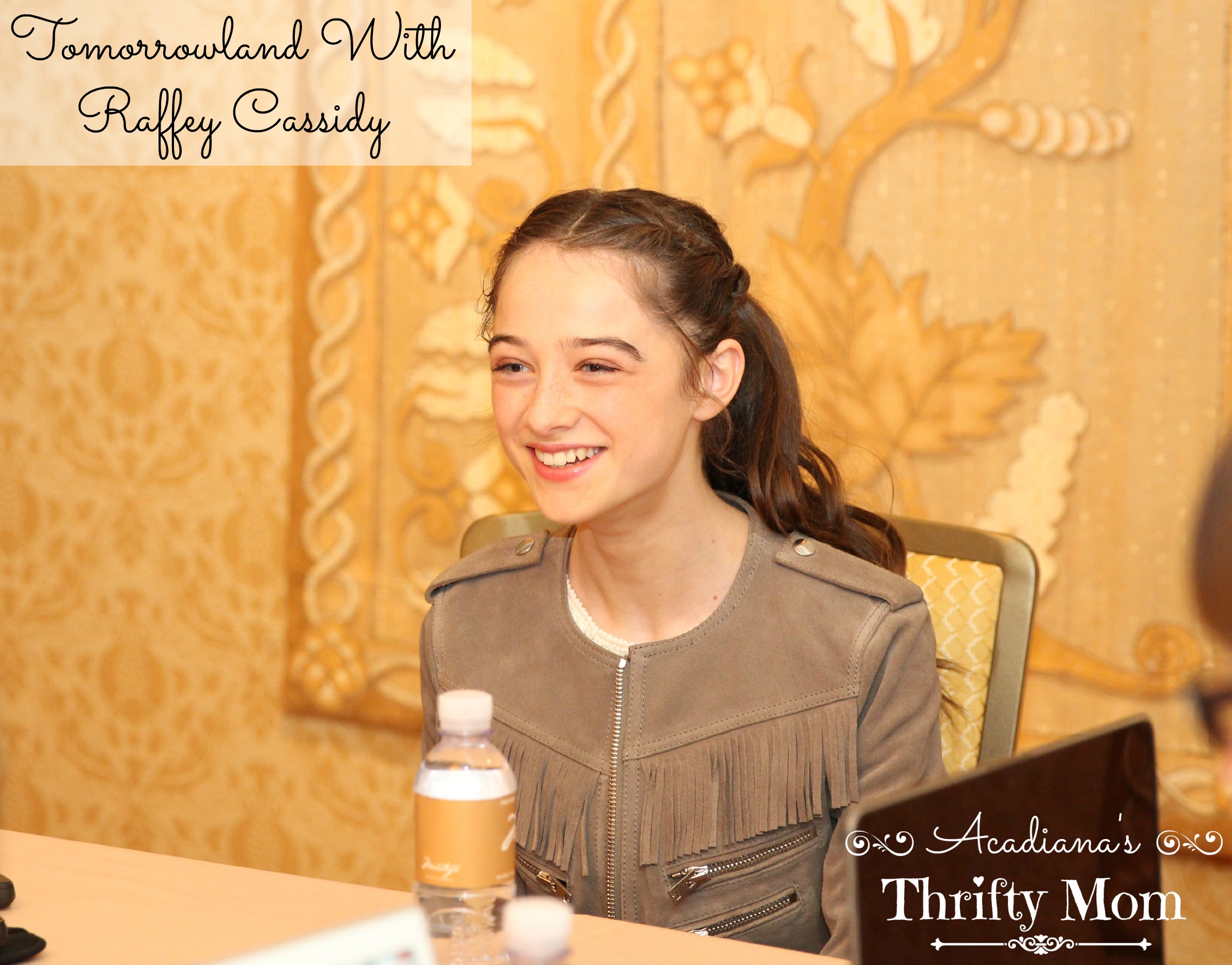 Photo Credit: MomStart.com
Question: What got you into acting at such a young age?
Raffey Cassidy: Well, my brother went for an audition, and then they asked me if I wanted to have a go at that. So I had to go and then it kind of started from there.
Question:  How did you get involved in this movie?
Raffey Cassidy:  I just went up for an audition, but it was a self-tape at home and then I went to London to do another screen test. And then I went to America to do another screen test. And then I found out that I got the part.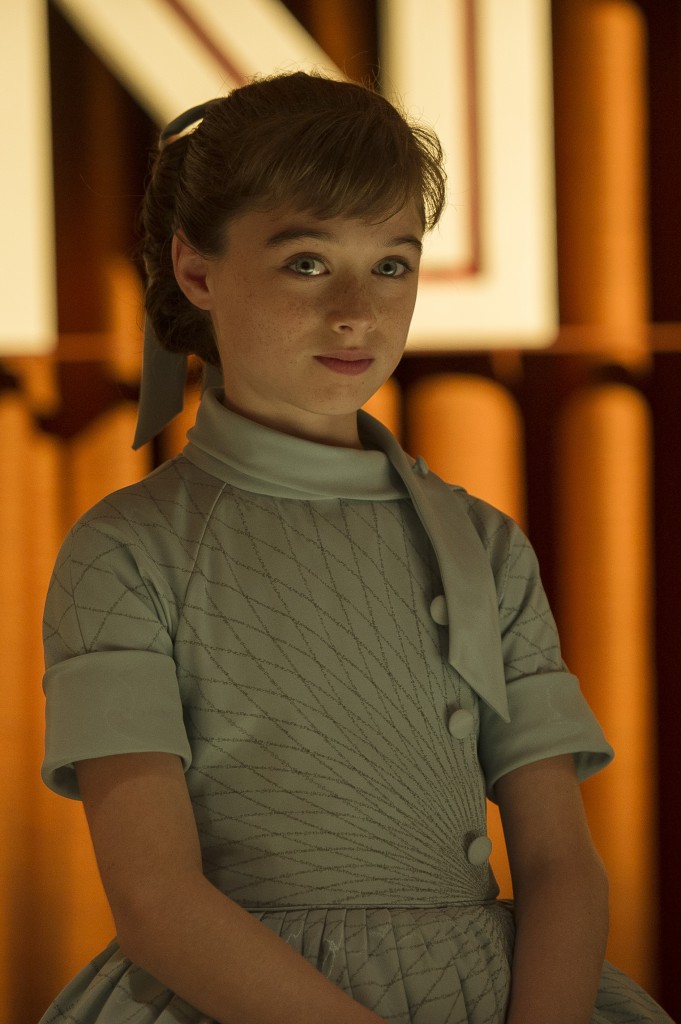 Question: What was your first scene?
Raffey Cassidy: Oh, my first scene… It was in the world's fair when I was watching young Frank get, I think it was getting on the bus.
Question: What was your favorite scene to shoot?
Raffey Cassidy: My favorite scene to shoot was probably the blast from the past sequence. I really liked that because  it was a lot of action in it.
Question: What was your take away from the movie? If there's one thing you took away from it, and want everybody to think that you know.
Raffey Cassidy: That everybody should be very optimistic and feel that there's a way around situations if they're in a bad situation. There's always a bright side.
Question: What was the most challenging part of filming the movie for you?
Raffey Cassidy: Well, I kind of had to create a background for Athena, because she didn't really have one, which was fun because that was something that I created for Athena.
Question: George was talking about your scene about you driving the truck. So what were your feelings on driving the truck and learning to do all that?
Raffey Cassidy:  I really enjoyed it. It was so fun because I've worked with an amazing stunt team, and so they actually taught me how to drive and, and there was a scene where I had to go down a ramp and then stop. I think really I started to get a little too confident, and I got too close. Britt just went stop, because it got so close.
Question: How was it working with George? Did you know of him before?
Raffey Cassidy: Well I'd seen the Descendants and I really, really liked it. And George is just so down-to-earth and, and I learned so much from him. And he's so professional but really fun at the same time.
As you can see, Raffey Cassidy was precious.  She recalled so much fun on the set making Tomorrowland.  I cannot imagine the amount of maturity it takes to do such a large role in such a huge project at her age.  I have to say, though, when she said she knew George Clooney from his role in Descendants?!  Say what?!  You don't remember him from E.R.???  LOL  She wasn't even around then.
From Disney comes two-time Oscar® winner Brad Bird's riveting, mystery adventure "Tomorrowland," starring Academy Award® winner George Clooney. Bound by a shared destiny, former boy-genius Frank (Clooney), jaded by disillusionment, and Casey (Britt Robertson), a bright, optimistic teen bursting with scientific curiosity, embark on a danger-filled mission to unearth the secrets of an enigmatic place somewhere in time and space known only as "Tomorrowland." What they must do there changes the world—and them—forever.
Featuring a screenplay by "Lost" writer and co-creator Damon Lindelof and Brad Bird, from a story by Lindelof & Bird & Jeff Jensen, "Tomorrowland" promises to take audiences on a thrill ride of nonstop adventures through new dimensions that have only been dreamed of.
Like TOMORROWLAND on Facebook 
Follow Disney Pictures on Twitter #Tomorrowland
Visit the official TOMORROWLAND website 
TOMORROWLAND opens in theaters everywhere NOW!