Talking To Marc Forster About Bringing Pooh Back To Life In Disney's Christopher Robin
Talking To  Marc Forster About Bringing Pooh Back To Life In Disney's Christopher Robin.  This is my final interview post for Disney's Christopher Robin and, oh bother, is it a great one!  I love that I had the opportunity to attend these interviews and press junket, but I love even more that I was able to give all of you a glimpse into this amazing film!
*I received an all expense paid trip to Los Angeles for the coverage of this press event for Disney/Marvel.   All opinions are 100% my own and I only recommend events and shows that are a great fit for my readers.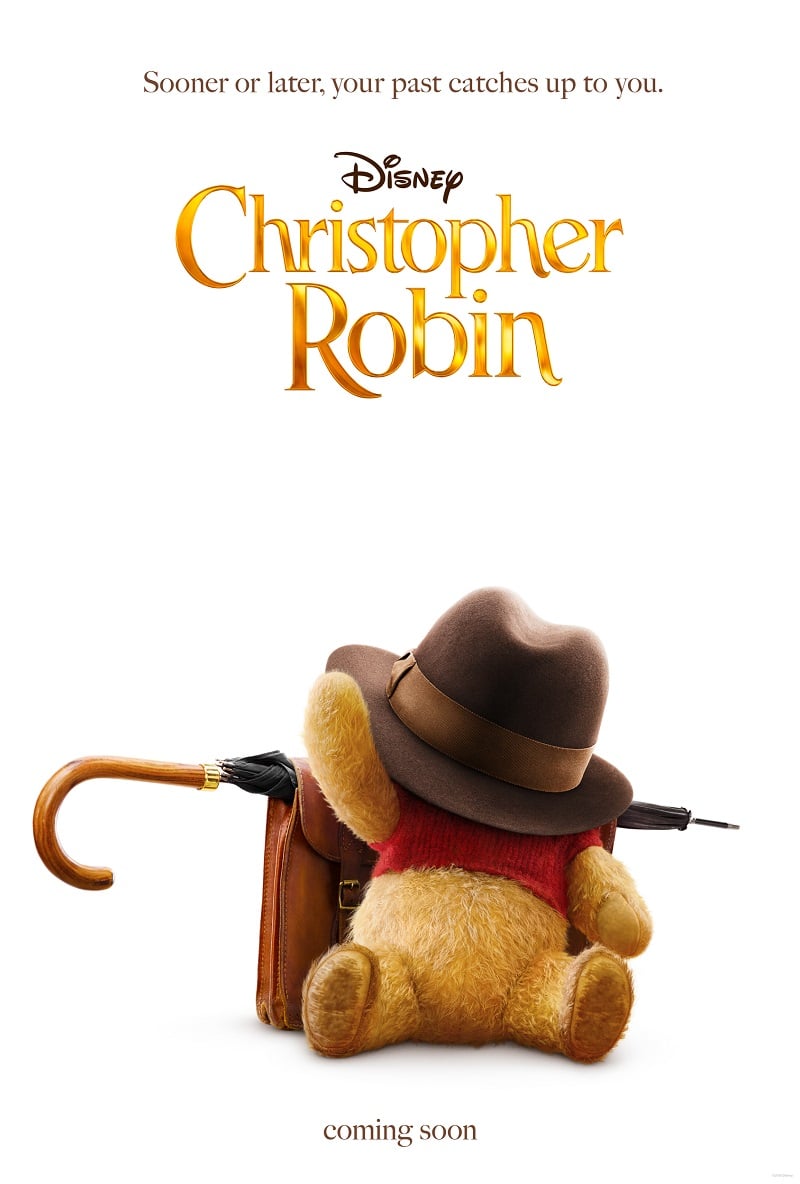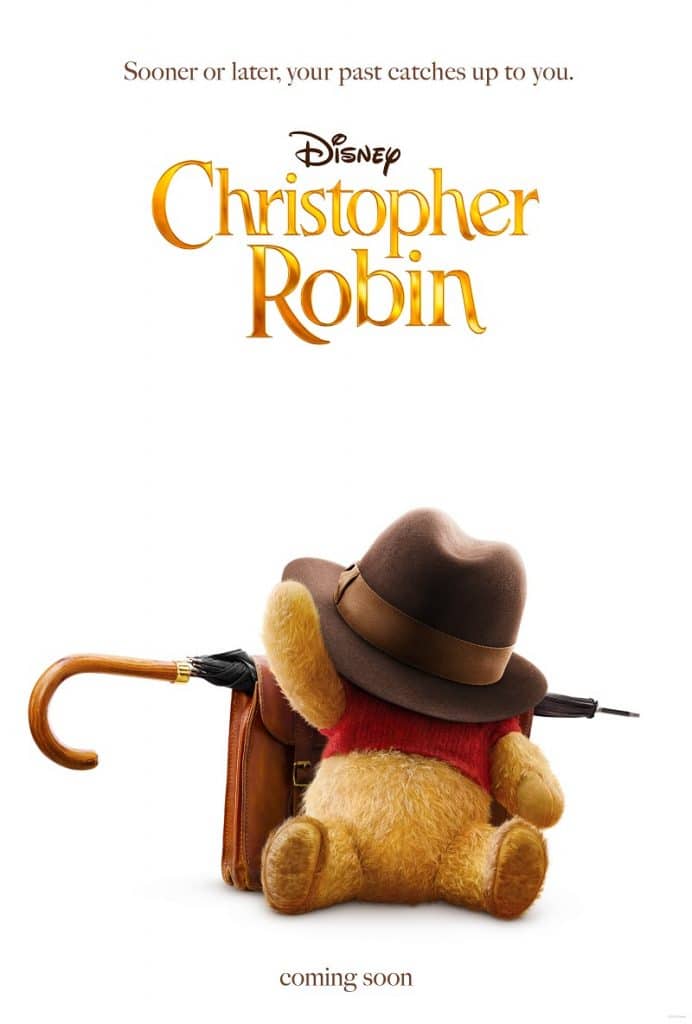 Well, let's get right to it!  Marc Forster is the Director for Disney's Christopher Robin.  These are the most interesting interviews for me.  Getting inside the head of the person who pulled the whole film together, from beginning to end, is fascinating.  You will quickly learn that there is so much work and research that goes into creating a great Disney movie.  Marc gives us an inside look of just how Christopher Robin, the movie, came about and how he made it all happen.  When he walked into the room, you could tell he loved the warm welcome all us moms gave him!  He sat right down and started chatting away.
How did you go about choosing the cast?
It started basically that Ewan and I worked together, like 2004 and we stayed friends for a long time.  And been looking to do something together and he just has, you know, comedically and dramatically, he's so good.  But the one thing is there's something about him, he's so likable and so lovely.  You want to just connect with him and so you really root for him.  It was really crucial to have an actor who has that sort of likability.  Otherwise, you suddenly don't connect with him or don't want to root for him because he said okay, just rather not connect with your family again or not.  The movie for me ultimately, was about Pooh, was about love, and because also his red sweater is sort of like this metaphor for love and I always felt like it's about the heart.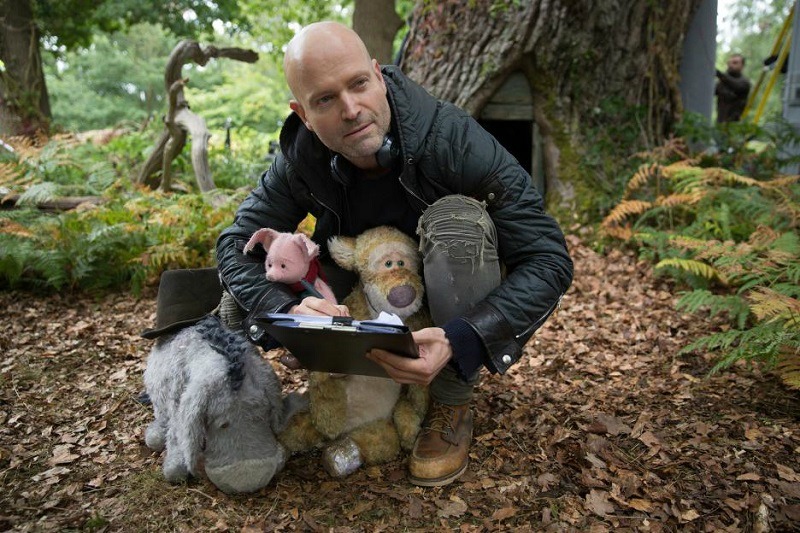 Was the choice for Christopher Robin to have a daughter instead of a son influenced by your conversation with your daughter?
Yeah, indirectly. It's sort of life imitates art or art imitates life.   Especially last few months and she said I never see you. I said, yes, because I have to finish a movie for August third. So.
Did you have any challenges to make sure everything was historically correct?
We did a lot of research and sort of the idea was, you know, going back to the mid Twenties when sort of Pooh was created and Chris Robin played with him and then pick up the movie basically when Pooh gets sent to boarding school.  And then the film ends sort of at post war nineteen forty-nine.  The interesting thing is also just in the early Fifties was actually a time when in England, people had suddenly paid vacation.
That all sort of aligned with our storytelling of Winslow Luggage. When he brings up this idea of it's important for people to do nothing and we take a vacation and sort of enjoy that.
Is there a part in the movie that features strong symbolism?
I like metaphors in general, so and, I wanted to end suddenly with him, Ewan, wear this sort of that his sweater it's like the too short as well. I just thought it was funny.   There's obviously,for instance, the daughter leaves the drawing for him and when she finds the drawing and said I didn't realize you could draw as well and then he hits the table and then the honey falls down.  It's sort of like, the honey obviously is supposed to then wake up Pooh.
Because, ultimately, when he sees the drawings, that's sort of when they come back in is consciousness and that's sort of when the animals come alive again in a sense.
How many iterations did you go through to find the look of the characters?
Michael Kutsche, the character designer, and I went back.  Basically, I showed him all the Shephard early drawings and I showed him the first black and white animation drawings from Disney.  Then I said, look, I love this about the Shephard ones, this about the early Disney drawings. Let's combine it and then he started drawing them and creating 3D models.  Then we started looking at, where we started pre-production, at all these different materials to find the right material.
Then Jenny Beavan knitted the red sweater and we created that stuffed animal based on his drawings.  Then we created.  It took us a couple months to get it right. Then also I wanted them to all feel hugged and loved. That they were not new sort of stuffed animals off the shelf, they felt really, that the boy played with them and there was sort of a history between them.
How much of the imagery in the film is true to the locations that you filmed in?
We shot lots of it in Ashtown Forrest. Literally, next to where Milne's estate is and where the real sort of have like a woods forest was where he was surrounded by, so that forest is  three, probably like ten miles down the road where we shot and the little river where we built our Pooh bridge is connected to the same river.  The real Pooh bridge is all the same woods and neighborhood.
We shot a little bit of also Windsor Park, outside Windsor Castle.  Where the Queen's park is. The great thing about that particular forest is that it's sort of untouched. Every wood, every tree that falls down can't be touched. Everything is just how nature brings it and it's very wild and looks also very beautiful.  So we shot, I would say like fifteen percent there and the rest at Ashtown.
What message do you hope everyone takes home from the film?
Ultimately for me is the message, in the times we live in, I think it's so important to have hope, joy and, and really it's about love.   Pooh is about love and reconnecting with the people you love.  And we're all guilty of that everybody works so much today that to find that balance between work and the people you care for and ultimately, we all don't spend, I'm just gonna talk for myself.  I think that mainly the generalization is we don't spend enough time or attention to the people we love. And it's, I think that's really what we're here for is to connect with one another.
This was such a fun and very interesting interview.  It's always fun when the actor or directors talk about how much they enjoyed out interviews.  Most people don't ever think about it, but press junkets during films take a lot out of these people and being able to just sit and be you in a room full of moms (and dads) can be very comforting and a great escape.
Which character do you like the best?
I definitely think for me it's, it's Pooh and right second it's Eeyore and Piglet.   I definitely have an Eeyore, Piglet side of me.  I wouldn't say, I'm a very big optimist, but there's still sometimes where I think, 'oh, it's too late, too this' and there's sort of Piglet.  These moments of worry and fear creep in and suddenly I think 'what am I doing?' But I think Pooh is definitely sort of me, I have that gift to be very Zen, I think.
But if a boat would sink, I probably would be the one who's 'oh no, no, no, it's gonna sink. We're all gonna go, we're all gonna live. It's all gonna be fine' and that's like, maybe called denial.

About Disney's Christopher Robin:
In Disney's heartwarming live action adventure, the young boy who shared countless adventures with his stuffed animal friends in the Hundred Acre Wood has grown up and lost sight of what's important in life. Now it is up to his childhood friends to venture into our world and help Christopher Robin rediscover the joys of family life, the value of friendship and to appreciate the simple pleasure in life once again.
Christopher Robin is directed by Marc Forster from a screenplay by Alex Ross Perry and Allison Schroeder and a story by Perry based on characters created by A.A. Milne and E.H. Shepard. The producers are Brigham Taylor and Kristin Burr, with Renée Wolfe and Jeremy Johns serving as executive producers. The film stars Ewan McGregor as Christopher Robin; Hayley Atwell as his wife Evelyn; Bronte Carmichael as his daughter Madeline; and Mark Gatiss as Keith Winslow, Robin's boss. The film also features the voices of: Jim Cummings as Winnie the Pooh and Tigger; Brad Garrett as Eeyore; Toby Jones as Owl; Nick Mohammed as Piglet; Peter Capaldi as Rabbit; and Sophie Okonedo as Kanga.
Get social with Christopher Robin:  Facebook     Twitter     Instagram     #ChristopherRobinEvent
Christopher Robin is now open in theaters everywhere!
You can get your tickets now over at Fandango!