Storks Is Opening Everywhere This Friday, September 23 #Storks
This is a sponsored post on behalf of Review Wire Media for Warner Bros. Pictures I received information to facilitate my review as well as a promotional item to thank me for my participation.
Storks is opening everywhere this Friday, September 23!  Do you remember telling your kids that there was going to be a new baby in the house?  I remember telling my oldest about both of her younger siblings.  I'm pretty sure there was an eye roll involved both times LOL I cannot imagine telling my youngest, now, if we were to have another baby!  I think there would be mutiny in my house!  Have you told your kids, yet, where babies come from?  Oh yes, that I've done as well.  I remember, distinctly, the look on my kids' faces when they found out the truth.  I had been telling them, for years, that Jesus puts a baby in Mommy's belly.  Then, one day, my son came home from school and said "Mom, how do you make babies? And be serious!"  I knew I was in trouble.  Someone at school had, obviously, told him I was not being completely honest with him.  We sat them all down and told them the truth.  They were in shock!  HAHA!  My husband and I were laughing so hard at the looks on their faces; we could hardly finish telling them!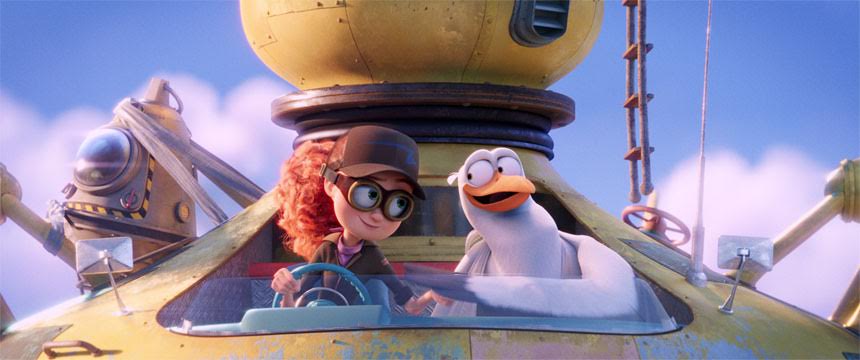 About Storks:
Storks deliver babies…or at least they used to. Now they deliver packages for a global internet retail giant. Junior (Andy Samberg), the company's top delivery stork, is about to be promoted when he accidentally activates the Baby Making Machine, producing an adorable and wholly unauthorized baby girl. Desperate to deliver this bundle of trouble before the boss gets wise, Junior and his friend Tulip, the only human on Stork Mountain, race to make their first-ever baby drop – in a wild and revealing journey that could make more than one family whole and restore the storks' true mission in the world.
Get social with Storks:
Print your Storks Activity Sheets here!