Spring Fruit Pizza
We love making this spring fruit pizza in the spring and summer! If you love fruit and cookies, you're going to love it too.  This is a huge hit with the kids at the pool.  We made 3 of these for my daughter's birthday last year.  We have even made regular sized cookies and made individual fruit pizzas.  The kids LOVE them!  we have even added gummy bears and gummy worms for the kids.  You can use a variety of fruit, whatever is in season 😀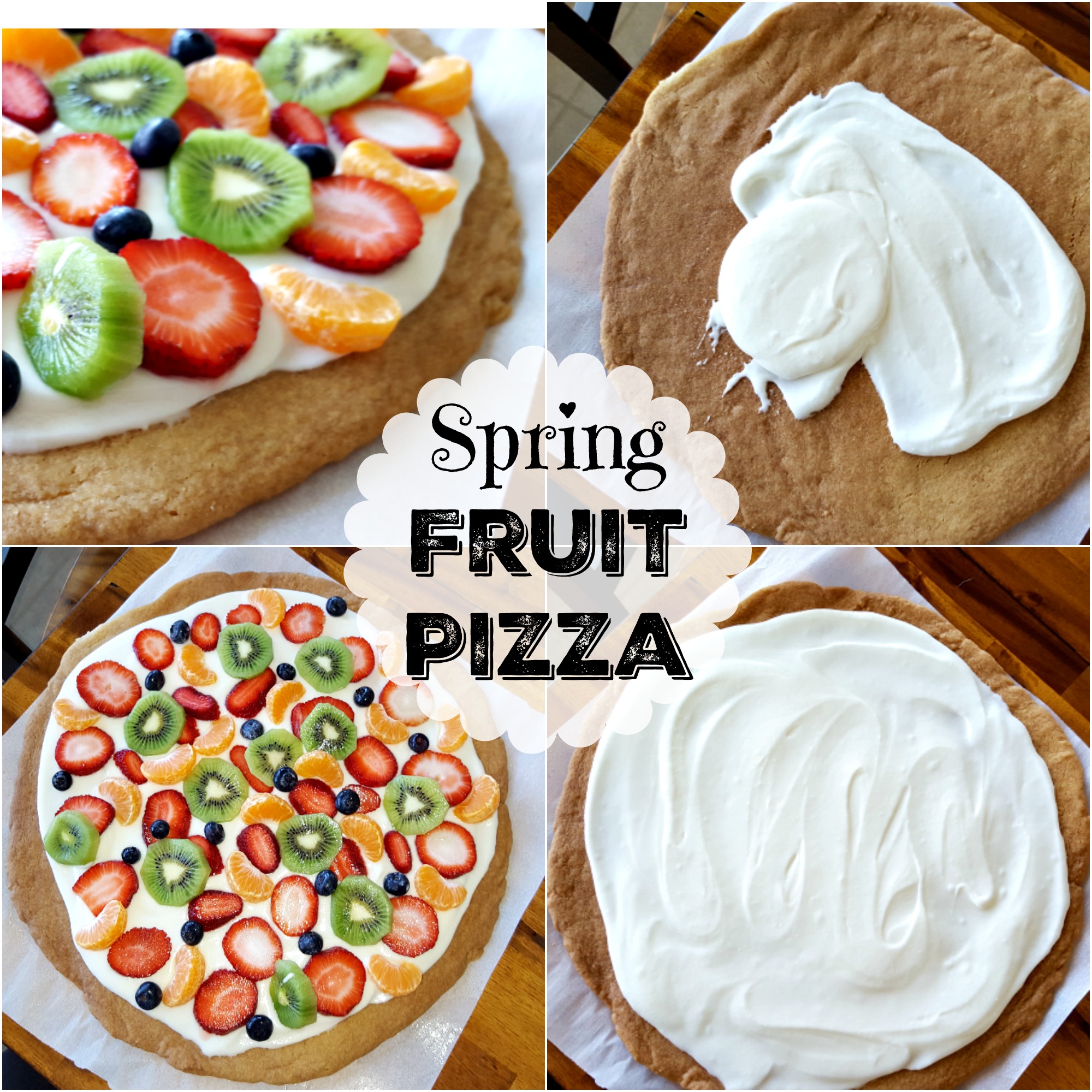 Gather your ingredients:
Sugar cookie crust:
2 1/2 cups all-purpose flour
1 teaspoon baking powder
1/4 teaspoon salt
1 cup (2 sticks) of butter
3/4 cup granulated sugar
1 egg
1 teaspoon almond extract
Topping
8 oz  cream cheese, softened to room temperature
2 cups confectioners' sugar
1 teaspoon almond extract
your favorite sliced fresh fruit
Get to cooking:
Make the crust:
In a large bowl cream the softened butter for about 1 minute on medium speed until smooth, then add the sugar and beat on medium speed until fluffy. Beat in egg and vanilla. Scrape down the sides as needed.
In a medium bowl, mix the flour, salt, baking powder, baking soda, and cornstarch together. Slowly add the dry ingredients to the wet ingredients on low speed.
Once you are finished mixing the dough, let it sit in the refrigerator for about 30 minutes.  This makes it easier to spread on the pan.
Remove the dough from the refrigerator and press onto a 12 inch pizza pan that has been coated with non-stick spray.
Place crust into oven preheated to 350 degrees for 18-20 minutes or until the crust is golden brown.  Carefully remove the crust from the oven and allow to cool for about an hour.
Make the frosting:
In a medium bowl, beat the cream cheese on medium speed until smooth, about 2 minutes. Add the confectioners' sugar and beat for 2 minutes.
Add the almond extract. Beat for 1 minute. Spread in a thick layer over the cooled sugar cookie crust. Decorate with fruit cut into slices and serve.