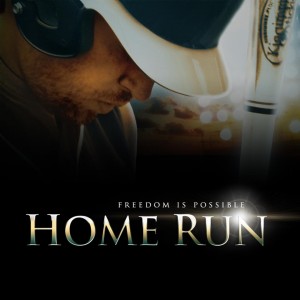 About the movie:
Baseball all-star Cory Brand knows what it takes to win in the big leagues. But off the field, with memories of his past haunting him, his life is spiraling out of control.
Hoping to save her client's career and reputation after a DUI and a team suspension, Cory's agent sends him back to the small town where he grew up. Forced to coach the local youth baseball team and spend eight weeks in the only recovery program in town, Cory can't wait to return to his old life as quickly as possible.
As his young players help him experience the joy of the game, Cory discovers his need to find freedom from his past and hope for his future … and win back the love he left behind. With this unexpected second chance, Cory finds himself on a powerful journey of transformation and redemption.
Based on thousands of true stories, HOME RUN is a powerful reminder that with God, it's never too late … freedom is possible.
See HOME RUN in theaters beginning April 19!  Find a theater …


My take on the movie:
This is the first time I have taken on the task of officially reviewing a movie. When I saw what this movie was about; I knew I had to do it! Not only does our family enjoy watching Christian/family movies together, but we are HUGE baseball fans. This movie review was a no-brainer 😀
I will start by saying that this movie was AMAZING! It is tough for our family to find great movies that we all enjoy and are kid-friendly. We have 3 children, ages 14(girl), 8(boy), & 6(girl). My fourteen year old was not too happy about being asked to sit down with us as a family to watch a movie about baseball. Our 8 year old's 4 year baseball career has burned her out on the sport LOL By the end of the movie, she was asking to watch it again! This movie was truly inspirational and a great testament to the power of healing in God.
I guess, because of my close dealings with family members who struggle with addiction; I could relate to the struggles that affected the people closest to Corey Brand. This is such a prevalent and far reaching subject and something that almost everyone has been touched by. Most of us have known someone who struggles with alcoholism or some other type of addiction and many struggle with these things themselves. It is so awesome to be reminded that God can heal even the most hopeless situations. Home Run was written and directed in such a way that it even kept the attention of my 6 year old daughter. I would recommend anyone who wants to be have your faith in the healing power of God renewed watch this wonderful movie about redemption.
You can find out more about this movie on their website. Be sure to follow them on Facebook  too!