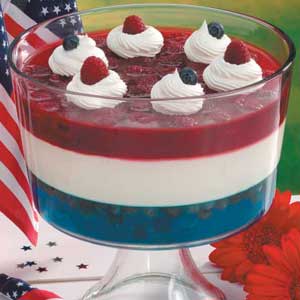 * 1 package (3 ounces) berry blue gelatin
* 2 cups boiling water, divided
* 2-1/2 cups cold water, divided
* 1 cup fresh blueberries
* 1 envelope unflavored gelatin
* 1 cup heavy whipping cream
* 6 tablespoons sugar
* 2 cups (16 ounces) sour cream
* 1 teaspoon vanilla extract
* 1 package (3 ounces) raspberry gelatin
* 1 cup fresh raspberries
* Whipped topping and additional berries, optional
Directions
* In a large bowl, dissolve berry blue gelatin in 1 cup boiling water; stir in 1 cup cold water. Add blueberries. Pour into a 3-qt. serving bowl. Refrigerate until firm, about 1 hour.
* Meanwhile, in a saucepan, sprinkle unflavored gelatin over 1/2 cup cold water; let stand for 1 minute. Add the cream and sugar; cook and stir over low heat until gelatin and sugar are completely dissolved. cool to room temperature. Whisk in sour cream and vanilla. Spoon over the blue layer. Refrigerate until firm.
* In a large bowl, dissolve raspberry gelatin in remaining hot water; stir in remaining cold water. Add raspberries. Spoon over cream layer. Chill until set. Garnish with whipped topping and additional berries if desired. Yield: 14-16 servings.
Photo and recipe borrowed from A Taste of Home ♥