Quick, Easy And Delicious Red Beans And Rice In Your Instant Pot
Quick, Easy And Delicious Red Beans And Rice In Your Instant Pot. If you're looking for an easy way to make authentic Cajun Red Beans And Rice, then an Instant Pot is what you need!
I tell people all of the time that my very favorite food to cook in my Instant Pot is dried beans! Dried beans can be cooked from dry to ridiculously tender in under an hour in your Instant Pot! Do you know how much money this saves me each year? Well, I don't know either, but it's a ton! I find dried beans on sale all of the time and am able to always have a great stock of beans. Add a little sausage or ham and, voila, your next family dinner. Refried beans, BBQ beans, and red beans and rice are a staple around our house. Add to that black eyed peas and sausage and you have, at least one meal taken care of each week. Not to mention, it feeds our family of 5 for less than $10.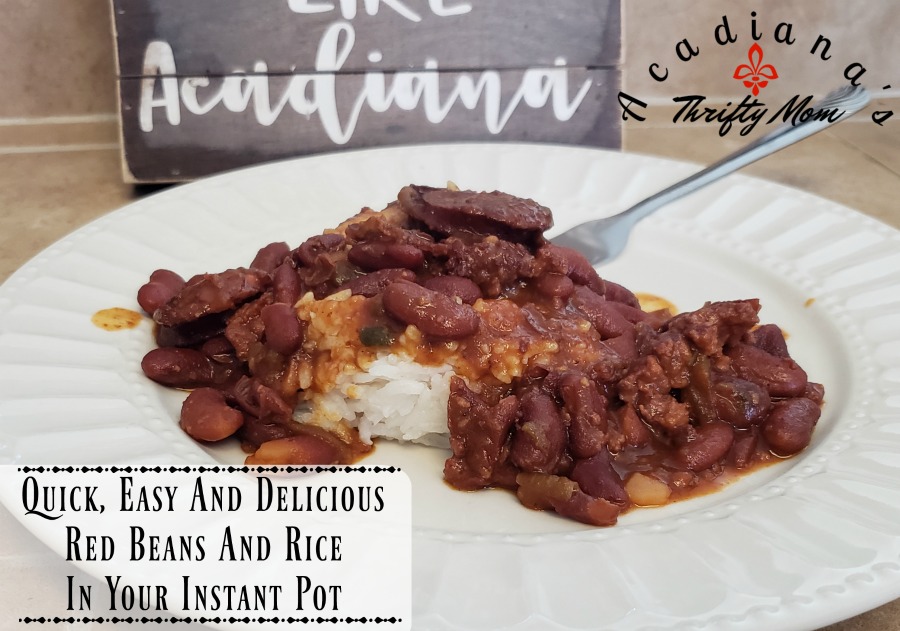 Now, on to our red beans and rice. This is my basic red beans and rice recipe. I put lots of things in my red beans and rice. Carrots are found in, just about, every dish I cook, or so my kids say LOL I love the texture and sweetness carrots add. You definitely do not have to use the carrots. If you like a thicker gravy, you can use tomato paste instead of tomato sauce and this will definitely thicken it up. There are lots of ways you can change this recipe and customize it to your family's taste. So, have fun and make it your own.
* * You can saute your veggies in your Instant Pot with the sausage and cook them all together with your beans or you can saute your veggies on the stovetop and add them at the end. I prefer to saute them in the Instant Pot and cook them with my beans and sausage.
Quick, Easy And Delicious Red Beans And Rice In Your Instant Pot
Ingredients
1

lb

dried red kidney beans

rinsed

1

Tbsp

salt

1

Tbsp

Cajun Seasoning

1

bay leaf

12

oz

Dark beer

4

cups

chicken broth

1

medium

onion

chopped

1

green bell pepper

chopped

2

Tbsp

minced garlic

2

stalks

celery

chopped

1

lb

smoked or andouille sausage

sliced

5

oz

tomato paste

1/4

cup

granulated Sugar
Instructions
Place the first 7 ingredients in your Instant Pot. Lock the lid and turn on "Beans or Chili" function for 50 minutes.

While the beans are cooking, saute the onion, green bell pepper, minced garlic, celery, and smoked or andouille sausage in a skillet on medium heat for about 10 minutes. I like to brown the sausage and onions just a little bit. Set this mixture aside.

Allow the beans to finish cooking and natural release for 10 minutes, then quick release.

Unlock the lid to your Instant pot and add the tomato paste and sausage mixture to the bean mixture along with 1/2 cup of water.

Give it a quick stir, then replace the lid on the Instant pot, lock it and set to manually cook for 10 minutes.

Once this is finished, do quick release. Once all of the pressure has been released, carefully remove the lid and remove the bay leaf. Give it a quick stir and serve hot over rice and enjoy!
https://acadianasthriftymom.com/2018/04/30/instant-pot-bread-pudding-with-rum-sauce/
https://acadianasthriftymom.com/2013/09/09/homemade-ranch-dressing-mix/
https://acadianasthriftymom.com/2018/04/20/instant-pot-pizza-pasta-bake-in-20-minutes/